In our introductory comments to The Chris Barber LP Collection pages, we suggest that LP "sleeve notes ... in themselves tell a good part of the story of Chris Barber's Jazz Band." The same can be said of the sometimes voluminous notes that were written for tour and individual concert progammes, especially in the 1950s and the first half of the 1960s, but in some from later dates as well.
As part of our effort to use the Chris Barber website partly as a vehicle to tell the story of the Chris Barber Band, its music, changes in personnel, and so on, here we reproduce notes from a variety of tour and concert programmes.
To begin with we have included seven sets of notes, spanning a seven-year period from the beginning of 1956 to November 1962, including some of the most important tours of the UK with American jazz artistes such as Sister Rosetta Tharpe, Sonny Terry & Brownie McGhee, Muddy Waters, and Louis Jordan, which did so much to propel the band's music and skills forward.
Because we own sizable collections of programmes, we will be able to add more notes to this page from time to time.
Ed Jackson & Andreas Wandfluh, October 2011.
(Updated December 20, 2011.)

Index
Liverpool Jazz Club Presents Crane River Jazz Band and Chris Barber and his New Orleans Jazz
Band with Neva Raphaello, December 3, 1950
Jazz Jamboree, 1952
National Jazz Federation Presents "Traditional Jazz Today", April 1955
Chris Barber, January 1956
The National Jazz Federation Presents The Chris Barber Jazz Show, 1956
Town Hall, Birmingham, 20th September 1957
Jazz Scene 1957
Sister Rosetta Tharpe, 1957
Sonny Terry & Brownie McGhee, 1958
Muddy Waters, 1958
Sister Rosetta Tharpe, 1960
Jazzshows Present Chris Barber's Jazz Band, 1961
The Sixth Beaulieu Jazz Festival, 1961
Richmond Jazz Festival, 1962
Louis Jordan, 1962
The Chris Barber Band, 1979 or early 1980s
Barbican Centre, 1982
Ball, Barber & Bilk And Their Fabulous Bands, 1985
Chris Barber Jazz & Blues Band, 1994

Liverpool Jazz Club Presents Crane River Jazz Band and Chris Barber and his New Orleans Jazz Band with Neva Raphaello (December 3, 1950)
CHRIS BARBER and his New Orleans Jazz Band
CHRIS BARBER
Leads his New Orleans Band on a trombone, although he originally played violin. Has a collection of about 1,000 records. Payed with Original Dixielanders.
ALEX REVELL
Clarinet. Sounds more like Dodds (on Oliver records) than anyone yet. Also played with Original Dixielanders.
KEITH JARY
1st Trumpet. One time associate and friend of John Haim.
BEN COHEN
2nd Trumpet. Has been likened to George Mitchell.
ROY STURGESS
Piano. Probably England's finest exponent of ragtime and plays boogie in the " Race" style.
FERDIE FAVAGER
Banjo. Although only playing banjo for one-and-a-half years is chord sense personified.
BRIAN LAWES
Drums. Youngest member of band. Has been playing one-and-a-quarter years.
BRYLO FORD
Bass. Newcomer to the band, has played guitar and bass for years. Broadcast on bass in Radio Rhythm Club days.
NEVA RAPHAELLO
Vocalist. Well known to us all by her visits with the Humphrey Lyttelton Band.
Click here to view scans of the complete programme.

Jazz Jamboree (Birmingham 1952)
Direct from B.B.C. Jazz Club -- CHRIS BARBER'S JAZZ BAND
London's Youngest Jazz Band -- the average age is 21 years -- is one of the many jazz bands that have come into being since the revival of the Traditional Jazz Form in this country.
Athough all, except leader-trombonist Chris Barber (a student at the Guildhall School of Music), are semi-professional musicians working in the daytime and only playing in the evenings and at week-ends, their standard of music and technique is exceptionally high.
A constant personnel, too, has helped to mould the band into a finished musical unit -- trombone, clarinet, second trumpet, bass, banjo and drums having been together since the band's formation. The unusually permanent nature of the band has led to a strongly-developed group style, steeped in the tradition of the "old jazz" of the American Negro.
The group was formed in February, 1950, and their first public appearance was at the Empress Hall before 4,000 jazz enthusiasts, in the nation-wide Jazz Band Contest sponsored by the N.F.J.O.
Since then it has rapidly gained popularity as a leading exponent of New Orleans style jazz, from the 8-piece music of King Oliver to the more intimate style of the early washboard bands, yet including compositions of Duke Ellington, in many respects a sophisticate of jazz.
Recently the Chris Barber Band was chosen by Humphrey Lyttelton to accompany him at numerous engagements which he is fulfilling without his own band – a great honour for one of Britain's youngest jazz bands.
Click here to view scans of the complete programme.

National Jazz Federation Presents "Traditional Jazz Today" (1955)
Chris Barber's Jazzband
A pianoless sextet, the band was formed in February, 1953, when Chris merged his current band with the Monty Sunshine Sextet. Pal Halcox, of the Albermarle Jazz Band, was intended for the trumpet chair, but the return of Ken Colyer from his legendary trip to New Orleans resulted in Ken's being offered the leadership for a time. During this period the band recorded its first LP for Decca. and achieved considerable success with its fresh approach to the New Orleans idiom.
In June, 1954, however, growing differences of opinion as to musical development resulted in Ken Colyer breaking away to form a band styled on more purist lines. Pat Halcox, of course, replaced him, and Chris took over leadership.
Since then the band has gone on from strength to strength and has achieved an almost unequalled record of concerts, broadcasts, record sessions and Jazz Club dates.
Ottilie Patterson
Ottilie Patterson was first discovered during her summer holiday last year, when she asked to sing after one of the Chris Barber Band's Friday night sessions at the London Jazz Centre. Although she returned to Ireland to continue teaching, she was finally persuaded to join the band in December last. Her debut at a National Jazz Federation concert held at the Royal Festival Hall in January, caused one of the biggest sensations in years.
Click here to view scans of the complete programme.

Chris Barber and his Band with Ottilie Patterson (1956)
Notes by Steve Voce
Jazz, when it first ceased to be purely a folk music (i.e. a vocal music) and became involved with the negro brass bands in New Orleans, went through its most disastrous period. For, while the brass band influence was important in that it paved the way for the jazz bands to follow, it also began the destruction of the main artistic values of the music. While a man like folk-singer Huddie Ledbetter could produce wonderful music with only a crude technique and a limited range, ten musicians playing under the same limitations in a brass band could not hope to produce anything on the same level. Consequently, while jazz still developed, no really worthwhile music was played until musicians like Jimmy Noone, 'King' Joe Oliver and Kid Ory appeared on the scene between 1915 and 1918. With the advent of these musicians jazz took a big step forward, and it was this era that produced great stars like Louis Armstrong, Sidney Bechet, Barney Bigard and Buster Bailey.
The technique of jazz as far as individual musicians were concerned was to remain at that level until the late 'thirties when Rex Stewart, Choo Berry, Benny Carter and Lionel Hampton came along. In between came the transition from rough, improvised jazz to the slicker and more sophisticated era of swing.
And it is in between these two that the music of Chris Barber and his band fits.
It is just a year since Ottilie Patterson astounded the British jazz scene. Here, without the slightest doubt, is the greatest traditional jazz singer in Europe to-day.
Click here to view scans of the complete programme.

The National Jazz Federation Presents The Chris Barber Jazz Show (1956)
CHRIS BARBER
I am very pleased to be able to welcome you to our first solo concert here in the main auditorium. To us, it represents a milestone of achievement, and is the culmination of our ambitions as a band. As for myself, I have been interested in Jazz for the past twelve of my twenty-six years and have been playing trombone for eight of them, so this occasion is indeed a special one for me. You will hear much that you know tonight and also some new items which we think you will like. So may I thank you for coming on behalf of all of us and wish you an enjoyable evening.
OTTILIE PATTERSON
Apart from her obvious interest in and knowledge of blues singing Ottilie Patterson is also a great enthusiast of the folk music of her native Ireland (the "Ottilie" comes, strangely enough, from a Latvian mother - surely the oddest recipe for a blues singer!) Ottilie's voice has been likened to Irish Poteen (in strength that is) but she insists its just Guinness.
MONTY SUNSHINE
Monty Sunshine is one of the most consistent and hard working musicians produced by the jazz revival in this country. He started with the original Crane River Jazz Band and after graduating to leadership of that band joined forces with Chris, Lonnie, Ron and Jim Bray in the original Ken Colyer Band. One of the shrewdest young men (perhaps I should say old since he is one year older than myself) that I know: he has the knack of beating the rest of the band at games of chance. No doubt he has already invested in the Government Lottery.
PAT HALCOX
Pat Halcox is a very natural jazzman who plays more with the approach of the American musician than do most others over here. He claims to have been in the R.A.F. at one time but how he remembered his name (let alone his forces number) is a mystery to me. A recent graduate from Lambretta to a small Austin he is not addicted to gambling.
DICK SMITH
Our latest recruit, Dick Smith has been with Ken Colyer for nearly two years. We think he is fine and by the end of the first number you should too! We haven't tried his strength at cards yet but we'll let you know next time.
RON BOWDEN
Ron Bowden, to my mind the best drummer in any traditional group this side of the Atlantic, will probably hate me for saying so in public, but I had to say something (honestly, Ron!). Ron has followed Monty's fortunes through from the old Crane River days (with a slight diversion via a modern group at one time).
LONNIE DONEGAN
Lonnie Donegan who in spite of recent newspaper announcements is still with us, has been described as an "Irish Hillbilly". Neither is accurate as followers of the Skiffle Group will know but seems as good a name as any other. Probably the only folk singer to be also a best seller on disc (need I say what record?) he has been with the band since its formation and before that led his own.
DICK BISHOP
Dick Bishop appears on this bill by kind permission of Davy Crockett (whose hat he frequently wears). Dick lives out on the wild frontier in Greenford (injun territory) and before he discovered that he could sing he played banjo in the amateur band led by Pat Halcox. If you want to please Dickie talk to him about Woody Guthrie or Cisco Houston: if you don't know who they are come and ask him sometime.
Click here to view scans of the complete programme.

Chris Barber's Jazz Band featuring Ottilie Patterson (Birmingham, 1957)
The phenomenal rise to fame of the Chris Barber Band has surely been one of the most astonishing things in the whole history of British jazz music. Only quite a short time ago the band, outside the better jazz clubs, was virtually unknown, but Chris Barber and his Band are now almost a household word.
There is, of course, a reason for this popularity. The band play a relaxed, smooth sounding type of jazz which is easy to listen to, entertaining, and, moreover, good to dance to.
The leader himself is somewhat of a perfectionist. His early days, the musical ones that is, were spent gigging around gaining invaluable experience with most of the better traditionalist jazz bands. Chris, no doubt, liked what he heard and what he played, but he always felt during this embryo period that this type of jazz should be better presented and that it would do no harm if better musicianship were added to the already evident enthusiasm.
His approach to the problem was in no way slapdash. Vacating his secure, but unjazzlike job with an insurance company, he enrolled at the Guildhall School of Music where he studied trombone and bass for three years to improve his musicianship. Thus fortified musically, and no doubt spiritually, his next step was to find some good musicians to work with him. Barber had played for a time with Ken Colyer's Jazzmen and it was from this band that he enlisted Monty Sunshine, a clarinettist whose methods he had always held in the highest regard. From the same band came drummer Ron Bowden and bass playing Dick Smith.
It is interesting to note that Barber's initial band was the first full time professional traditional band to be formed in this country. Much of their success was, and still is, due to Barber's insistence on a 'book' that was different. The old jazz standards have never been ignored but the band manage to include in every programme a number of fine old jazz tunes, such as those composed by Duke Ellington, suitably arranged to suit the Barber instrumentation. The result is always something fresh and new, progressive within the traditional framework.
Another reason for the band's popularity has been the singing of Ottilie Patterson. Ottilie, a young girl of Irish-Latvian parentage, has a rare feeling for the blues and can put over a jazz song with rare zest and power. Her vocal production has improved immensely since she first joined the band, and like the rest of the group she has always shown great keenness to improve her singing. It is in fact this keenness to better their music which is the keystone of the Barber band's success. Rehearsal and attention to detail have enabled the band to produce that clean internal balance and finely integrated ensemble work which is their trade mark. Listen to this band and it at once becomes apparent that a programme such as this is the result of much preparation and careful planning. The easy stage manner speaks of relaxation; the good musicianship is the result of hard work.
BRIEF BIOGRAPHIES
Barber, Christopher. Born 17th April, 1930. Is keenly interested in the motor car. Owns a vintage Lagonda, and has recently purchased a Lotus for racing purposes.
Bowden, Ronald. Born February, 1928. Founder member of Britain's first New Orleans style jazz group, The Crane River Jazz Band. Also played drums with Ken Colyer. Is also car minded, but prefers fast horses to quick motor cars.
Halcox, Patrick. Born 18th March, 1930. Played piano before turning to trumpet with the Albermarle Jazz Band. Another motorist.
Smith, Edward. Born August 1929. Comes from a musical family. In addition to his prowess on the banjo, also drives motor cars quickly. It may also be significant that he is an expert motor mechanic.
Smith, Richard. Born 2nd September, 1931. Played bass with the Ken Colyer Band, before joining Barber. Pedestrian.
Sunshine, Montague. Born April 1928. Another alumnus from the Crane River Jazz Band, and one of Britain's best known jazz clarinettists. Is also an excellent commercial artist. Scooters.
Patterson, Ottilie. Born 31st January, 1932. Implemented her natural gift for jazz expression by listening intently to gramophone records. Is driven.
Click here to view scans of the complete programme.

Introduction by Harold Pendleton
In welcoming you to "Jazz Scene '57" I find myself addressing a far larger audience than our usual one at London's Royal Festival Hall. This year, our London concert marks the start of a nationwide tour, in which this concert will be presented at such diverse places as Dundee, Brighton, Birmingham and Ipswich. So, wherever you are reading this, may I reiterate my welcome, possibly to your first National Jazz Federation concert, and more especially to "Jazz Scene '57," the latest in a concert series that is now an established part of the National Jazz Federation's programme.
In the past we have used these opening concerts of the year as a chance to survey the British Jazz World. New bands are allowed to establish themselves, and old favourites are given a rehearing. However, on this occasion, we have built the concert around the warm and vital personalities of Big Bill Broonzy and Brother John Sellers. The opportunity of presenting these wonderful folk artists is one which we accepted both as a pleasure and a duty. They are, in fact, one of the major factors which decided us in favour of a national tour, the first that the Federation has undertaken. Single concerts away from the London concert halls have previously been essayed, but never a tour. Of the other factors which influenced us in favour of a national presentation, the most important is the realisation that unless somebody such as the National Jazz Federation undertakes to present great artists such as Big Bill and Brother John, they will, in all probability, not be presented. With this in view, the National Jazz Federation is already planning a series of such tours with the accent on presentation in acoustically better halls and in towns other than those with 10,000-seater arenas. The artists we hope to present may not always be the really great names, but they will all be jazzmen whose music deserves your attention.
This concert is our first step into this new field. I sincerely hope that you will feel that the step has been a worthwhile one.
CHRIS BARBER'S JAZZ BAND with OTTILIE PATTERSON, APPEARING AT HULL, WOLVERHAMPTON, BRIGHTON, SHEFFIELD, COVENTRY, EDINBURGH, DUNDEE, BIRMINGHAM & IPSWICH
Chris and his Band really need no introduction to a jazz audience. They are nowadays acknowledged as holding the top position in Britain's traditional world. The reign of Humph the King was at first dented and then ended last year when the Lyttelton Band was headed for the first time in a national popularity poll by the Chris Barber Band. Success for the band has developed phenomenally, without recourse to gimmicks or publicity stunts. Nobody gyrates hips or knees self-consciously on stage -- though Monty will occasionally indulge himself with a little hand-clapping. Today, the band's records sell on a par with the better "pops" and membership of the Chris Barber Club, which has no headquarters or raison d'etre other than an admiration for the band's music, runs into thousands.
Chris himself in his off-stage moments seems the most unlikely man to have inspired this success, for he is self-effacing and often a little hesitant. He sports none of the gaudy personality that is so often associated with entertainers. So far as is known he has never grown a beard. He is 26 years old, and birthday cards should be addressed to arrive on April 17th. His hobbies all centre on his music, apart from a craving for sports cars, and he has recently graduated from vintage Lagondas to a sleek and windswept Lotus.
Although this is not Chris's first band, it is the only one which has met with real success. His earlier bands were, in effect, dummy-runs, in which he worked out his musical formula and gained experience. The present band was formed in June, 1954, by the split-up of the Ken Colyer Band into two pieces. Whether Ken fired the rest of the band or the rest of the band fired Ken is now a matter for conjecture -- no matter, the result was sure.
Of the original group of musicians who comprised the band in those days, all remain except for two of the rhythm section. A series of guitar players, including Lonnie Donegan, Dick Bishop and Johnny Duncan, have moved into the band, developed a talent in the skiffle group, and then moved on to the lucrative world of Rock-'n'-Roll. The latest recruit to the band is, in fact, banjo player Eddie Smith. He joined at the end of last year after a stretch with Mike Daniels. The rest of the rhythm section, consisting of another Smith (this one called Dick) on bass and drummer Ron Bowden, the latter being a founder member.
Both Monty Sunshine on clarinet and Pat Halcox on cornet have developed strong fan followings on their own account. Both are forthright musicians and their collective personalities are an essential part of the band. Without them the Barber Band as it is today would not exist.
In Ottilie Patterson the band has the undoubted asset of Britain's finest blues singer. She joined the band by chance, and deserted a schoolroom full of children in order to do so.
Ottilie and the rest of the band form Britain's outstanding traditional jazz alliance.
Click here to view scans of the complete programme.

Sister Rosetta Tharpe with Chris Barber's Jazz Band (1957)
Sister Rosetta Tharpe
Gospel music is hardly known to most British people. In the United States it is huge and growing -- it takes up a sizeable part of the record lists and countless radio programmes are devoted to it. Gospel music is vital, sincere, enjoyable. It combines good melody, tunes that people love and remember, with the driving rhythm and shouting fervour of the Negro peoples. The present influence of gospel music is enormous, and can easily be seen in many vocal groups that top the hit parade.
Rosetta Tharpe is a pioneer, a leader among gospel singers. Her recordings stretch in an unbroken line from 1938 to the present day -- the earlier ones still enjoyed and admired, the latest looked for with pleasure. Her style is all her own, quite unmistakable. Vibrant, commanding, with assurance and perfect timing, her solo work is magnificent, and she can whip along any group with which she sings.
Although Rosetta Tharpe has sung and played with many jazzmen, including a number of sessions with the Sam Price Trio, she can herself provide plenty of musical support. The potent sound of the steel-bodied guitar she uses adds a strong second voice to her singing, and stands out in the occasional solo work. She plays guitar, as she sings, like a true jazz musician.
Rosetta Tharpe was born in Cotton Plant, Arkansas, in 1915. Her mother, Katie Bell Nubin, who in 1949 recorded a few songs with her famous daughter, was well known for her Pentecostal preaching. Rosetta was very much impressed by her mother's example, for at the age of six she was singing and playing before a thousand people in a Chicago church. Over the years she sang for many churches, and for a time was leader in a Holy Roller church chorus in Harlem. Since her short spell as featured performer with a couple of swing bands during the early 'forties, she has concentrated on gospel work, carrying her distinctive type of music to an ever-larger audience.
The boundaries of gospel music are very wide, and Rosetta Tharpe's repertoire is enormous, including favourites such as "Gospel Train", "God Don't Like It", "Mary, Don't You Weep", "When Was Jesus Born" and "Lonesome Road". British record collectors have been fortunate, as her Brunswick recordings were the first ones issued here of true gospel singing, and we have had the pleasure of hearing a few of the memorable duets made with Marie Knight. There is no doubt that you who meet her now will want to hear much more of her songs, her fine guitar, and more of the great riches of gospel music in general.
Chris Barber's Jazz Band
The rapid upsurge of the traditional jazz revival is surely one of the surprises of our time. In a few short years it has swept from jazz cellars and back rooms to the concert stage and the biggest dance halls. From decrepit upright pianos, disintegrating drum kits, and string-bound clarinets to the present uniformed and successful bands, swinging hard and abounding with talent.
Since its formation three years ago, the Chris Barber band has been near the top in the field of revival jazz, and is now the leading traditionalist band in Great Britain. It is not difficult to find the secret of the Barber boys' success. For while their music is based on the great jazz of the past, they live and work firmly in the present. There is no mere copying of old arrangements, old records, old styles. They have made their own style, a good one, and, rightly popular, they have taken their jazz to an ever-increasing number of young people, and they have stayed as a group. This is no bunch of utility musicians sheltering in the shade of one great soloist, nor a "Dixieland band" playing mechanical arrangements of old-time music. The Chris Barber band is a true jazz band. Its front line, in the classic jazz tradition, consists of trumpet, trombone and clarinet, playing over a sturdy rhythmic background provided by banjo, bass and drums. Each man in the band is an individual, with his own manner and his own following, but they are always part of the group, and in that lies their strength.
Bandleader Chris Barber has come a long way since the early days with New Orleans styled local bands developed his tailgate style. As strong as ever in ensemble, his well-constructed solo tromboning always pleases, and in all his work with the band there is an abundance of fine tone and good phrases.
Trumpeter Pat Halcox, with his crisp incisive manner, provides a strong and forceful lead. Near at times to the work of the best Creole brass men, his playing is very stimulating, kicking the band along in the most spirited way. With such a brass team, Monty Sunshine's clarinet makes the best possible blend. Agile and soaring in the fast numbers, delicate and full of feeling with quieter tunes, Monty's very distinctive music fits admirably into the pattern of the band's jazz, and assures his place at the top of jazz clarinet playing in this country.
This strong team that makes the front line is supported by a unit that is no less accomplished. The rhythm section is the band's solid core, and although only three men strong, it supplies abundantly the distinctive beat that underlines all good jazz. Eddie Smith on banjo, Dick Smith on bass and Ron Bowden at the drums unite with the front line to swing their way through the most varied jazz material.
Chris Barber's brand of jazz is not limited to any one school, but includes blues, stomps, marches, the works of the great jazz composers and the popular numbers that have become part of the tradition. For some time the band has featured spiritual and gospel tunes, and for them to share these programmes with Sister Rosetta Tharpe will be as rewarding an experience as it will surely be for all who hear them together.
Click here to view scans of the complete programme.

Chris Barber's Jazz Band with Ottilie Patterson, featuring Sonny Terry and Brownie McGhee (1958)
Introduction by Chris Barber
When we arranged, in April 1957, to bring Sister Rosetta Tharpe to this country for a national tour in November and December of that year, we had already decided on our next project. Sonny Terry and Brownie McGhee were already well known to us from their records and when Big Bill Broonzy, whose tragic illness lends added interest to this tour by artists of similar style, recommended them to us as jazzmen of great interest, our minds were made up. This tour is the result. We shall be visiting such towns as Birmingham, Manchester, Newcastle, Liverpool and Glasgow, as well as many other centres of jazz enthusiasm throughout Great Britain, including, of course, London. We intend to continue our policy of bringing to this country at least twice a year real jazz artists to appear with our band on its regular visits to all the major towns of the British Isles.
Chris Barber's Jazz Band
Chris Barber's Band occupies such a unique position in jazz that had anyone predicted the existence of such a position four years ago, he would have been laughed out of the conversation. Many people have scoffed at Chris's success and have belittled it. Most prominent among his detractors have been the so-called "jazz critics" who have been unable to resist any attempt to "have a go" at the band. They have thrown everything Chris's way, saying first that he was "corny", then that he had "forgotten the basis of jazz", and finally that he had a "Mickey Mouse" band. Through it all Chris has remained firmly at the top of the tree, unmoved by all the unwarranted nonsense written about him.
Why have these critics attacked him? The answer is simple. Because Chris is honest enough to play the music he loves, and because he, despite the critics, has made a howling success of it! Perhaps the critics and writers do not like Englishmen who can actually play jazz that is not a copy of the American's. Perhaps they would rather listen to records than live, original jazz actually being created. Whatever the reasons, they have been proved resoundingly wrong time and time again, and now in 1958 one can gradually see them sneaking round the back door and admitting, one by one, that they were wrong.
This is, of course, a good thing. That a fine band with such high musical ideals as the Barber organisation should be the subject, as in the past, of constant disparaging remarks is a black mark against the critics, and it is only right that these "black sheep" should confess that they were wrong. To those people who wonder at Chris's popularity in England and on the Continent it can only be said, "Man, you don't know what you're missing", for Chris on trombone is one of the finest musicians ever to emerge from the British Jazz Revival. His bass playing is also an enviable asset and a constant source of amazement to those who have previously thought of him as "just a 'bone' player". Pat Halcox on trumpet is one of the most popular musicians both with musicians and the public. He combines a wonderful creative feeling with a hot and jazz-laden tone. Monty Sunshine is certainly the only British clarinet player ever to have had a hit record. His recording of "Hushabye" has been in the best sellers' lists now for many months. Monty's style is unique in its liquid and soulful approach and he, too, combines a wonderful fund of ideas with this unique and identifiable sound.
Drummer Graham Burbidge was previously with the Sandy Brown band and is by now well known as one of the most powerfully swinging men in jazz today; together with Dick Smith on bass and Eddie Smith on banjo he succeeds in helping produce the swinging sound which we now know as "the Barber Band".
Here, then, is the most creative power in European jazz today, both solowise and in ensemble a band that can always be relied upon not only to make your feet tap, but to produce sounds that are a constant delight to the jazz-conscious imagination.
Ottilie Patterson
Ottilie Patterson was born in Ireland of Irish-Latvian parentage. At an early age she showed an aptitude for music and drawing, ultimately training as an art teacher. While studying at Art College she was introduced to jazz on record by a fellow student, her interest in blues being well and truly kindled on hearing such records as Morton's "Winin' Boy", Mezz's "If You See Me Comin'", Bessie's "Reckless Blues" and Ammon's "Shout for Joy".
She began to sing with local jazz bands but had not the chance to fulfil her ambition to make singing her career until July 1954. While on holiday in London she met blues singer Beryl Bryden (our programme illustrator), who introduced her to the Barber Band, who, on hearing her, asked her to join. Six months later she joined the group as an untrained, inexperienced singer, trying to re-create the feeling found in the blues of Bessie Smith and Ma Rainey, blues now forgotten.
Ottilie, now 26 and more experienced than in the early days of her career, has benefited greatly from the visits of Big Bill, Brother John Sellers and, more recently, Sister Rosetta Tharpe. These artists have revealed to her an aspect of blues and spirituals that not many other singers in England have had the privilege to enjoy, since Ottilie was lucky enough to travel and work closely with these wonderful people. Brownie and Sonny are amongst the many blues artists whose music she loves, the music of men like Tommy Maclennan, Big Maceo and Lightning Hopkins – and with their help and influence we hope that she will, as Big Bill urged her, "Keep the blues alive".
Click here to view scans of the complete programme.

Chris Barber's Jazz Band with Ottilie Patterson featuring the World's Greatest Living Blues Singer, Muddy Waters (1958)
Muddy Waters, by Paul Oliver
Between the Yazoo River and the Mississippi lie the rich and fertile Bottomlands of the so-called "Yazoo Delta": the heart of the cotton growing country of Mississippi, and the cradle of the Blues. Here, in Rolling Fork, Sharkey County, was born on the 4th of April 1915, a Negro boy who was to become one of the greatest Blues singers of his day, McKinley Morganfield. As he played by the sluggish Deer Creek his boyhood friends nicknamedi hm "Muddy Waters" and it is by this name that he is still known today. From his earliest childhood Muddy Waters heard the hollers and field blues of the sharecropping Negroes of ths alluvial plain, and they became a part of his life. His father played the guitar and sang the blues, and in the long, inactive "lay-off'' periods he had time enough to teach his son to sing and play them too. Muddy used to hear the worn records of other blues singers, including those of his uncle, Robert Johnson, justly famed as one of the most celebrated blues artists who had wandered South and West to Texas, there to record in San Antonio and Dallas during the late Thirties, and there it is rumoured to meet his death by poisoning. Robert Johnson had a way of singing the blues in which he would repeat short phrases in parenthesis many times, and imitate his own voice on his guitar. His technique impressed young Muddy Waters and helped him to formulate his own style.
Through Rolling Fork runs the famous "Yellow Dog" railroad, the theme of one of W. C. Handy's best-known blues compositions. The "Yazoo and Mississippi Valley" railroad -- its true name -- links Vicksburg by way of Rolling Fork with Clarksdale, and eventually the Morganfield family took the "rattler" North to Coahoma County, settling at Stovall some ten miles or so North-West of Clarksdale. In this district Muddy Waters soon gained a local reputation as a blues singer and guitarist and he was given added encouragement and instruction by the veteran singer Son House, who had recorded his "Clarksdale Moan" and "Mississippi County Farm Blues" for Paramount before the Depression. Muddy Waters adopted the style of guitar playing popular amongst the blues men of northern Mississippi in which finger-picking is preferred to the playing of chords, the guitar strings being made to whine and moan like a crying voice by the use of a glass bottleneck worn on the little finger of the left hand with which ths strings are stroked. This is the style of such Mississippi guitarists as Kokomo Arnold or Black Ace (B. K. Turner); the style of Muddy Waters, summarised by Big Bill Broonzy: "Mississippi style, not the city way. He don't play chords, he don't follow what's written in the book. He plays notes, all blue notes. Makin' what he's thinkin'."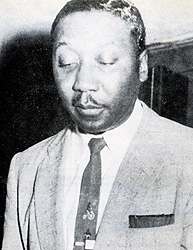 To the Clarksdale district came Alan Lomax in 1941, searching for folk talent to record for the Archives of the Library of Congress in Washington. He heard of McKinley Morganfield's reputation and made his way to Stovall where he found him labouring in a cotton field. When he heard him sing he was anxious to record and so Muddy appeared on the obscure AAFS 18 record in the Congress collection with his two blues "County Blues" and "I Be's Troubled." For several years the deep, sad voice and the strange guitar accompaniment on this disc, familiar to only the most determined of blues collectors, was all that was known of the singer with the curious name of Muddy Waters.
As the demands of the defence factories and of heavy industry attracted many blues singers to Chicago and the Urban North during the First World War, so too the pressure of emergency War production during the 'Forties drew many more Negroes from the South. McKinley Morganfield went with them. He settled in Chicago and soon became friendly with the boogie pianists and the blues guitarists of the South Side until eventually, in 1949, he cut four sides for the Aristocrat label in the company of a pianist known by a name as picturesque as his own: Sunnyland Slim (Albert Luandrew). The following year he re-created his Congress recordings under the titles "I Can't Be Satisfied" and "I Feel Like Going Home" (Vogue EP 1046) and commenced to record a number of other sides with Leroy Foster, a blues singer with a guitar technique not dissimilar to his own; with Little Johnny who sang and played piano, and with St. Louis Jimmy -- James Oden -- who has long been a well-known name in the Bluebird Race lists.
In the course of his years spent in Chicago Muddy Waters has retained his integrity and authenticity as a singer even though his work has undergone certain changes of style. Such recordings as "Walking Blues" (Vogue 2101) show little influence of the city: words are reiterated or broken off, vowels are strangled or conversely drawn out and "bent" and he exclaims exultantly as he sings. The rhythms that he introduces and the phrasing of his guitar picking are highly personal: this is "primitive" Country blues in the best sense of the term. In 1951 Muddy teamed up with "Little Walter" Jacobs, a diminutive smiling harmonica player with a shrill and distinctive style of harp-blowing that does not owe much to such celebrated exponents as Sonny Boy Williamson, Sonny Terry or Noah Lewis. His exciting harmonica blues perfectly partnered Muddy's guitar work and he is to be heard on such a record as "Appealing Blues" (issued in England on Vogue 2273 as "Hello, Little Girl") in which the singer shows that the racier life of Chicago has had some effect upon his development.
Little Walter frequently employs the use of an electric harmonica instead of the customary "acoustic" models and Muddy Waters too, changed to electric guitar. This gave him the volume he needed in order to be heard in the noisy South Side clubs where he often worked, but he retained his use of the bottleneck style of playing and imparted to his guitar work a fierce, aggressive sound far removed from the sweet tones so often associated with the electric instrument; generally he favoured a bass as an accompaniment on his earlier records but more recent items have the pronounced "sock" rhythms of Freddy Bellow on drums. "Rhythm and Blues" is a uniquitous term which covers the singing of Gospel Choirs and close-harmony quintets as well as the hard-hitting blues of Chicago small group bands and the saxophone extravagancies of Earl Bostic. Under such a general heading Muddy Waters is classed as a Rhythm and Blues artist, but it would be wrong to assume that his work has been plagiarised in any way. He sings the tough, confident, exhilarating blues of the modern Negro, but it is blues that is original, personal and creative. For Rice Miller (Sonny Boy Williamson No. 2), for the Negro Jimmy Rogers, for Little Junior Wells, for the many other artists with whom he works as for the countless Negro domestic workers and factory hands, truck drivers and bell hops, railroad porters and shop assistants and their kinfolk who buy his records, sing and dance and listen to his music Muddy Waters' blues have meaning. Their admiration and enthusiastic support have enabled him to live today on Lake Park Boulevard Chicago, but the roots of his music are still buried deep, in the black earth of Sharkey County even though it is nurtured by the vital atmosphere of modern Negro America. Muddy Waters brings us the living tradition of the blues on which the whole of jazz music has grown and thrived.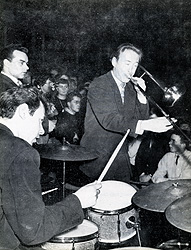 Chris Barber's Jazz Band, by Keith Lightbody
In Britain the name of Chris Barber has now become more than just the name of a jazz band leader, it has become a household word. The band are engaged at present in touring Britain and the Continent, playing at concerts, dances and clubs yet never failing to astonish the business men and promoters with their packed houses and overall popularity. No longer do the audiences consist only of young jazz enthusiasts, but rather the reverse. A cross section of any Barber audience would reveal people of all age groups and from all walks of life who are there for the one reason, that is that they enjoy this band and their type of entertainment. Entertainment is the secret of the Chris Barber Band.
Chris has been interested in jazz for well over 13 years, studying trombone and bass at the Guildhall School of Music for four years. His first band was semi-professional and achieved no small success in and about the London jazz scene after its formation in 1949. This band ran into various changes in line-up until a new band was formed in 1953 under the name of The Monty Sunshine Sextet. Included in the line-up were Pat Halcox (trumpet), Chris (trombone), Monty Sunshine (clarinet), Lonnie Donegan (banjo), Ron Bowden (drums) and Jim Bray (bass). This band ran for three months under Monty's name because of prior commitments in Chris's name with his old band. In the March of 1953 Ken Colyer returned from New Orleans and was asked to join the band, changing the name to the Ken Colyer Jazzmen. Meanwhile, Pat Halcox stood down in favour of Ken Colyer, but returned to play trumpet with this band when Chris took over the leadership after a year, because of some difference in musical opinion. From that day on the band has progressed popularity with its repertoire of Ellington, Armstrong and Oliver numbers and the numerous rags, stomps and spirituals at which the band excel.
Skiffle was fostered inside the Barber Band, when Lonnie Donegan made the Hit Parade with his version of "Rock Island Line" and left the band to form his own group. The present day line-up consists of Messrs. Barber, Halcox and Sunshine with Dick Smith (bass), Eddie Smith (banjo) and Graham Burbidge (drums) forming the country's leading traditional band.
Since 1953 the band have had the good fortune to travel with many great American artists, whom we have been fortunate enough to hear in this country, namely George Lewis, Sister Rosetta Tharpe, Big Bill Broonzy, Sonny Terry and Brownie McGhee.
Therefore their music is not without the influence of these great artistes. Another innovation within the band was brought about by the friendship of Chris and John Lewis of the Modern Jazz Quartet resulting in some of the Lewis numbers being adapted and played in the Barber style.
Ottilie Patterson
Ottilie today is, without any shadow of doubt, one of the most popular singers in Europe. This has been made possible by the medium of recordings and by touring all over Europe with the band. Her singing is easily recognisable by the depth of tone and feeling in her voice, combined with her natural ability to sing the blues and spirituals, which she loves so much. Ottilie is not only a singer, but a very accomplished pianist, and has made three recordings on which she accompanied herself.
She was born in Northern Ireland and was known to sing "Lamplighting Time in the Valley" at the tender age of two years. During her childhood she was taught the piano and obtained first place in a music festival for Northern Ireland, two years running, at the ages of 14 and 15. During her career as an Art teacher she was introduced to jazz by friends in and about Belfast, and first auditioned with the Chris Berber Band in a Greek Street rehearsal room in July, 1954. In January, 1955, Ottilie joined the band professionally and quickly gained popularity both here and abroad. The artists who have affected her and helped her most in obtaining maturity in her singing are, perhaps, Bessie Smith, first and foremost, and race artists like Big Maceo, Lighting Hopkins, Dr. Clayton and Sister Rosetta Tharpe, with whom she toured in 1957.
Click here to view scans of the complete programme.

Sister Rosetta Tharpe with Chris Barber's Jazz Band and Ottilie Patterson (1960)
Chris Barber's Jazz Band
To a writer, the longevity of the Chris Barber Jazz Band comes as a challenge. With the years, the few basic facts about the member's early lives -- Chris and that progressive school in Golders Green; Monty and the Crane River Jazz Band -- become impossible of further use. One tends to hope for a massive shake-up in personnel, some catastrophe which will make good copy in the next programme or on the next sleeve note. And yet, what a contradiction there is here. It is the very fact of long time co-existence that has made the Barber Band such a single-minded unit. It is the absence of massive change that has allowed the same members of Chris' Band to take British jazz out of the purely imitative stage into the world of collective creation; and the writer's death wish would destroy not his difficulty in representing old facts, but the most important asset in British jazz today -- the Chris Barber Jazz Band.
Chris formed this Band -- give or take a few minor personnel changes such as a young man called Lonnie Donegan -- six years ago; and, during the course of those six years, the band has been improving both individually and collectively. At first it sounded very much like many of the other bands in existence at the time -- a somewhat jerky copy of the George Lewis Band. With practice it stopped sounding so jerky, and became a very competent New Orleans styled group -- a process which occupied some several years. At this stage, it reached a crisis. No one realised it at the time -- least of all the members of the band; but it is a crisis faced by almost every successful British jazz band sooner or later in its career. Unsuccessful bands face the same crisis much sooner, and it normally results in the sudden disappearance of the band to be replaced soon afterwards by one or two more bands sporting a rearrangement of the same personnel.
The crisis is composed of the very fact of being an imitative band. Not necessarily imitative down to the last note on a recently imported New Orleans record, but generally imitative of someone else's creative work. When a band has mastered the art of imitation, it is no longer faced with a joint endeavour. It either atrophies into lifeless repetition (examples of long living bands on the British scene that should have been killed years ago are only too common) or, if the individual musicians have a real urge to create, they tend to break up the band so as to leave the less talented members proficiently imitating whilst the rest look for new partners.
The Barber Band reached this point at some time about two years ago. Perhaps sooner -- but not noticeably so. And then, due to a remarkable combination of coincidence and choice of musicians by Chris himself, they found that each was able to make the great step forward in company with the others. The move into creative jazz was made as a band-- for no one lagged behind, and no one felt the need to look for inspiration elsewhere. This (looked at in retrospect) can now be seen to be a unique event in British jazz history. Perhaps Al Fairweather and Sandy Brown might have managed it, but they have never seemed able to find a band to go with them.
When the Barber Band made its first attempts to fully create its jazz, those years of association between the musicians made it possible; and so it moved into the world of the really great jazz bands.
What you see and hear on this concert is a group of musicians, supremely confident in the fact they have passed through the 'imitation barrier' to the land of true creation. This is why the public, sensing the achievement, is rapidly elevating the band to the position of the most popular jazz band in the World.
Sister Rosetta Tharpe
This is Sister Rosetta Tharpe's third British tour, and the second with the Chris Barber Band and Ottilie Patterson. There seems to be a warm spot in the heart of the British public for the best blues and gospel singers, that allows them to return again and again to the kind of reception usually reserved for one of the family. This is why Big Bill Broonzy's death came as such a tremendous shock to the British jazz world, and why Champion Jack Dupree eased himself into a ready familiarity after the first few numbers of his first tour. Rosetta is already an old friend.
In the field of Gospel singing, Sister Rosetta is probably unique, inasmuch as she is the best of the Hot Gospellers. Unlike Mahalia Jackson, who is a superb singer whose medium happens to be religious music, Rosetta is basically, in her musical approach, a jazz singer whose medium happens to be religious music. Whereas Mahalia will step out of tempo often in her singing in order to deliver her message, Rosetta never seems able to forget altogether the rocking rhythm that surges through her whenever she steps onto a stage. She has an inborn dynamism and love of rhythm that only the greatest jazzmen can boast, and she will never deny it or spurn the jazz connections which it suggests. Mahalia Jackson has been known to refuse to sing on the same stage as a country blues singer or jazzman; and there was great misgiving some years ago when she was billed to appear at the Albert Hall with Big Bill. In the end, she was brought to the Hall during the first half and led on stage by a route unlikely to be chosen by Big Bill as he came off. 'Jazz is an evil, wicked music' she has said; and this is what differentiates her from Sister Rosetta. 'It doesn't bother me when people say I'm a jazz singer. I regard it as quite a compliment, knowing it is meant as such'. The majority of Britain's jazz fans certainly regard Rosetta as a jazz singer, and from most viewpoints they are probably right. Jazz has never been limited by the material of the artist, but always by the way in which it is performed. Rosetta's words may be centred on religion, but the accent is unmistakably of jazz. The Negro church, with its emphasis on singing and audience participation, has long been one of the most important factors in the development of great jazzmen. "The currently fashionable discovery of 'soul' in many of the modernists is actually only a recognition of their earlier inculcation in the overpowering emotions of group worship coupled with the most violent jazz rhythms.
Rosetta comes from the same sect as Brother John Sellers-- a church that automatically bestows the title Brother or Sister on its lead singers. It was here, under the guidance of her mother -- herself a gospel singer -- that she learnt her trade. One presumes, also, that it was from her mother that she learnt to play the rocking, two-fisted piano that delighted audiences on her last tour in this country.
It was this sudden and unexpected venture into piano playing that revealed her greatest asset. Not the piano playing itself -- uproarious and swinging though it was -- but rather the tremendous stage sense and personality that makes everything she does appear aimed straight at each individual member of the audience. When she steps on stage she dominates it, and if she decided to break off for a brief extract from Hamlet, she would make it seem right. And she'd manage to inject a jazz beat into it somewhere.
Ottilie Patterson
Once upon a time, all the jazz critics in Britain used to refer to British musicians only in association with the American musician on whom they were basing their style. Thus one would read of the Dodds inspired clarinet of Cy Laurie or the Spanier style trumpet of Freddy Randall. It was convenient and mostly true. After a while, however, British musicians, being resourceful people, began to copy obscure American musicians and to amalgamate copies of several musicians into the semblance of a personal style. This confounded the critics, who didn't know quite as much as the musicians and, not being sure about influences any more, they dropped the practice and began skirting round the whole subject.
On one thing, however, they were sure. All British girl vocalists must sound like Bessie Smith. So, with the advent of Irish school-teacher Ottilie Patterson, they unanimously dubbed her 'a pale imitation of Bessie Smith'. And so she was.
Now this was many years ago, and Ottilie has improved beyond all recognition; even to the extent of developing her style quite independently of anything that Bessie Smith ever sang, yet-- surprising thing -- the needle on the critics' gramophone has become lodged in one groove. Never does Ottilie receive a review than this allusion to Bessie Smith appears. Even to this day, when all other British musicians are accorded the respect of being regarded as an entity divorced from America, writers are still gaily referring to a 'poor man's Bessie'. Apart from being unfair to the point of persecution, it is also glaringly untrue. One wonders sometimes to what actual extent concert reviewers listen to the concerts.
As is the case with so many of our improved musicians, Ottilie broke away from the straight-jacket of imitation with her first contact with live American jazzmen and singers. Released from the limitations of the gramophone record by her tour with Rosetta Tharpe about two years ago, she has moved so far ahead of the critics that one might think they are writing about another singer. This is a girl who has learnt at the source; a girl who has sung in Muddy Waters's own club in Chicago and received a standing ovation; a girl with a passionate love for the blues and the people who sing them. Who has noticed for example that Ruth Brown is now a major source of material for Ottilie? When she sings with the band nowadays, the backing is more often a rocking riff pattern that would give some spine to Cliff Richard, than it is a New Orleans sound.
On the Band's last American tour, Ottilie found an interesting variant on the 'tag' theme. On several one night stands she found herself billed as 'The World's Greatest Irish Blues Singer'. None too sure what kind of qualification this was (and remembering the Irish Hillbilly Lonnie Donegan) she turned her attention to a search for some Irish Blues. Surprisingly enough, she became very serious in her search when she started to unearth some of the original Irish folk songs and to measure them up for their Jazz potential. Some of the results can be heard on an EP to be issued soon on which Ottilie sings four Irish songs invested with a jazz beat, and a backing from the Chris Barber Band. Suffice it to say that a lot of Irish material has found its way into Ottilie's, and the Band's, repertoire.
Allowed a criticism on her own merits alone, Ottilie is a singer of whom we can all be proud -- and not just those amongst us who have a touch of the Irish in the blood.
Click here to view scans of the complete programme.

Jazzshows Present Chris Barber's Jazz Band (1961)
Introducing Europe's top jazz attraction: Chris Barber's Jazz Band
When Louis Armstrong was passing through London last October he was invited to be the luncheon guest of a Mr. J. Walworth Barbour of the American Embassy. Someone asked Louis if he was acquainted with Mr. Barbour, "Sure I am" said Louis. "He's a swinging cat, we played together at the Hollywood Bowl." A little confusion with Chris's own name, Louis was obviously referring to a concert appearance of Chris Barber's Jazz Band whilst Chris was touring America.
The Barber band has proven to be something of a phenomenon during the years that it has been performing all over Britain, Europe, and of course, the U.S.A. When one realises that this band has been the number one band since 1956 one must ponder as to why they have remained so long at the top. I am sure that this is the result of very careful planning by Chris Barber himself. Note these facts:
Chris Barber's Jazz Band has been the top box office attraction since 1956. When his Skiffle Group became popular (at that time Lonnie Donegan was a member of Chris's band) he wisely used it only as a small part of his band show to point out the importance and influence that spirituals and work songs had on Jazz Musicians. They subsequently arranged concert tours throughout Great Britain presenting with their group and introducing to the Jazz public, these wonderful artists: Big Bill Broonzy, Brother John Sellers, Sister Rosetta Tharpe, Sonny Terry and Brownie McGhee, thus implementing the work stimulated by the Skiffle Group.
They have toured America regularly during the last few years and have made a tremendous impact as a Jazz band on the American concert scene. The importance of the pioneering and prestige established there by this group has already made itself felt.
As a result of the contacts that Chris made in the States, he arranged some excellent recording sessions whilst there (Chris Barber's American Jazz Band) with Sidney de Paris, Edmond Hall, Hank Duncan, Hayes Alvis, Joe Marshall and with Chris on trombone. Quote from Max Jones, Melody Maker Jazz Critic reviewing the session on 22nd April, 1961: "Unless you happened to recognise Chris's vibrato and timing, you'd take this to be an all-American product. With a trombonist who sounded rather like an amalgam of Ory, Archey and Tommy Dorsey."
These recordings established beyond a doubt that at least British Jazz musicians, who have worked hard and with humility, tackling this evasive idiom using the New Orleans formula for a basis, can now sit down and record with these great musicians and be accepted by the critics and enthusiasts alike.
So when tonight you hear the first few bars of Bourbon Street Parade (which is the tune that always introduces them) join with me and give a good welcome to this dedicated group of musicians who have done so much during the past six years to uphold, develop and establish a standard of performance presentation and conviction that we are sure will always make Chris Barber's Jazz Band a number one box office attraction.
Ottilie Patterson, by John Martin, Jazz News
Ottilie tells her story this way: "I first started singing in Belfast with Jimmy Compton's band -- he still has it. I was at Art school and 1 sang for 10/- a night. I might add that we only worked one night a week," she says, ruefully. "One night Jimmy asked me to sing a pop song. I looked on myself at that time as being a crusader for jazz and I didn't want to sing the song so Jimmy and I agreed to differ and I left that night. Luckily the following night a friend of mine -- the same one who first introduced me to Bessie Smith -- formed a band called the Muskrat Ramblers and I joined them. We only played during the Summer months because that was the only time we could get a hall. We usually got it when the Ulster Operatic Society or someone else didn't want it. That was in 1951 and I left Ireland to come over here and teach in 1953. I hadn't been singing for a year. One night after I hadn't been here long I went to a party and heard a band that I hadn't heard before. The bandleader was Ken Colyer and Chris and Monty were in it. The minute I heard it I knew that it was the band I most wanted to sing with. I was finding work difficult to get in London and I was drawing only 33/6 from the National Assistance so I decided to go along to the Humphrey Lyttelton Agency, 1 didn't care who I sang with so long as a band needed a blues singer, Humph introduced me to Beryl Bryden, who is now one of my best friends, and Beryl took me down to the Lyttelton Club. Chris's band was down there. It was the same band that I'd heard at the party only Ken had left by now. Chris wasn't there, he was ill but I sang a few numbers with Johnny Parker accompanying me on piano and when I finished Lonnie Donegan came up to me, took me by the arm and said "Would you like to join our band ?'"
After this baptism Ottilie sang intermittently with the band but only on occasional dates and eventually a combination of unemployment in Art and underemployment in Jazz sent Ottilie reluctantly packing for Ireland. "
I had 1/9 on me when 1 got on the boat" she recalls. "I slept on the deck, talk about Make Me A Pallet On The Floor," she adds, laughing.
When she arrived in Ireland it was to find that her working hours and pay had been cut. It became rapidly apparent that Ireland was no place for a young girl whose obsessive ambition was to sing the blues. Ottilie wrote to Chris asking for a job with the band. Back came the reply "the job is yours." Handing in her notice to the school Ottilie wrote again to Chris asking when she could start. This time: no reply. Job or no job she had to leave Ireland. Apprehensive and worried she made her preparations for leaving. Suddenly 'out of the blue,' as she describes it, a telegram arrived only two days before her sailing date. It was brief and to the point: "CAN YOU START FRIDAY FIRST? -- CHRIS BARBER."
From that Friday Ottilie became a permanent member of the band and one of its featured attractions. The rest of Ottilie's story is known to everyone who is interested in jazz. As the band shot up into National and then International popularity with Sputnik-like speed, so did its Blues singer.
The American Press went wildly ecstatic during the band's four American tours and they reserved a large proportion of their complimentary adjectives for the girl from Belfast. Now there is hardly a female fan of the Chris Barber band whose ambition is not to sing like Ottilie.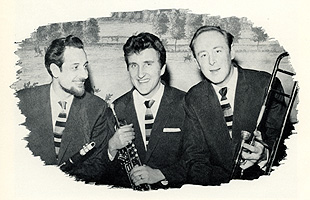 PAT HALCOX
Pat Halcox, who came into the jazz scene when playing with the Albermarle Jazz Band, was born on 1st March 1930, and originally played piano for a while. He made such an impression on the traditional scene that within a short time they no longer had any pianos -- there weren't any pianos left! Pat, with his two-fisted style had wrecked them all! On the strength of a petition sent to H.M. Government by Messrs Steinway, Bluthner, and Boyd, Pat was hastily called up. Then while in the R.A.F. he took up the trombone, but owing to the hazards of practising in a telephone kiosk (you have to lie on your back and play upwards) he changed to trumpet. Pat has played with the Barber band since its formation in 1954.
IAN WHEELER
Ian played his first notes in public on the guitar (!) with the Charlie Connor band in 1949. By 1952 he had taken up the reed instrument and formed his own River City Jazzband. A year later he joined Mike Daniels. After twelve months with Mike, he was invited to join Ken Colyer and there he stayed for five and a half years. Then Ian felt, once again, that it was time to spread his wings, so joining with Ken Sims he formed the Vintage Jazzband. This band with a difference proved a terrific success and for the moment Ian was prepared to drop anchor but come 1961 and he celebrated the New Year by joining the Chris Barber set-up. When he can steal a few leisure moments Ian likes to dabble with his radio-controlled model planes or his impressive tape machine.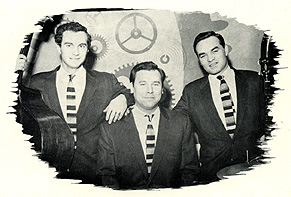 DICK SMITH
Dick Smith has been with Chris over two years now, is married, and he and his wife Kay keep house at Hampstead. After having been a jazz fan for many years Dick started playing a bass about five years ago. When asked who his favourite jazz musicians were, he started off: "Pops Foster, Jimmy Blanton, Sweet Figilo, George Lewis, Louis Armstrong..." and carried on for some considerable time.
EDDIE SMITH
Edgar James Smith (better known as Eddie) was born on 4th August 1929. After being first apprenticed as a bank note printer (which we think has possibilities) and then doing his National Service (which has none) he took up motor-bike racing. This resulted in a broken leg, so he gave it up and bought a banjo for ten shillings. Eddie is very well known in the jazz scene, having played with the following bands: Ian Bell, Bob Dawbarn, and Mike Daniels, before joining Chris.
GRAHAM BURBIDGE
Graham is the drummer in the group, he was born on 1st October 1933, and is single. His father was a drummer, and at the age of four, young Graham had his first view of life from behind a drum set. At the age of fourteen his parents bought him his first drum kit and then emigrated to Australia.
Click here to view scans of the complete programme.

The Sixth Beaulieu Jazz Festival (1961)
Introduction by Lord Montagu of Beaulieu
Welcome to the 6th Beaulieu Jazz Festival!
This year we have the strongest British and International line-up ever presented at a Jazz Festival in England. In addition to nearly every top-line British band -- and I specially welcome Chris Barber for the first time at Beaulieu -- I want to express an especially warm welcome to Anita O'Day and Jimmy Cotton from U.S.A., and to Hans Koller from Berlin. These three stars will add much to the Festival and we are all indebted to Johnny Dankworth who is responsible for Anita O'Day's tour and European Debut at Beaulieu.
As many of you already know, last year's unfortunate occurrences nearly caused the Jazz Festival to be discontinued. In deciding to carry on I was enormously encouraged by the hundreds of letters I received from Jazz fans from all over Britain urging me to continue and stressing the fact that real Jazz fans are well behaved and orderly people. I am confident that this year's Festival will prove them right, and thus ensure a future for Jazz Festivals at Beaulieu which I hope will raise the prestige of Jazz throughout the world.
Chris Barber's Jazz Band with Ottilie Patterson
The Chris Barber Jazz Band is a phenomenon in our midst. Whilst the majority of British critics still persist in an attitude of aloofness and faint praise that borders on the incredible, the fact -- clear for all to see -- is that here is one of the world's greatest jazz bands. It is a band that has drawn unstinted praise from two such diverse characters as Louis Armstrong and John S. Wilson of the New York Times; and is consistently voted "Best Jazz Band In The World" throughout the Continent of Europe. It has record sales extending from Charing Cross Road via New York, Prague and Tokyo, to Melbourne, Australia. It has been in existence as a band since 1st March, 1954, when its first jobs were at the Humphrey Lyttelton Club in Oxford St. and the NJF's London Jazz Centre in the heart of Soho. Personnel changes have been relatively few, and this has helped to develop the superb band sound and understanding. The original bass player, Jim Bray, left in July 1955, and, after short stints from Mickey Ashman (later with Lonnie Donegan's group) and Denny Coffee, Dick Smith joined the band in April 1956. Drummer Graham Burbidge replaced the original founder member Ron Bowden (now with Kenny Ball) in December 1957; and after Lonnie Donegan left the band for the bright lights of television and the variety stage in March 1956, there was a short contribution from Dickie Bishop before Eddie Smith took over in November of the same year. The much publicised replacement of Monty Sunshine by Ian Wheeler took place in December I960. Vocalist Ottilie Paterson just missed being a founder member, leaving her job as a teacher in Northern Ireland to become a professional blues singer in January 1955, just half a year after the band was launched. The band's playing career started in the London jazz clubs, but Chris quickly realised that his music must be carried to the fans throughout the country, and during 1955, the band covered an enormous mileage in Britain, playing every possible club and hall.
Towards the end of that year, Sunday concert work started, and, during 1956, the emphasis changed. By 1957, the band was concentrating on concerts, and the pattern that it follows today was laid down. Now, in the concert tours it undertakes, it can be heard by the largest number of people in the best conditions. The only regular club appearances are at the band's home base in Oxford Street, London -- the NJF's Marquee Club. The band first toured abroad in October 1954, when it played for two weeks in Denmark; but it was not until 1956, and again in 1957, when it went to Holland, that overseas touring began to feature as a major feature of the band's programme.
By 1959, twenty-nine weeks of the year were spent abroad -- in Germany, in Holland, in Denmark, and -- most important of all -- in America. Chris's band is the first British jazz band to carve a successful niche in the American scene. The band has appeared in the Monterey Jazz Festival, at New Orleans, in Chicago, in the New York clubs, and it played to a capacity crowd of tens of thousands at the Hollywood Bowl during last year's Dixieland Jubilee Concerts. Two more tours are already fixed for 1961, to add to a booking chart that includes Sweden, Switzerland, and a possible Australia. The band's records have outsold those of any other jazz band yet. Apart from the gold disc winners Rock Island Line and Petite Fleur; the albums such as Barber in Copenhagen, New Orleans Joys, Elite Syncopations and Barber In Berlin have been best sellers in their own rights. The 12" LP Barber In Berlin sat firmly at the top of the British Best Sellers List for six consecutive months. Singles such as Ice Cream, Down By The Riverside, Bobby Shafto and Chimes Blues have sold well over the 100,000 mark -- and the recent L'il Liza Jane and Soudan sold over twenty thousand copies in the first week of issue.
Film work started in May 1956 with a short film made on locale at the Festival Hall, and then came an appearance in a jazz club scene in a British 'B' feature called 'The Hypnotist.' This was followed in mid 1958 by the featured part in 'Look Back In Anger.' However, perhaps the most interesting film work has been in three short films -- the first called 'Holiday,' made for the British Transport Film Unit; the second for Tony Richardson of 'Saturday Night and Sunday Morning' fame, which was made in the Free Cinema idiom, and called 'Mamma Don't Allow'. This raised a healthy critical acclaim, but the most recent film, advertising Prestige kitchen cutlery, is a brilliant synthesis of sound, movement and colour, and won an award at the Venice Festival.
As a creative jazz band in the traditional idiom, the Chris Barber Band is probably without equal in the world today. Certainly in terms of commercial drawing power it is in a class of its own; and this is probably because the band's first consideration is always to improve its music -- and, jazz fans being the discriminating public they are, flock to hear the very best.
Click here to view scans of the complete programme.

The National Jazz Federation Presents the Second National Jazz Festival, Richmond (1962)
Introduction, by Harold Pendleton & W. Dubrez-Carey
Humph, Chris, Johnny and Kenny -- Lyttelton, Barber, Dankworth and Ball. These four internationally recognised leaders between them represent the field of this country's enterprise in jazz. Between them they define and determine the major aspects of their art -- mainstream, traditional and modern -- historical, experimental and derivative. They are, in a phrase, the key men of British jazz. Each of them will compere one aspect of the Festival main arena events. Each of them will represent the nationally famous jazz groupings which cover every major style of jazz existing in Britain today, from the purely improvised to the finely orchestrated. We hope we have catered for your particular taste in jazz and that you will have an enjoyable weekend.
Chris Barber
Chris Barber's fantastically huge following is due largely to the band's having what is in effect a double audience. The instrumentation of the band gives it enough of what is usually thought of as the British trad sound to attract the vast public that exists for good trad bands in general. But Chris' jazz policy and his willingness to make gradual experiment -- both in sound and repertoire -- have earned him a large slice of that jazz public which in the normal way wouldn't look at a traditional outfit. In the eight years of its existence, the band has graduated from gigs in obscure local clubs to an honourable appearance at the International Jazz Festival in Washington last May. Its route during those years has taken it to most of the major cities of Europe, and on several visits to the United States. And since the Washington trip, the band has made a short and successful sortie into Hungary for the first time.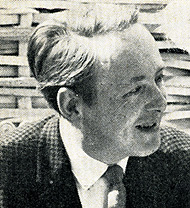 Donald Christopher Barber, Pat Halcox, Ian Wheeler, Eddie Smith, Dick Smith and Graham Burbidge play the instruments. Ottilie Patterson, otherwise Mrs. Barber, sings the vocals. They form a tightly knit group whose changes of personnel over the years have been few and gradual. This has made them a band rather than just a bunch of musicians playing on the same stand. Chris has never actually aimed at commercial success. He has known what he wanted, seen what was right and natural for him, and gone on in his own way to achieve it. That the paying public has gone along with him is a happy circumstance, but it has turned neither his head nor his steps. The band is fortunate in having in its ranks an outstanding example of that rare phenomenon, the British Jazz Singer. Ottilie Patterson, once an art teacher and a shy disciple of Bessie Smith, is now, vocally if not physically, a giant on the British jazz scene.
With Chris' intelligent programming (every set is carefully balanced in terms of tempo and mood) and almost passionate regard for clarity of sound, it will become obvious during the group's playing why these islands have never seen a home-grown jazz band so continuously successful, so highly regarded and so deeply involved in its chosen music.
Click here to view scans of the complete programme.

Chris Barber's Jazz Band with Ottilie Patterson and Introducing Louis Jordan (1962)
Louis Jordan, by Peter Clayton
Memory is a faulty thing, but I'm pretty certain the first time I became aware of Louis Jordan was while I was a scrawny schoolboy, evacuated to what seemed an equally scrawny West Country town. The date would have been about 1944, and the local cinema, a dejected building with a cracked cement portico ("The Carlton" I think it was called) was showing one of those films about American stars entertaining the troops.
One of this patriotic and uplifting series included a noisy but exciting, rhythmic little band -- Louis Jordan's Tympany Five -- who had to play Is you is or is you ain't my baby on the back of a truck in a tropical thunderstorm. I was, to use an expression I didn't know in those days (and wish I still didn't) completely knocked out.
Jordan, the leader, was a vigorous and exhilerating performer who sang with collossal gusto and occasionally played stabbing and uncomplicated choruses on alto saxophone. I don't know if we had a name for it in England at that time, but this was, I suppose, our first taste of what we shouldn't hesitate now to call a rhythm and blues band. Though I might add that the noise they made was superior to the honest but raw endeavours of most of the R & B electricians' groups at present roaring about on the London scene.
Now, nearly twenty years later, we are to get a chance to see and hear this dynamic man in the flesh. And all because Chris Barber happened to catch his act at the Apollo Theatre in Harlem a few weeks ago. He found that Louis Jordan was still singing as wonderfully as ever, still occasionally blowing great alto, and promptly decided that he was precisely the kind of artist to fit in with the Barber band at the present stage of its development. So, a visit to Britain.
I believe I am right in saying that there have been no Louis Jordan records available in this country for years, with the possible exception of an Esquire EP. Before that there were some Vocalion and Brunswick 78s. So, for most people, Jordan is going to be something of a discovery.
I've been listening to an American Decca LP, which I think must have been put out in the early days of microgroove. Its sleeve carries that delightful period phrase -- Foxtrots, with vocal chorus by Louis Jordan, and all the tracks were made as 78s some time in the 40s. It brought back a lot of memories, quite apart from that pretentious ruin of a cinema, and set off various chains of enquiry.
I find that Louis Jordan was born in 1908, in Arkansas. He gigged around on alto in Philadelphia and New York before settling into the Chick Webb band in 1936. Webb used him quite a lot as a vocalist, even having some material specially written for him. I can only assume this was comedy stuff, since Jordan is the most unsentimental and hilarious of singers.
The first record made under his own name was in 1938, with a group called Louis Jordan's Elks Rendevous Band, and early in the next year the first "Tympany Five" got on to disc. He already had a weakness for crazy titles, and the first session produced a masterpiece in Sam Jones done snagged his breeches. Another splendid title, recorded later, was What's the use of getting sober. That will give you an idea of the man. An extrovert performer with a profound respect for the ridiculous.
He recorded prolifically in the 40s, shouting blues-shaped vocals with something of the vigour of Pete Turner or Jimmy Rushing, though sounding like neither. He had a little of Memphis Slim in his voice, too. Jazz and popular music was riding the rocking backwash of the boogie woogie craze, and there was usually a boogie styled pianist laying down the rhythmic foundation in all his numbers. Indeed, his million-selling hit was actually Choo choo ch'boogie, made in 1946.
All his numbers -- Foxtrots! Hah! -- rock like mad, but there is one in particular that I hope Chris will remember and use on this tour. It is a marvellous thing called Beans and corn bread, which Louis Jordan treated as a mock gospel number, managing in the process to sound so much like Alex Bradford that I could hardly believe my ears when I played it over again the other night.
The astonishing thing about the records that Louis Jordan made anything up to twenty years ago is that they seem to have hardly dated at all. The Jordan recipe was, and still is, rhythm, vigour, guts -- now elevated to the status of "soul" -- and a steady reliance upon that most timeless of forms -- the blues. I've just been listening again to Buzz me, Caldonia (I think the Tympany Five version came before Woody Herman's) Saturday night fish fry, Outskirts of town, Is you is and so on. I've listened carefully to the occasional alto chorus, and I'm hard put to it to think of anyone in this neck of the jazz woods doing anything radically different today. Record companies have stopped calling everything foxtrots, but it's the same magnificent stuff.
Before it's all happened it is not possible to say exactly how he will sound with the Barber band. But in view of Chris' Chicago-inspired interest in the whole field of rhythm and blues music, his use over a year ago of Alexis Korner and Cyril Davis for regular club sets with the band, and the featuring, over a much longer period, of Ottilie Patterson on R & B numbers, suggests that this will be a particularly fruitful partnership.
It will be interesting to see how Jordan sounds away from the rocking piano accompaniment (though what's the betting that Pat Halcox plays piano on at least one item?), and with the trumpet - trombone - clarinet front line. His own bands have usually consisted of himself as singer and altoist, plus tenor, trumpet, piano, bass and drums.
Well, that's it then. Our most progressive Traditional leader has rediscovered a jazzman who once made the hit parade, whose style has probably changed very little over the past 25 years, and yet who will almost certainly sound "new" and exciting to British audiences of 1962.
Chris Barber's Jazz Band, by Peter Clayton
One of the most wonderful things about jazz, apart from the actual sound of it, is its history. In place of the ordered succession of composers' lives that forms the good, stiff, upright spine of academic music, you find a wild jumble of social history, big business, personal eccentricity, economics, faulty memory, downright lies, and a romantic streak wide enough for Ethel M. Dell to have danced a jig on.
A closer look will reveal one simple principle underlying all this apparent confusion. Remember a humble creature called the amoeba? It survives and multiplies merely by splitting in half every now and then. The bits grow up, and in their turn split again, and so on. This is almost exactly the way jazz has proceeded, at least as far as bands and musicians are concerned.
A band is formed. It does well, or not as the case may be. Sooner or later somebody decides to leave, or is thrown out. Either way the result is roughly the same -- a new band starts to form round him, and the whole process begins over again.
Something of this sort has happened in jazz ever since those far-off days when bands with splendid names like the Eureka, the Onward and the Excelsior marched through the streets of New Orleans playing what some purists would have you believe was the only real stuff.
Which means that jazz groups in general are seldom in existence long enough for them to acquire a corporate life of their own. And in a world where, say, two years is a long time for any aggregation of musicians to stay together, the exceptions tend to be conspicuous. In America you immediately think of Duke Ellington, then of Count Basic; in Britain of Chris Barber.
TAKE OFF
The Barber band came into existence in the time-honoured way, and the break-up in this case was that of the old Ken Colyer band in early 1954. This group consisted of Ken Colyer on trumpet and cornet, Chris Barber (trombone), Monty Sunshine (clarinet) Lonnie Donegan (banjo), Jim Bray (bass) and Ron Bowden (drums). Colyer had actually been to New Orleans, and for him the New Orleans style of playing was not just the Truth but the Whole Truth, a principle to which he has clung with passionate sincerity ever since. The others felt that the principle was too inflexible, too limiting, and wanted to broaden the band's scope and approach. So the row, when it came, was over musical policy, a subject which arouses more feeling in musicians than a non-musician could possibly understand. The result, in this case, was unusual if not unique. The leader quit his own band.
Chris then took over leadership, brought in his friend Pat Halcox on trumpet, and there, ready made, was Chris Barber's Jazz Band. This was not, in fact, the very first Barber band. There had been various sporadic groups under his leadership in the years 1949-53. But though the people involved probably didn't realize it at the time, it was the 1954 group which contained exactly the right ingredients to carry it to fame.
PROPULSION
If you listen to the records the band made in 1954 and 1955 (and it is significant that almost all of them are still available) you will notice immediately that in spite of the changes the years have brought, there is an underlying similarity between the sound of that band and the present one.
There are several reasons for this, the most important of which is the curious musical relationship which exists between Barber and Pat Halcox. For Pat is no driving, tearaway, straight lead player in the ordinary sense of the word. His approach is more oblique, more lyrical, somewhat more delicate perhaps, than the conventional lead. Which means that Chris in his turn is playing a slightly 'straighter', more positive trombone part than that usually associated with groups of this instrumentation.
This results in the New Orleans and Dixieland division of labour between the two instruments being nothing like so clearly defined in this band. And it is the subtle harmonic and tonal possibilities which are realised on this account that form the biggest single element in the band's immediately recognizeable sound.
Next in importance is the rhythm section. In spite of the presence of a banjo, it is fundamentally a modern one, pivoting about the function of the bass. If this strikes you as odd, note that Chris is himself a bass player, having studied the instrument at the Guildhall School of Music, and knows precisely what he wants. The teaming of Dick Smith on bass with Graham Burbidge, a modern sounding drummer, has produced within a traditional band what is, in effect, a modern rhythm section. And if you doubt that judgment, please remember that this opinion is shared by no less than John Lewis of the M.J.Q., and Gunther Schuller, neither of whom are noted for an addicition to the old-hat.
The banjo, in Barber's view, is for a light, comping sound, performing a function similar to that of the piano in many another rhythm section. Chris Barber's banjo players have never been encouraged to indulge in those wilder acts of minstrelsy that make some of the out and out trad bands sound as if they were in permanent blackface. It is thus no coincidence that the two banjo men most closely associated with the band have in turn been acknowledged as Britain's best.
The first of these was Lonnie Donegan, whose interest in the folk fringe of jazz was ironically to take him out of jazz altogether and into the commercial hit parade. The second is Eddie Smith, the band's present banjo player, a world poll-winner and the sort of person people can't help referring to as a Character.
It is the role of the clarinet in the band which has undergone the least change from the New Orleans conception. (It is also noticeable that the clarinet, in recent years, is the one jazz instrument whose development seems to have stopped, even among modernists.) Only two men have occupied the clarinet chair since the band started -- Monty Sunshine and Ian Wheeler.
Monty Sunshine, with his distinctive tone and his strong solo voice, is best remembered on the band's million-selling Petite Fleur. He was with the band till the beginning of 1961, since when he has led a successful band of his own. When Monty went he left behind a place with such prestige attached to it that half the British traditional clarinet players moved up one as a result.
The musician chosen to replace him was Ian Wheeler, who brought with him a fluent clarinet sound with which the conventional clarinet part was perpetuated. But he also brought with him a great wish to play the alto saxophone. Chris seized upon this immediately, and from that time on lan's firm, pushing alto has graced a large number of the band's performances. The sound of the group is markedly different when the clarinet is out and the alto is in, and this one change gives the band a whole set of new possibilities which it wasn't slow to realize. Since then a number of other traditional bands have used an alto for certain numbers, and the prejudice which dogged the instrument in purist circles is slowly breaking down.
GUIDING STARS
It has been the Barber band's lot to pioneer things. Not consciously, like mountaineers or gold prospectors, but by a sort of innate flair for experimenting with something which later catches on. These moves forward have usually been connected with singers, either from inside the band itself or, more frequently, from close association with American jazz vocalists.
In 1954 it was Lonnie Donegan and skiffle. It may well be that the colour drains from your face at that word now, for you doubtless recall the tea-chest basses, the horrible cheap guitars and the parafin-funnel kazoos which broke the peace nightly between about 1955 and 1959.
But the word was originally applied to home-made but completely musical jazz performed by poor Negroes and Whites in America during the twenties. It so happened that banjoist Donegan had a flair for singing in this idiom, and in 1954 a band-within-the-band, known as Lonnie Donegan's Skiffle Group (with Barber on bass or harmonica), was given a spot in most Barber concerts.
In the September of that year, Donegan, Chris Barber and Beryl Bryden recorded Rock Island Line. This was the one that caught the public's fancy; it sold a million copies and eventually took Lonnie out of the band and into the lush pastures of the pop world. And it put skiffle on the map.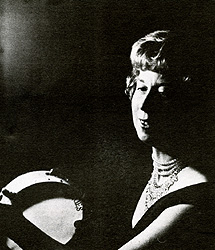 In 1955 the band acquired its own blues singer in the form of a small, terrified blonde ex-art teacher from Northern Ireland. Her name was Ottilie Patterson, and she was presented to an astounded audience at a Royal Festival Hall concert in that January. Astounded because until that moment blues singing of this kind had only been heard on record in this country. Here, apparently, was a reincarnation of Bessie Smith on our own doorstep. But the Bessie Smith phase was merely a start, since Ottilie Patterson's voice and scope grew rapidly to the point where she became a jazz singer in her own right, and it is her presence in the band that has led to some of the ways in which the whole group has progressed, particularly in the field of Rhythm and Blues. But more of that later.
The American vocalists with whom the band has worked have had an enormous influence on its range and outlook, and through the choice of these artists you can almost plot the group's development. First came Big Bill Broonzy, to increase and confirm its involvement with the blues. The first hint of a move towards gospel music came with Brother John Sellers; the big shift under the influence and example of Sister Rosetla Thorpe ('Sing from your belly', she advised a somewhat startled Ottilie). Then came further clinching of the blues feeling with Sonny Terry and Brownie McGhee.
But the biggest single influence of all was the meeting with Muddy Waters. On the band's first visit to the United States in 1959, Chris and Ottilie were bombarded with advice to go to Chicago and hear Muddy Waters. This advice came from traditionalists and modernists alike, and the impact of Muddy Waters, with his electric guitar, his enormous abandon, and the rocking sensation induced by his accompanying band, added up to something like a traumatic experience for Miss Patterson. This was something she wanted to sing. From that time on she has been more and more concerned with the modern blues of Chicago, which has meant a great change for the band also. For this is where the old purists' rules get broken with a vengeance. The heavily accented off-beat of Chicago Rhythm & Blues is a long way from the marching tempos of New Orleans and the courtly elegance of ragtime. The moment you start to lay the emphasis on the second and fourth beats of the bar, a swingier sort of feel is produced. Overdo it, of course, and you end up with Rock 'n' Roll. But used in moderation it can alter the whole flavour of a band's work.
One of the ways in which a Muddy Waters sound could be incorporated into the band was found to be the importation of Alexis Korner on electric guitar for some of these numbers, and the encouragement that this gave to Korner, who had been playing this sort of stuff in comparative obscurity for years, led him to form a full R & B group of his own. This in turn has spawned a whole crop of imitators, and it is conceivable that a movement comparable to the skiffle craze may be getting under way.
Blues singer and harmonica player Jimmy Cotton was another visitor in the urban blues tradition, again confirming a direction already taken.
In the summer of 1962 an all-coloured gospel stage show called 'Black Nativity' came to Britain. Chris Barber had already seen it, and met its cast, in Washington earlier in the year. He saw the show again some dozen or so times during the few weeks it was in Britain and cemented his friendship with Alex Bradford, who joined the band for a memorable BBC broadcast. The gospel side of the band's repertoire rapidly expanded again to absorb the new knowledge.
It remains to be seen the precise effect of working tours with Creole clarinettist Edmond Hall and the Rhythm & Blues singer and altoist Louis Jordan. What is certain, however, is that these trips will have contributed their due portion of progress and enlightenment to this receptive band.
IN ORBIT
The influences have not all been one-way. For the Barber band, which spends something like half its time travelling about Europe and America, does so at the invitation of other jazz organisations. Only a band with truly international stature could survive at festivals like those at Monterey and Washington. At Monterey they appeared in a programme with the Earl Hines, George Lewis and Woody Herman bands. At the Hollywood Bowl in 1960 they were sandwiched between Count Basic and Duke Ellington, and in 1962 they came in between the Brubeck Quartet and Ellington at Washington. And on each occasion they stopped the show!
More significantly, the band, Ottilie especially, has been deliriously received in Negro clubs, surely the acid test of acceptance.
Eminent American jazz critic, John S. Wilson probably summed up the situation neater than anyone else when he wrote in the New York Times: "The fascination that home-grown 'traditional' jazz bands holds for the English jazz follower was explained last night at Town Hall by the appearance of Chris Barber's band. Mr. Barber's group plays a form of disciplined, yet full blooded and buoyant jazz that is definitely superior to that of any equivalent band in this country. As a matter of fact, there is no equivalent band in this country for Mr. Barber and his men have created a metier that is unknown over here".
Click here to view scans of the complete programme.

The Chris Barber Band, 1979 or early 1980s
Notes by Miles Kington, Jazz Critic, "The Times" & "Punch"
I had been jazz reviewer for The Times for ten years when it vanished in November 1978, and I can honestly say that taking a newspaper away from a reviewer is the best test of what the reviewer really wants to hear. I stopped listening to groups that I ought to hear (the ones that critics can write about so easily with phrases like "creating interesting textures" and "pushing back the barriers of conventional tonality") and started listening again to music that I wanted to hear: anything with Zoot Sims in it; solo pianists like Dick Wellstood and Jay McShann; old Django records. Above all, to my amazement, I found myself listening to and buying records of Chris Barber's band.
Amazement, because behaving as a critic had made me forget what a marvellous and complete band he has. It may be a joy to listen to but it's a nightmare to write about; you can't use any of the automatic phrases mentioned above, you can't slot him neatly into history and above all you can't write his obituary. Not only does he go on changing, but he keeps on getting better and enjoying himself, and if there's anything a critic hates it's happy music that won't be pinned down. That, I suppose, is why so few critics bother to get off their bottoms and go and review him.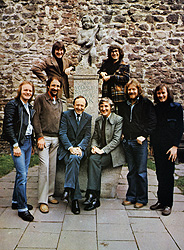 Well, in the time since I stopped reviewing, I have seen Chris Barber in concert, I have heard him in jazz clubs, I have spent too much money on his records and I have even danced (a critic dancing!) the night away in a marquee to his music, and I would like to make up for ten years neglect in The Times now by saying that his music makes me happier than that of almost any other band. No musician likes his music to be called happy, of course; a frown flits across his features at the thought that he is being called superficial and thoughtless. But one of the great things about Barber's music is the thought behind the spontaneity.
Most jazz groups get into one gear and stay there; with Barber there are always unexpected changes of gear, direction and tempo, because even after 25 years in the business the man's mind is still bright and restless and inquiring. You can't say that of most jazz players after five years in the business. Or critics either. So it's full circle for me, because the very first jazz record I bought, in 1953, had Chris Barber playing trombone on it. The second one I bought had Chris Barber playing double bass on it, oddly enough. I was learning to play trombone at the time and it fired me to want to play like Barber. I never did; in fact, I have ended up playing double bass like Chris Barber. But that's another story.
Note: The rest of the notes in this programme are identical to those in the Barbican Centre concert prrogramme.
Click here to view scans of the complete programme.

Barbican Centre, Chris Barber's Jazz & Blues Band (20 April 1982)
Humph on Chris, by Humphrey Lyttelton
Over the past twenty five years, the image of British jazz has changed. Even in Britain itself, it is no longer a matter of reflex action for critics to denounce our native rhythm sections. Abroad, reviews of concerts by British musicians were once pervaded by a notion of the British character which must have been formulated in the reign of Queen Victoria. They spoke of 'British phlegm' and credited us with the technically prodigious feat of playing our trumpets and trombones with a stiff upper lip.
Since then an extraordinary change has taken place: If we look back to the late Fifties, when the worldwide popularity of traditional jazz was reaching a peak, we find Europe split in its allegiance. In France, Switzerland and the Netherlands the father figure was Sidney Bechet, then still alive and active in Paris and on tour. Further North in Germany and Scandinavia -- and you can make what geographical or climatic conclusions you like from this -- it was the more fundamental New Orleans music of George Lewis and his associates which found favour. This music had already sown fruitful seeds in Britain and Ken Colyer's first band was recognised as the finest in that idiom this side of the Atlantic. It is no coincidence that two of the most popular bands in Europe today are led by founder members of that Colyer band, Monty Sunshine and Chris Barber.
Of all of them, there can be little argument that Chris Barber's Band has achieved the most personal and distinctive sound. And his influence, heard wherever you go on the Continent, is the most significant because here is British jazz setting the pace where hitherto American musicians have made all the running. To influence others is not in itself an artistic achievement -- I would personally have strong reservations about a worldwide epidemic of Demis Roussos imitators. But the great thing about Chris' band -- apart from the lovely music it purveys, is that it has travelled far and wide exploding myths like New Year's Eve party balloons. It long ago helped to demolish the belief that British musicians cannot play with heat and abandon due to some chronic inflexibility of the upper lip. It has put paid to the romantic idea that traditional jazz is best performed by musicians who dress like longshoremen, hold lengthy debates about the programme on stage and occasionally fall over. It has driven a tank through the notion that, to be truly traditional, jazz should remain hidebound with a set instrumentation and repertoire. And, most praiseworthy of all, it has firmly brought the blues back into the jazz fold where it belongs, and from which it was separated in the public mind during the Beatles era.
Chris and the band have done all this while at the same time retaining their own strong and instantly recognisable identity. Jazz pundits, who for years complained that British jazzmen were imitative, have been known to speak disparagingly of the Barber Band's 'British sound'. This does little justice to the great variety of contemporary British jazz, and even less to Chris Barber. For it is the Chris Barber sound which has attracted such a huge international following over the years. And long may it continue!
Notes on the Band Members
PAT HALCOX
One of the few musicians from the trad days who has survived absolutely intact as his own man with his own style improving and maturing while always remaining true to his idea of how Jazz should be played. Max Jones (Melody Maker)
ROGER HILL
The surprise of the evening was the playing of guitarist Roger Hill, who has really started to blossom, showing that his talents are by no means restricted to the blues and that he has listened to Django Reinhardt as well as Lonnie Johnson. Chris Lee (Manchester Evening News)
VIC PITT
Who plays the bass
with so much wit
and so much grace?
It's Victor Pitt
he's doing this not just by luck;
I know that Chris admires his pluck.
Peter Clayton (BBC Jazz Club)
JOHNNY McCALLUM
The first time I met Johnny, the idea of playing the banjo was as far removed from him as breeding elephants. Now he can amaze me with four strings as masterfully as with six. I am proud to have played alongside both of him. He has yet to buy an elephant. John Slaughter (England)
JOHN CROCKER
One of the shots in Chris' locker
is explosive, powerful Johnny Crocker,
performer of amazing deeds
upon the family of reeds;
Adept on clarinet and saxes,
the alto's what his favourite axe is.
Peter Clayton (BBC Jazz Club)
IAN WHEELER
Ian plays the clarinet part from 'High Society' better than anyone I ever heard anywhere. Edmond Hall (New Orleans)
NORMAN EMBERSON
Norman is a wonderful drummer and a good friend and I was real pleased to hear that he had joined the Chris Barber Band. Fred Kohlman (New Orleans)
Click here to view scans of the Barber-related sections of the programme.

Ball, Barber & Bilk And Their Fabulous Bands: National Tour (1985)
Chris Barber: 30 Years On and Still Blowing Strong...
The Chris Barber Band which played its first engagement on 31st May, 1954 at London's 100 Club, this year celebrates its 30th Anniversary with a number of concerts featuring as special guests various artists who have been part of, or strongly associated with, the Band during its 30 years existence.
Chris Barber had formed his very first amateur band at the age of 19 in 1949 and among its first members were Dickie Hawdon, later to feature in the John Dankworth Orchestra, and the late Alexis Korner, who, after later spells with Chris and Ken Colyer's skiffle groups, became the pivot of the Blues and R & B movement that evolved in Britain during the 1960's. Alexis Korner and Cyril Davies became the blues section of the Chris Barber Band during the 1960's when the band adopted its present title 'Chris Barber's Jazz and Blues Band".
Throughout its 30 years, the Chris Barber Band has maintained a work rate of over 250 concerts per year and its touring itinerary includes most European countries and the U.S.A., Middle East as well as tours in Australia, Hong Kong and a number of Eastern Bloc countries.
There have been numerous tours with notable figures from the Jazz and Blues world -- Muddy Waters, Louis Jordan, Ray Nance, John Lewis, Trummy Young, Dr. John, Alvin Alcorn are just a few, all of whom have played their part in the musical evolution of a band which long ago emerged from the ranks of imitators to become one of the very few British Jazz units of true international standing and repute. In 1984 the Chris Barber's Jazz & Blues Band was the only U.K. representatives at the World's Fair International Jazz Festival in New Orleans and in December there was seen yet another dimension to the Band's versatility when they appeared with the London Philharmonic Orchestra at The Royal Albert Hall performing great jazz work specially scored for both symphony orchestra and jazz band.
When Chris Barber purchased a second-hand trombone for six pounds, ten shillings in 1949 his daytime job was that of an actuary (the person who calculates the odds for insurance companies). The dubious transaction ('the trombone was held together by string ' recalls Chris) led to Chris forming his first amateur band in 1949. One wonders, though, what odds Chris Barber, the actuary, would have laid at that time on not only forming a professional band on probably the most precarious branch of show business -- but sustaining a career at the highest level which, 30 years on, has certainly justified giving up that daytime job!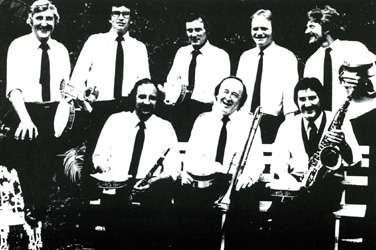 CHRIS BARBER
Understanding Chris: His enthusiasm: Chris was full of enthusiasm when we played together in 1952. He's still full of enthusiasm 32 years later, but I suppose you have to have that if you're going to take on the responsibility for seven eccentric jazz musicians and two hyperactive technicians and get them safely to the 'gigs' around the British Isles, Continental Europe and various other parts of the world.
His Competitiveness: His competitive nature showed itself in his love of motor sport. He raced a Lotus from 1956 to 1962 and managed to be good friends with at least six world champions. He plays a mean game of snooker too, but he warned, he hates to lose!
His Memory: What can you say about someone who can remember every filling station and restaurant from Glasgow to Vienna; who can convert the price of petrol from pence per gallon to pfennigs per litre in his head and will tell you how many Danish Krone you have to change for a meal in a Belgian café, and all in about 10 milliseconds flat. He just has to be a touring bandleader! And by the way, if you must mention 'Ice Cream', make sure it's an offer to buy him one with hot raspberries ... who knows, he might stand still long enough to enjoy it! (Pat Halcox)
PAT HALCOX
When Monty, Lonnie and Chris planned to give up their amateur band in 1952 they chose Pat Halcox as their trumpeter. He played a few memorable sessions with them but put his family responsibilities before turning professional. They approached Ken Colyer to join and lead the band but after one year some disagreements led to Ken's departure and they once again invited Pat. Happily this time he agreed and has of course been with the band ever since. Pat is not the obvious 'Star Trumpet soloist' many might expect but is significantly the favourite trumpeter of many musicians: like all the members of the Barber Band, he puts team-work first. Pat is at present the only member of the band whose recreation is golf.
'Many years ago before 'trad' (in fact some time before B.C.) Pat Halcox and I were about to form a band together when Chris Barber, who obviously appreciated his talents as much as I did, persuaded him to join his band. The success story is now history, but eventually I got to join Chris and so managed to play alongside Pat after all. Pat's playing has gone from strength to strength over the years, and I sometimes reflect on what might have happened to that early band had it materialised . . . maybe we would have had Chris on trombone!!' (Ian Wheeler)
IAN WHEELER & JOHN CROCKER
The reed section of the band features two contrasting personalities -- Ian Wheeler and John Crocker. John took Ian's place in the band in 1968 when Ian went to live in Cornwall. Later when Chris had the chance to enlarge the band he persuaded Ian to commute from the far West and make up the outstanding reed section he had always wanted. Their contrasting styles on clarinet and saxophones (not to mention Ian's harmonica) bring a great variety of sound to the band. John and Ian both build and collect model cars and aeroplanes although Ian, who has a pilot's licence, prefers full-size ones. John also plays squash regularly.
'John is one of the most dedicated musicians in the jazz world. He practices nearly as much as all the rest of us put together and the results show not least in his hard-won ability to get a strong rounded sound from all three instruments. He is the winner of the 'Best dressed man in the band award -- 1968-1984!' (Chris Barber)
Ian Wheeler is a knock out jazz player who gets a fabulous earthy sound from his instruments: a real character who never ceases to amuse and amaze me ... but what does he carry in that heavy suitcase?' (Roger Hill)
JOHNNY McCALLUM & ROGER HILL
As in our reed section the contrasting styles of Roger and Johnny give the band a great variety of tonal values both as part of the rhythm section and as soloists. The Barber Band has always featured the blues and Roger ably continues the tradition of Chris's first guitarist, Alexis Korner. Johnny is the band's expert on model railways while Roger spends his time on guitars. 'If you want to know anything at all about the guitar, ask Roger ... Don't bother me!' (Johnny McCallum)
(Johnny) He's not a big person ... 'A guitar on legs' someone said ... His solos are full of fun and highly imaginative, his rhythm playing is solid. I tend to lean on him ... then after the gig he sometimes has to lean on me ... but that's another story! (Vic Pitt)
VIC PITT & NORMAN EMBERSON
Vic and Norman the powerhouse of the Band, are among the more recent to join (1977 and 1979). Vic is one of the few bassists to have mastered the 'double slapping' technique -- one of which some-time bassist Chris is very envious! The New Orleans style requires the bass and drums to combine shortly and regularly and Norman and Vic are among the very best at that technique. Drumming and bass playing require really good physical condition and Norman (through healthy food and Yoga) and Vic (through squash and jogging) look after themselves well. Norman also reads a lot while Vic, like John Crocker, Richard Oliver and Chris himself is a motor racing enthusiast.
(Vic) 'It has been said that a drummer knows whether he has had an easy gig or a hard one after listening to his bass player for one chorus. I'm lucky to have one of the best in the business to play with.' (Norman Emberson)
'As soon as he joined the band, Norman showed his uncanny grasp of New Orleans rhythms and an ability to play across the broad spectrum of jazz styles featured by the band that can only come from serious study and hard work. Off stage Norman is a devotee of Yoga, plays the recorder and cooks whole foods. No doubt this gives him the strength to carry around the huge volumes which he reads so avidly!' (John Crocker)
Click here to view scans of the complete programme.

Chris Barber Jazz- & Blues Band (1994)
Introduction, by Chris Barber
Once again I have the pleasure to welcome listeners to one of our concerts: especially those who last saw us in 1957 - or perhaps never! Particularly in the latter cases I should explain that we have never been inclined to limit ourselves to a narrow view of jazz: ever since we began in 1954 we have drawn our inspiration from diverse sources - as different as George Lewis and John Lewis, Joe "King" Oliver and Sy Oliver or Thomas A. Dorsey and Tommy Dorsey. Our objective is to play this music as we know it to the best of our ability and thereby to enjoy ourselves (often enormously!) and to invite our audience to share in our enjoyment.
In the last five years we have had some very specially enjoyable experiences, two of which are chronicled in this book by the colleagues who made them possible. Chronologically first was Richard Hill's "Traditional Jazz in an Orchestral Setting" first performed in East Berlin in the then GDR in 1986; second came a series of concerts in 1988-90 featuring former members of my 1949-52 semiprofessional band which specialised in the music of the early band of the great Joe "King" Oliver, still my personal favourite band. Apart from these two continuing stories we gave a number of performances with interesting guest artists: Doctor John, Rory Gallagher, Paul Jones, Lonnie Donegan, Monty Sunshine and last (certainly not least) Wendell Brunious, trumpeter from New Orleans of whom you will certainly hear more.
Now in 1994 we are celebrating the 40th anniversary of my professional band by travelling our playing world with the entire 1954 cast. I still can't believe it has lasted this long - but seeing is believing! And now, ladies and gentlemen ...
The Original Chris Barber Jazz Band, by Chris Barber
In the summer of 1952 Monty Sunshine and I were leading two of the foremost amateur jazz bands in Britain.
As students (he of art, myself of music) we had quite some spare time on our hands and we used to meet in the afternoon in the Rex Restaurant in Old Compton Street in London's Soho. Owned by a Greek Cypriot couple, Angela and Solomon, it had become the base for many such musicians, especially as we were allowed to store our drums and basses in the basement between the open barrels of pre-cut chips! Solomon even lent my first band money to buy our train tickets for our first out-of-town-jobs (few people had cars in those days!) which we repaid next day.
Monty and I came to the conclusion that if bands such as ours were ever to reach the standard of performance which we knew from our record collections to be desirable it could only be done by a band with nothing to do but play jazz - a clear definition of a "professional" band. So we decided to form one!
Lonnie played banjo in my amateur band, Jim played bass in Lonnie's band, Ron played drums in Monty's "Crane River Jazz Band" and they seemed to share our enthusiasm.
So we had banjo, bass, drums, clarinet and trombone, but we could not immediately find either a trumpeter or pianist, so we practised as an unusual quintet, often in Lonnie's (then) fiancée's father's pub in London's East End.
While we had no particular intention or hope of creating a career for such an unusual line up we at least knew from records that such a combination could sound very fine - notably George Lewis and Jim Robinson's 1944 recording of "Ice Cream" (did you wonder where we got the idea!)
After a few months of twice weekly rehearsals we met Pat Halcox in December 1952. He was then playing in the "Albemarle Jazz Band" and he sounded good. He practised with us a few times and then in January 1953 we were offered a chance to play by my friend Harold Pendleton in his "Club Creole" in Gerrard Street, Soho. We played two sessions there that month which convinced us (and others who heard it) that we were on the right road. We planned to "turn pro" in March, starting off playing in Denmark where we were invited to play in a number of local jazz clubs for three weeks and could, we felt, get our act together away from the London scene.
At the beginning of February 53, Pat regretfully informed us that he did not feel able to become a professional musician after all as he owed it to his parents to continue the scientific career for which they had supported him. As luck would have it, a few days later Bill Colyer told us that his brother Ken was about to be deported from USA where he had stayed for over a year in New Orleans without visa, permit or green card! We wrote Ken a letter inviting him to join our partnership and give his name to it. We felt that his long stay in New Orleans playing with surviving jazz greats had made him almost a mythical figure and his name would attract a much larger public than ours.
Ken came home, joined us and we had great success right away. Everything seemed to be building up fast when, one year later, Bill Colyer informed us that Ken had "decided to fire Lonnie, Ron and Jim", but that Monty and I were "learning fast and could stay". Somewhat taken aback with Ken's apparent abrogation of the partnership we turned round and fired him. Pat finally saw the error of his ways and joined us, the band suggested I should be the leader so there we were! And here we are!!
Notes by Monty Sunshine
In the early 50's Chris and myself had a dream that one day we would form a Jazzband and have around us musicians who had the same love and feeling for the Music. At that time this seemed very unlikely as we were both students - Chris studying Music and myself studying Art - but dreams do come true for in 1954 we formed "The Chris Barber Jazzband" and the rest as they say is history.
It is therefore with great pleasure that I find myself once more reunited with Chris and the original Band to commemorate 40 years of playing our beloved Music and I would like to take this opportunity of thanking our friends all over the world for their loyal support which has made this event possible.
A Symphony Of Jazz, by Richard Hill (composer)
A symphony of jazz? Chris Barber and I began talking about this concept quite a few years ago, back in 1982-3 I think. The very words "symphony" and "jazz" seem to be the embodiment of opposites. On the one hand, the formal, preconceived, controlled beauty of the symphony orchestra, whilst the other hand clicks its fingers to the informal, improvised, free-flying spirit of the jazz band. So where do they meet, these two opposites, if at all. What is their association, if any. And why did Chris Barber and I feel that the symphony orchestra would sound so well in harness with a jazz band? For us, the answer lay way back in the roots of jazz itself. Much has been written about the undeniably potent and important influence of African cultures in the evolution which led to the birth of New Orleans jazz. The very art of improvisation and the elusive ingredient of "swing" are but two examples of this fertile African contribution. Perhaps less though has been written about the European influence on the musical art form which is jazz. Victorian parlour music was integrated into ragtime. Military music, particularly the marches, influenced early jazz tunes and even the first instruments on which jazz was played largely originated from a military band or orchestral source. And we may recall that a great deal of the harmonic and melodic structure of early jazz was European in origin. We may also remember that many New Orleans musicians were taught by professors from the French Opera, not only to play, but to read music. Add to this the orchestral aspirations of composers like Scott Joplin and Duke Ellington. Add also the fact that improvisation, in the form of cadenzas and continuo parts are not entirely unknown in European "art music". Bach and Mozart, for example, were widely known to be brilliant and innovative improvisers. So maybe "symphony" and "jazz" are not quite so incompatible as we think.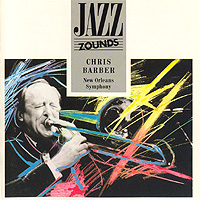 Chris Barber and I had the chance to put our theories into practice in October 1986 at the Palast der Republik in East Berlin. There, for the first time, the Chris Barber Jazz and Blues Band appeared in a series of concerts with the Grosses Rundfunkorchester Berlin, conducted by Robert Hanell. We gave the world premier of "Concerto for Jazz Trombone" which Chris and I had written, and also in the programme was my "New Orleans Overture" for orchestra and marching band. These works, together with jazz classics such as "Harlem Rag", "Mood Indigo" and "Immigration Blues" made a wonderfully new and stimulating evening for all the musicians involved. And the audiences were delighted with the result. You can judge the result for yourself by listening to the album of that event, "Jazz Zounds: Chris Barber - New Orleans Symphony".
Since those early days, Chris and I have produced other major works for jazz band and symphony orchestra. The orchestral suite "Jazz Elements" uses soloists from the Chris Barber Band together with a full size symphony orchestra. This work was again premiered in East Berlin, in July 1988, and a recording of that concert will shortly be available.
There are now negotiations under way to bring these "Symphony of Jazz" concerts to audiences in the UK, Europe and America. Chris Barber and I are not trying to replace the conventional jazz band concerts, but we are offering an opportunity to hear traditional jazz in an orchestral setting. We hope Scott Joplin, Duke Ellington and those professors at the French Opera in New Orleans would approve. We also hope that our audiences will enjoy this "meeting of opposites" as much as we have enjoyed being a part of it. (Richard Hill, Composer)
The Legends, by Alex Revell
When Chris phoned me in late 1988 with the idea of bringing together the members of his 1949 band for some reunion concerts, my first thought was that a great deal of wood-shedding would have to be done. Neither Jeremy French and Ben Cohen, who had played first and second cornets in that original band, nor myself on clarinet, had played any of the old King Oliver tunes since those far off days - at least, not seriously, in a two cornet format.
I told Chris I thought it was feasible. Jeremy, Ben and I have always been active semi-pros, and although Jeremy had switched to playing trombone in the middle nineteen fifties, he was quite happy to borrow a horn from his then boss, Richard Williams of "Roger Rabbit" film fame, and get his cornet lip back in shape. Fred - always known as "Ferdy" - Favager, our erstwhile banjo player, was now playing piano, which fitted in nicely with the fact that Chris wanted to use his present rhythm section.
"Good", Chris said. "Well, I'm off to Germany tomorrow so I'll leave you to make all the arrangements - bye". Typical!
The first rehearsal was, to say the least, uncanny. Exactly like stepping back in time the whole forty years. The same way of working out head arrangements, swopping round harmonies, getting the routines sorted. My wife, Jean, commented that even the arguments - we prefer to call them discussions - were the same! But it all came together very quickly. After all, we are all still enthusiastic about the music, which seems as fresh as ever, and we've an extra forty years of playing experience.
It was at the first concert that the present Barber Band members began calling themselves "The Trad Gods" and the members of the original band "The Legends", a name which stuck - unofficially, at least. Over the next eighteen months, "The Legends" played over twenty concerts with the present band, usually playing a set of five King Oliver tunes.
The audience response was very gratifying, mainly, I sometimes suspected, because they half expected the members of a band of forty years ago, to hobble on stage on sticks, and were pleasurably relieved when we didn't! Highlights of the concerts in 1989 were those at the Fairfield Halls in June, which also included the members of the 1954 band; another at the Royal Festival Hall in June, and a hilarious night at the 100 Club in May; again with the 1954 band, and with Beryl Bryden on washboard recreating with Chris and Lonnie their hit record of "Rock Island Line".
Tragically, Jerry French finally lost a long and brave battle with cancer in October 1989. Losing Jerry was a great blow to us all and we rather thought that we ought to call it a day, should play no more concerts, but Chris pointed out that that would have been the last thing Jerry would have wanted and that we should carry on, with Pat playing Jerry's cornet parts.
In late April 1990 "The Legends" played a five day tour of Holland and Germany with the band. Pat was really into his stride by this time and the resultant music was quite something. At one festival, Oscar Klein, the trumpet playing leader of one of Europe's most popular bands, was quite overwhelmed, insisting on shaking all our hands when we had played our set.
One of the joys of playing with the present Barber Band is the support all the members of the band give to "The Legends" and their evident enjoyment in playing the King Oliver numbers with us. At first, not having played the tunes before, the style was strange to them, but being true pros they soon realized just what was needed, with the two Johnnies, Vic, "Sticky" or later, Russell, plus Ferdy on piano, driving proceedings along and swinging beautifully. In addition to their musical abilities they are all nice blokes and thankfully free of those awful cliques which seem to form in most touring bands.
Somebody asked me the other day what I've enjoyed and remember most about the last eighteen months. Firstly, of course, the music, which came together better than we would have dared hope, and the appreciation shown wherever we played. But some little social incidents particularly stand out: The backdrop behind the band in one theatre was a huge cinema screen. While the band was playing, a delightful sky scene was projected onto the screen, complete with slowly moving, wispy clouds. Unfortunately the whole effect was rather negated by two large triangular repairs in the middle of the sky! And there was the night in Bolton when Chris took us for a Chinese meal after the concert and Monty Sunshine kept us all - plus the owner of the restaurant and the waiters, who kept bringing up free bottles of wine - enthralled for nearly three hours with an endless flow of hilarious and slightly scandalous stories. And, it must be admitted, the sight of Ian Wheeler in the bandroom, naked except for his socks and a ballet dancer's tu-tu, with his not inconsiderable frontage overhanging all, was a sight not to be missed.
I know I can also speak for my fellow legends, Ben and Ferdy, when I say "thanks" to Chris and the band for a very enjoyable eighteen months: for the good music, the companionship, and a thousand and one laughs. The money wasn't bad either.
Click here to view scans of the complete programme.

Back to the Barber-Purser Archives page || Menu page