Concert Proramme Notes
In our introductory comments to The Chris Barber LP Collection pages, we suggest that LP "sleeve notes ... in themselves tell a good part of the story of Chris Barber's Jazz Band." The same can be said of the sometimes voluminous notes that were written for tour and individual concert progammes, especially in the 1950s and the first half of the 1960s, but in some from later dates as well. As part of our effort to use the Chris Barber website partly as a vehicle to tell the story of the Chris Barber Band, its music, changes in personnel, and so on, here we reproduce notes from a variety of tour and concert programmes.
A Note about Julian Purser and the Barber-Purser Archives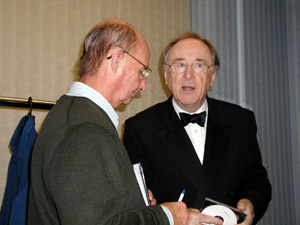 Julian Purser and Chris Barber,
Bristol, Dec. 6, 2003
Over the decades since the Chris Barber Band was formed, a vast archive of material has accumulated. Not only does the archive include photographs, but also concert and tour programmes, fan club booklets, contracts, correspondence, and many other items of historical importance for understanding the history, accomplishments, and impact of the Barber Band, but also, more generally, of the evolution of jazz in Britain.
Julian Purser was the band's official archivist (and co-discographer) since the early 1970s. Since 2004, together with the help of Andreas Wandfluh of Switzerland and Ed Jackson of Canada, Julian made selected items available for public viewing for the first time.
Julian passed away in 2009. He is much missed as a contributor to the Chris Barber website, a fount of knowledge about all things "Barber", and a good friend.
Click here to read more about the Chris Barber Archives & Website Team.