Barber in Detroit - Chris Barber's Jazz Band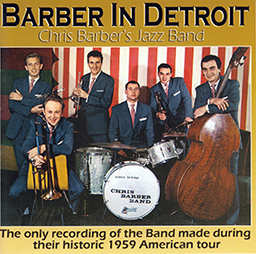 Lake Records LACD 351 This is a reissue of an old and rare recording - first issued as "The All American Ramblers" without knowing by Chris and the Band. In 1974 the concert was issued on the 25 years Chris Barber LP series.

The concert was recorded with only one microphone! It is fantastic what Dave Bennet and Paul Adams have done out of the original LP!

It is the "classic" Barber front line of the early days with Chris, Pat, Monty, Eddie, Dick and Graham and the band plays at its best.

In addittion to that concert, there are 6 bonus tracks recorded 1957 and 1958 with the same line up (see tracklist below) plus Ottilie Patterson. The CD comes with an 8 page booklet with a lot of information about the concert as well as about the bonus tracks.

Thanks Dave Bennet and Paul Adams for your great work.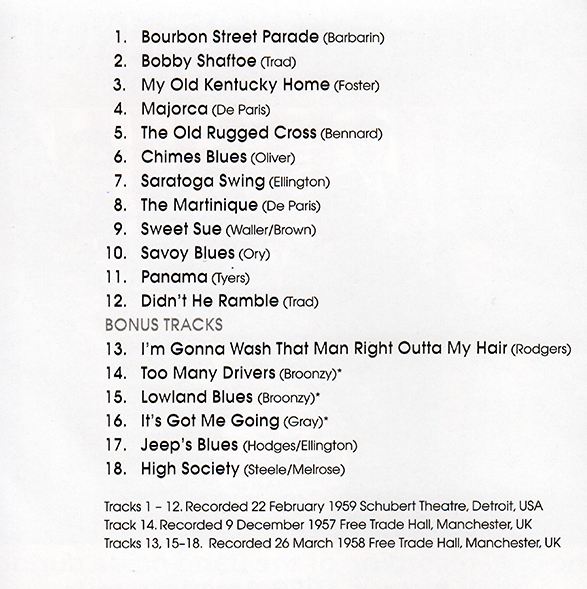 March 6, 2017 / A. Wandfluh
Music: My Old Kentucky home || Old Rugged Cross ||
---
Remembering Ian Wheeler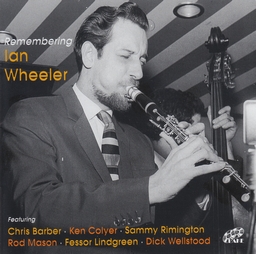 Lake Records LACD 349
Ian Wheeler, clarinet, alto sax, soprano sax and harmonica, was for 27 years a member of the Chris Barber Jazz Band (later Chris Barber Jazz & Blues Band). His first appearance with the Chris Barber Band was in 1961, when Ian replaced Monty Sunshine. Ian left the Barber Group in 1968 and moved to the West Country, beeing still in business with jazz.
He returned to the Chris Barber Band in 1979 and stayed till end of July 1998.
Paul Adams / Lake Records, dedicated his newest CD production to "Remembering Ian Wheeler" to this great musician, who played with all the great colleagues of the British Jazz scene and many more other international musicians.
The first number on this double CD features the Ian Wheeler Band in August 1954 (note that month - it's after the Chris Barber Band turned professional) with Pat Halcox, Lonnie Donegan, Jim Bray, Ron Bowden plus John R.T. Davis on piano. It comes from a session in London (August 9, 1954) and is known as the "Halcox, Sunshine, Wheeler Band" without Chris.
The next 5 tunes come from the period with Ken Colyer's Band.
The first stint of Wheeler with the Barber band (1961-1968) is represented with 5 tunes; these five versions of tunes were not known to me until now!
The next 9 tunes were recorded in 1978: The Ian Wheeler-Sammy Rimington Band. Ian and Sammy in best form and it is one of my rare LP's in my collection. Great to have it here again. I obviousely missed the CD version by Lake (sorry Paul).
Two songs (Sweet Lorraine and S'Wonderful; the second one is one of my favourites of Ian Wheeler) are from a Hefty Jazz session of 1977.
Another long missed recording is here on this double CD set: "Ian Wheeler at Farnhalm Meltings". This recording won 1994 the Music Retailers Association Award for Excellence in the JAZZ-CURRENT RECORDINGS category. Enjoy these great 12 tunes.
The double CD ends up with 2 tunes with the Lake Records Jazz Band and of course with 3 tunes with the Chris Barber Jazz & Blues Band.
Paul Adams has carefully remastered all recordings and is presenting here a fantastic "Remembering Ian" Double CD set. The sound quality is very good and the double CD set comes with a 12 page booklet packed with information and pictures! Thanks Paul for your great work.
I remember having a long discussion with Ian once in Waldshut / Germany. Ian was very keen on model aeroplanes and I'm a model railroader - so we had a lot to chat about our hobbies, having a few drinks. Great evening. RIP Ian.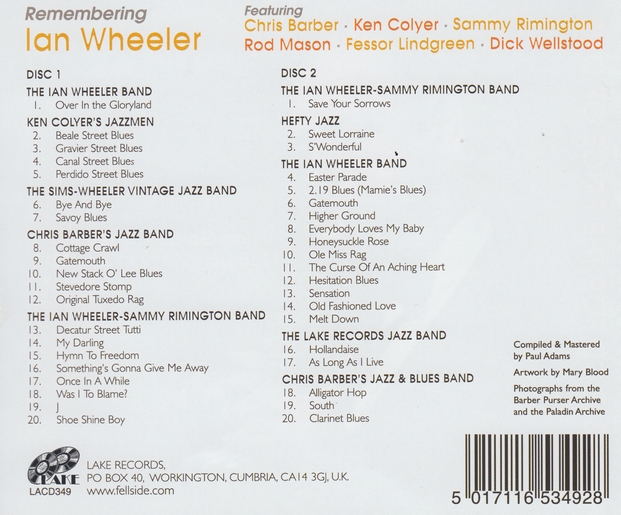 October 30, 2016 / A. Wandfluh
Music: Gatemouth || Hymn to Freedom || Melt down

|| South
---
Barber Back in Berlin 1960
Lake Records LACD 346

Here is an absolute sensation! The classic Chris Barber Jazz Band in concert in 1960 at the Deutschlandhalle in Berlin - do not mix it up with the wellknown 1959 concert recording!

This record is not a reissue, but - with one exception - the complete concert recording of 1960 with Chris, Pat, Monty, Eddy, Dick, Graham and - of course - Ottilie!

The sound quality is fantastic - the track list outstanding!
e.g. at last a non edited version of "What's I'm gotcha" (an edited version is on the 59 Berlin recording). Long live versions of Papa de Dada, Majorca and Lord, Lord, Lord and not to forget Ottilies beautiful singing.
All musicians are featured on this CD: Chris with Sweet Georgia Brown, Pat with Do Right Baby, Monty with New Orleans Hula, the shortest version of Petite Fleur, followed by New Orleans Hula, Hushabye and Wild Cat Blues, Eddy in Take your pick and Sweeet Georgia Brown, Graham Burbidge in Soudan, and listen to Dick Smiths bass work in Soudan and Majorca!

My favourite period of the different Chris Barber Bands are the seventies, when the band played tunes like Ubava Zabava, Czikosh, Oro and lots of blues numbers like Jeep Blues etc. But this Berlin 1960 CD is probably one of the best recordings of the "classic" Chris Barber Jazz Band and - as far as I can check it - it is probably the last (official) live recording before Monty left the band, being replaced by Ian Wheeler in 1961. (I know: there is a live recording with Monty in October 1960 in New Orleans with Billie and Dee Dee Pierce's Band - but they played not the regular CB programme).

This is the CD of the Original Chris Barber Jazz Band I would take to the desert island!

The CD comes with 8 page booklet including a picture of the 1959 Berlin concert. Thanks Paul Adams for a great technical work and for the issuing of this CD.




20.3.2016 / A. Wandfluh

Music: What's im Gotcha || Majorca

||

Come along home to me

---
Remembering Monty Sunshine
Lake Records LACD 344 - a new double CD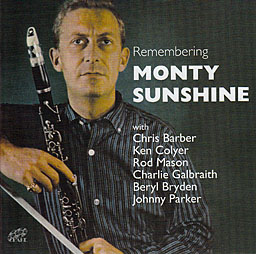 After the remarkable double CD set "Remembering Pat Halcox" (see below) Lake Records and Paul Adams have again issued a new double CD, this time featuring the clarinetist Monty Sunshine (1928 - 2010) - a CD set long overdue!

The new CD set covers Monty's work from 1953 till 1984 and is a palmares of the Britsh Jazz Scene. Some of the tracks are - of course - with fellows of the early Chris Barber days - but a great deal of the recordings are from the period after Monty had left the Chris Barber Jazz Band at the end of 1960 to form his own group. So this CD is a reunion of quite a lot of very popular British Jazz stars like Rod Mason, Graham Stewart, Geoff Sowdon, Charly Galbraith, Dickie Bishop, Johnny Parker, Beryl Bryden - only a few to name.

The double CD set comes with a 16 page booklet packed with full of information and pictures of Monty's career. It is a must for the collector of the British Jazz Scene, but it is also a must simply for the admirer of Monty's fine clarinet sounds. Thanks, Paul Adams, for your great work!

18.10.2015 / Andreas Wandfluh

Music: Original Tuxedo Rag

||

Sunstroke

||

Monty's Blues ||

---
Remembering Pat Halcox -
Lake Records LACD338 - brand new double CD

I'm sure that when you listen these days to a concert of the Big Chris Barber Band, you will be thrilled by their great music and sounds. But I'm also sure that you will miss a great character and a fantastic personality and musician: Pat Halcox, who passed away much too early on Feb 4, 2013. Now 2 years after his death, Lake Records and Paul Adams present a brand new LAKE CD that covers the work of Pat Halcox, not only with Chris Barber, but also with other well known musicians and his own group - The Pat Halcox All Stars.
The first CD covers the work of Pat Halcox with Chris Barber and is entitled "Mr. Halcox and Mr. Barber". There are some recordings that have not yet previousely released or are different versions from those already known. The 17 tunes date from 1955 to 1998. You will find detailed information in the booklet.

The second CD is entitled "Pat Plays Away" and the 11 titles represent a mixture of very interesting musicians and bands - only a few to name: Sonny Morris, Don Ewell, Art Hodes, Alex Welsh etc. Most interesting to know that all tracks are released here for the first time!

The double CD set comes with a 12 page booklet with lots of information and fotos from the Barber-Purser archive.

Many thanks to Paul Adams who again did a great work to make a fantastic Pat Halcox Musical Treasury!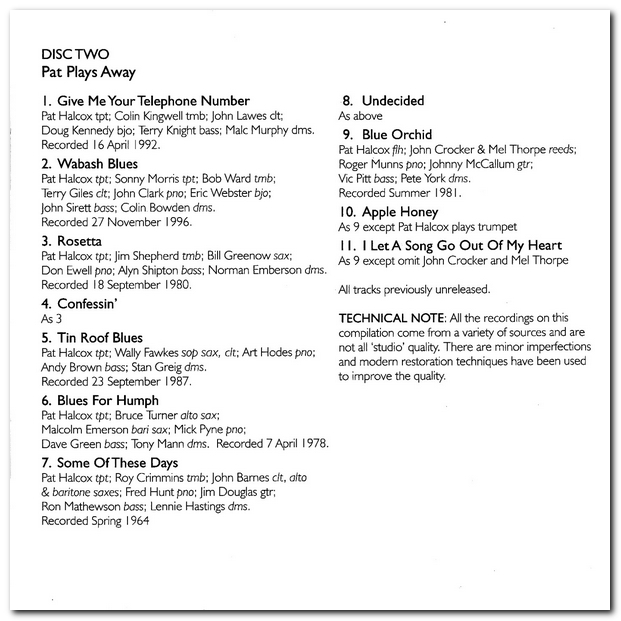 2.3.2015 / Andreas Wandfluh

Music:
CD 1: Mr. Halcox & Mr. Barber: Old Stack o'lee || Shine || Georgia on my mind ||
CD 2: Pat Plays Away: Give me your telephone number || Tin Roof Blues || Undecided


---

For the first time on CD - Class of 78 - The Chris Barber Jazz & Blues B
and
Lake Records LACD337
Paul Adams / Lake Records have issued the Intercord/Black Lion three LP-Box of 1978 as a new double CD. To our knowledge, this is the only - almost complete - concert of the short period with Sammy Rimington/reeds. According to the date sheet, only "Bourbon Street", "At the Jazz Band Ball" and "Goodbye" are missing from this concert. But we will point out, that the same titles are missing too on the original 3 LP Box!

The double CD covers the period when Chris expanded the band for the second time. The first time was in 1964, when John Slaughter joind the Barber group. In 1978 Chris added the second reed player to his band - Sammy Rimington from Dec. 30, 1977 till March 5, 1979, when Ian Wheeler joined the Barber Band for his second time which lasted until End of July 1998.

The line-up is shown on the back cover of the CD (see below) and I would like to draw the attention to the fact that Roger Hill plays the blues guitar. He was with the Barber band from April 10, 1978 till August 23, 1986, when John Slaughter rejoined the band until his much too early death in 2010.

Furthermore, this CD features Pete York on drums. He was a band member from May 20, 1976 till March 5, 1979 - and to my knowledge this is probably also the only complete concert commercially issued.

And finally it is also the first complete concert recording for bass player Vic Pitt, who replaced Jackie Flavelle on July 15, 1977 and played with the band till January 22, 2007. (Jackie - of course - is again with the Big Chris Barber Band on tour since August 29,2010.)

The CD comes with a 8 page booklet with a lot of information of that interesting period.

Needless to say that Paul Adams again did a great work in remastering the original recordings!



Thanks to Peter Brennecke for the scanning work.

6.11.2014 / Andreas Wandfluh



Music:
Heavy Henry || Over the waves || Sideways

---
A new DVD - Jazz me Blues - A Celebration of 60 years of Chris Barber and his Bands
This new DVD - available at concerts - is divided into 4 parts:

Part one: Momma don't allow it

This short, experimental fil, was shot during the winter of 1954-1955 at Art and Viv Sanders' Wood Green Jazz Club in "The Fishermonger's Arms. It features the very first line-up of the professional Chris Barber Jazz Band and to my knowledge, it is probably the only film of this original line-up. At last, there are some great shots of Jim Bray, Lonnie Donegan and Ron Bowden.

Part two: Holiday 1957
This film is an ode to Blackpool, with its minimal but carefully crafted narration, is a treasure-trove of information about working-class-holiday-makers.

Collectors of Chris Barber recordings will notice that the

sound tracks

of this film were released on the LP "Chris Barber 30 years - Can't we get together" - Now at long last, here is the film and sound together.

Part three: Jazz at the Subway Club 1989
a recording by the WDR Cologne and the Subway Club
The Chris Barber Jazz & Blues Band is featured in this video for more than 90 minutes. Welcome back the the music with Pat Halcox, Ian Wheeler, John Crocker, John Slaughter, Johnny McCallum, Vic Pitt and Alan "Sticky" Wicket and - of course - Chris Barber.

Part four: Burghausen Jazz Festival 2005
recorded by BR Alpha
More than 100 minutes with the Big Chris Barber Band at the Burghausen Jazz Festival 2005.

This DVD covers only a little part of the work of Chris Barber in the last 60 years - but it is a great collection of film and music from different periods. Add this DVD to your collection!

Here are more details of this DVD:

Thanks to Peter Brennecke for the scanning work

5.11.2014 / Andreas Wandfluh

---

Very special CD releases
Peter Brennecke from Germany is a good friend and a follower for years of the Barber Bands. And he gives a great and thankful support to the website and archive team. Recently he sent us the following information about releases of rare recordings: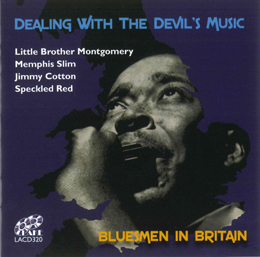 Lake Records LACD320 "Dealing with the Devil's Music - Bluesmen in Britain"
This CD is a treasury of American Bluesmen in Britain: The artists are Little Brother Montgomery, Jimmy Cotton, Memphis Slim and Speckled Red. Very important for Chris Barber collectors are the recordings with Jimmy Cotton - as far as we know these titles have only been issued 1961 on 2 EP's (very rare). At last they are now for the first time on CD.
Note the personnel of this Blues Group: Jimmy Cotton (hca,voc), Keith Scott (p), Alexis Korner (g) and Chris Barber (bass / tb)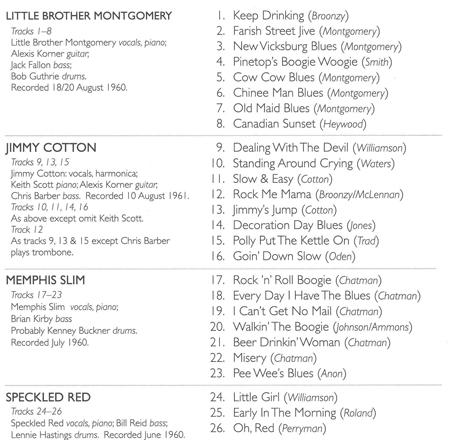 Lake Records LACD 317 "British Traditional Jazz - At A Tangent Vol. 2
This too is a very interesting CD - it is a supplement to the Vol 1 (Lake Records LACD 316). The Chris Barber collector finds a live recording from November 1, 1965 with the Eagle Brass Band (GB). They recorded the Beatles songs "Can't buy my love / I wanna be your man". This live recording is not identical to the French studio recordings "Chris Barber joue les Beatles" with the same Eagle Brass Band, recorded 2 week prior to this live performance.

Musicians are: Pat Halcox / Cuff Billet (tp), Chris Barber / Pete Dyer (tb), Ian Wheeler, (cl), Frank Brooker (ts), Jim Young (tu), Pete Ridge (sd), Barry Kid Martin (bd)
Nov. 1, 1965

Dave Kelly - Familiy and Friends - We had it all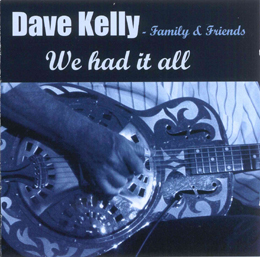 HYP 13294
This is a newer recording (2012) with Dave Kelly (vocal and guitar) and Chris Barber (trombone) in "Mr. Estes Said".

Dave Kelly wrote:
I worte this song around 2001, when my wife and I decided we needed an adventure, so we moved the Family to France for a couple of years. I have recorded this song withThe Blues Band and in duo format with PJ. A couple of years ago I returned to the remote spot in the Pyrenees where the song had germinated. I had been listening to some early Bessy Smith tracks and thought that voice and trumpet or trombone à la Joe Smith or Charly Green would work well on it. When I got home I phoned up that stalwart of the British Jazz & Blues Scene - without whom... and Chris readily agreed to come into the studio and get it down.

and to end up this summary of CD releases we would like to point out the Amazon has reissued parts pf the 1957 concert with Sister Rosetta Tharpe and the Chris Barber Jazz Band.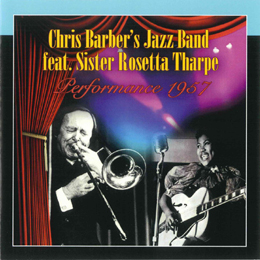 Check Amazon for further details.
May 5, 2014 / Andreas Wandfluh / Peter Brennecke
---
Jazz Me Blues / The Autobiography of Chris Barber
Chris Barber with Alyn Shipton / released March 2014 / equinox ISBN 978-1 84553-088-4



"This is not a normal book!!"
When I got my copy of this book a few days ago I stopped immediately all my activites and went through the frist two chapters of this autobiography. It's absolute fantastic. This is not only a book about Chris Barber and his bands - it is an encyclopedia about jazz history, not only about the British Jazz history, but also about the world wide Jazz and Blues and even Pop movements. Very interesting to read how everything began, what influences Jazz and Bluesmen (and women) have had not only to Chris and his music, but also to musicians on the whole European continent.

A great book to read!

Andreas Wandfluh
March 23, 2014

More information here

P.S. We would like to point out that the autobiography will NOT BE SOLD at concerts!
Check the Equinox page or Amazon.



---
Chris Barber's Jazz & Blues Band
Jazz Me Blues - The 70s
Lake Records LACD 332

Although this CD has the same title as the auto-biography, it is not a completion of the book, but a very special CD that reflects much of the work of Chris Barber as described in his book!

A few month after the beginning of our website work (at the end of 2003), we asked our readers what LP or CD they would take to the desert island. At that time I mentioned the LP "Battersea Rain Dance" as my favourite. With this new CD from the 70ies I changed my mind and would choose this CD!

I must admit I like all the traditional numbers of the Chris Barber Bands, the Ellington tunes, the different solos by all the musicians - but I was and I am still a great fan of the Balkan music Chris used to play in those days. I remember that the Barber Band played in 1974 a full week in a newly opened Concert and Disco-Club Ba-Ba-Lu in Berne/Switzerland and I was there every evening and waited for Ubava Zabava, Oro and the others... Meanwhile, 40 years later, I'm still a fan of that music - but have now less hair than in 1974!!

Now, this CD covers that fantastic period of the Chris Barber Jazz & Blues Band. It is almost the full concert from Nov 1972 (Köln) as well as from an earlier date, recorded at the Jazz Weekend Köln.
It's a great mix of tunes. As far as I know, no other band can play "Just a little while to stay here" as a real New Orleans Standard, then jump to Joe Zawinuls "Mercy, Mercy, Mercy", switches to "Csikos" and playing in the same concert the "Saratoga Swing" without loosing the public! This is what makes that band so unique - even now with the Big Chris Barber Band you have this special mix (unfortunately they do not the Balkan stuff...).

One of my personal favourite on this double CD is the long version of "Up a lazy river". Chris has recorded this tune several times, but this is the only version with that fantastic "trombone and banjo battle" - Chris Barber and Steve Hammond at its best!!!

The Blues period of that time is covered by the recordings with Jimmy Witherpoon (it's a reissue) and two bonus tracks with Chris Barber with the Muddy Waters Band. As far as I know these bonus tracks have not yet been previousely released. And here I make a reference to the auto-biography: Read in the book the lines about Chris' work with Jimmy and Muddy...

Despite the fact that the Jimmy Witherspoon and Muddy Waters recordings are not "Hi-Fi" - they a very important addendum to the period of the 70ies.

Thanks to Paul Adams from Lake Records who did again a nice work with this double CD album.
The CD comes with an 8 page booklet with notes by Alyn Shipton - the man who realized the auto-biography of Chris Barber.

Andreas Wandfluh
March 21, 2014




Music:
Ubava Zabava / Jazz Me Blues / Dardanella / Corinne Corinna (bonus track)

---
Chris Barber's Jazz Band
Classic Concerts Revisited
Lake Records LACD 323

This is a reissue of the three Classic Concerts from Berlin 1959, Copenhagen 1960 and London 1961. But... and this is the very interesting thing, to the wellknown tracks of the Berlin concert 3 clarinet solos with Monty have been added: Petite Fleur, Hushabye and C-Jam Blues.

As far as I know, Petite Fleur with Monty was never recorded live and C-Jam Blues is - as a Monty solo - new to me. Paul Adams writes: "They are not the original master tapes, but are several copies down the line."

The double CD (for the price of one) comes with an 8 page booklet with additional information. Followers of the band who still use the (certainly worn out) LP's have now another chance to get the Classic Concert in good quality.

Andreas Wandfluh / August 7, 2013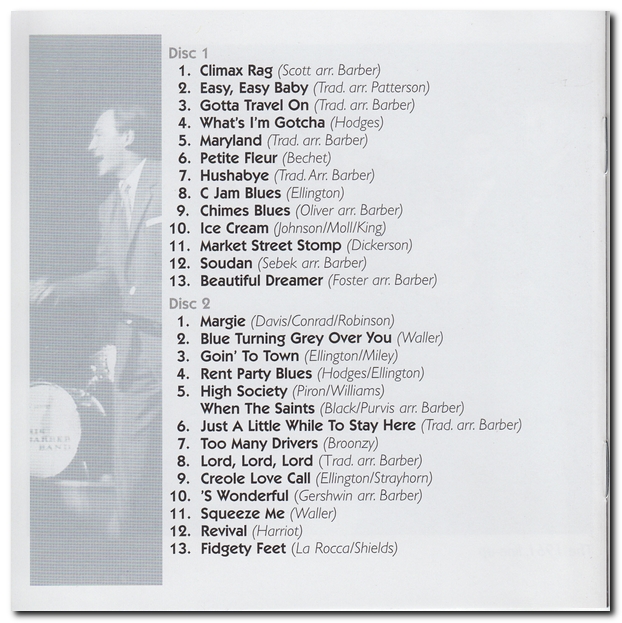 Music:

Maryland
C-Jam Blues
Too Many Drivers

Chris Barber 1959-1960
Lake Records LACD324

This new Lake CD is a sampler from various LP's, EP's and CD's, carefully remastered by Paul Adams. It is almost impossible to describe the titles on these two CD's! For those who missed the Chris Barber Band Box Vol 1 - here it is again. But the CD is full of surprises: "Lift to Lid" is completely new to me as well as Monty's clarinet solo "Do Lord". Furthermore, who remembers the three double LP's "25 (!) years Chris Barber Jazz Band"? A few tracks from those Black Lion LP's are here on CD, e.g. "Chimes Blues", "Saratoga Swing" and "The Martinique", from the legendary Detroit recording (22.2.1959) under the bands name "All American Ramblers". Chris and the band did not know at that time that the concert was recorded...

This double CD (for the price of one) comes with a 12 page booklet with lots of information about that period, tracks and discographical details, including 3 photographs.

Anyway, this double CD (for the price of one) is another treasury for a Barber collector, especially also to replace worn out LP's, EP's or even broken CD's.

Andreas Wandfluh / August 7, 2013


Music
Lift the Lid
Do Lord
Saratoga Swing

Chris Barber 1961-1962
Lake Records LACD325

Like the 1959-1960 double CD, this new Lake CD is again a sampler from various LP's, EP's and CD's, carefully remastered by Paul Adams. It covers the period with the first recordings with Ian Wheeler on clarinet and altosax. The first LP with Ian was - in my opinion - the London Palladium concert which is on the Lake CD323 - Classic Concerts Revisited (see above).

Again, it is very difficult to point out the different tracks: CD 1 starts with the 12 tracks of the "Best Yet"- LP, followed by the four tracks of the former EP "Ian". On CD 2 we notice the studio recordings from Budapest (10 tracks, of which 3 of them with Ottilie). Although the Budapest tracks had been released on CD by Storyville, it was always a very rare item and it is just great to have them here on this compilation. A never previousely unissued recording on this double CD set is "The Longest Day".

This double CD too comes with a 12 page booklet full of discographical and historical information as well as 6 photographs.

If you do not have all these titles on a CD or if you wish to save your LP's, EP's or even replace broken CD's, take the chance to get this great compilation (double CD for the price of one).

Andreas Wandfluh / August 7, 2013


Music
Till we meet again
Chiquita
The longest day

New DVD: Das Beste aus dem Musikladen
35 Top Bands plus a Chris Barber Special
Sony Music 88765 40994 9
The German TV station ARD (Das Erste) has had a regular and a very popular TV show called "Musikladen" in the seventies. It was a kind of "Top of the Pops" and featuread all the Pop Stars at that time.
Chris Barber and his band were regular guests at these TV-shows; some video clips in good quality can be found on YouTube.
Quite a few of the "Musikladen" Shows are now available on different DVD's. DVD # 3 features 35 Top Stars like Manfred Man, Status Quo, Blood, Sweet and Tears and many many more -
plus a Chris Barber Special:
Battersea Rain Dance, Ice Cream, New York Town Blues, Stevedore Stomp, We sure do need him now, Whatcha gonna do, Take the "A" train, New Orleans Stomp, Midnight Special. As far as I can remember (I watched the original shows...!) these videos represent the complete Chris Barber shows of the Musikladen!
There are not many videos available from the Seventies. This is a good opportunity to complete your collection.
Many thanks to Dr. Peter Brennecke from Germany who informed us about this DVD.
Video Trailer
Large files - allow enought time for the download!
Note: Due to the compressed files the video quality of these trailers does not represent the very good DVD quality!
Trailer wmv.-version

Trailer mpeg-version
Andreas Wandfluh / January 9, 2013 - June 18, 2013

CHRIS BARBER
Goin' to Town in Carlisle '94
Lake Records LACD 319 (double CD)
This is # 3 in the new series "Diamond Jubilee Collection" of Lake Records and it contains almost the complete concert of the 1954 Reunion Band and the Chris Barber Jazz & Blues Band of 1994.
CD one covers the first part of the evening with the Reunion Band. Monty Sunhine, Lonnie Donegan, Jim Bray, Ron Bowden, Pat Halcox and Chris Barber - the original 1954 line-up in a fantastic mood. It is definitely not the first CD with the Reunion Band (and the 1994 Jazz & Blues Band). But the atmosphere at this Concert Hall in Carlisle make this CD so special. Listen to this version of "Down by the Riverside" - a duett between Lonnie and Chris that has - to my knowledge - never previousely been released.
Listening to the first part of this concert brings back a lot of memories of the 1994 tours. (In 1954 is was too young to go to a Chris Barber concert!) The first five numbers are played by the Reunion Band: Isle of Capri, Chimes Blues, Hiawatha Rag, We sure do need him now and It's Thight Like That. After that, Monty is featured with Old Rugged Cross, St. Philip Street Breakdown and Hushabye, while Lonnie with the Skiffle Group sings and plays Can't you Line 'Em, Over in the new burying ground, Worried Man Blues and the Grand Coulee Dam. The concert ends up with The Combined Parade band (the 1954 line up plus the 1994 regular band members), playing Ice Cream.
CD two presents the Chris Barber Jazz & Blues Band with their regular programme at that time. Bourbon Street Parade is followed by All The Girls Go Crazy and the Ellingtonia: a combination of Double Check Stomp, Stevedore Stomp and Goin'to Town. One of my personal favourite is Working Man Blues and I like very much the long duett part with Pat on trumpet and John Crocker on alto sax, accompanied by the virtousic playing of Johnny McCallum on banjo. Listen to the fantastic drumming work by Russel Gilbrook
St. Louis Blues and Goin'up the River, with Chris on trombone and John Slaughter on blues guitar are the next numbers on this CD, followed by Petite Fleur/Sweet Georgia Brown and a very swinging and stomping Tiger Rag / Mile End Stomp.
The CD comes with a 12 page booklet with photos and lots of information. The concert was recorded by Paul Adams and he states in the booklet, that this "was his first experience of recording a Chris Barber Concert". We all know from "old" recordings (issued on the Lake Label), that Paul is a master in restoring old and historic material. Here he proves that he too is a master in live recordings! Thanks Paul for this CD.

Andreas Wandfluh / January 2, 2013
Music:
Chimes Blues || St. Philip Street Breakdown || Working Man Blues || Tiger Rag


CHRIS BARBER AT THE LONDON PALLADIUM
Hallmark 711652
Peter Brennecke from Germany informed us about another reissue of a classic concert of the Chris Barber Jazz Band: The famous London Palladium Concert of March 31, 1961, featuring Joe Harriot, altosax.
The CD is a complete reissue of the Columbia LP of that time. The musicians are Chris Barber, Pat Halcox, Ian Wheeler and Joe Harriot, Dick Smith, Eddie Smith and Graham Burbidge. Ottilie Patterson is featured in "Too Many Drivers" and "Squeeze Me".
We have more information about the original recording elswhere on this website. There you will find a few sound clips of that fantastic concert.
Andreas Wandfluh / January 2, 2013

THE RADIO LUXEMBOURG SESSIONS
The 208 Rhythm Club - Volume 1
Vocalion CDNJT 5315
The producer Denis Preston was responsible for most of the British Traditional Jazz Revival recordings, and he created two of the most significant series: the "Jazz Today Series" for Pye and "The Lansdowne Jazz Series" for Columbia. In early 1962 Radio Luxembourg, a commercial radio station based in Luxembourg and broadcasting on 208 meters, began a 13-week series of 30-minute programmes entitled "The 208 Rhythm Club". The series served as a showcase for Lansdowne's productions, which offered the opportunity each week for the featured band to present their recent recordings.
(Source: Vocalion Records / Lake Records)
Vocalion Records have now started with the release of a new series of "The 208 Rhytm Club" featuring British Jazzbands from the sixties. Volume One features the Bands of Chris Barber, Ken Colyer and Mike Cotton. All titles have were recorded in 1961 at the Lansdowne Studios, Holland Park, London, in 1961. However, we have no exact recording dates. Even Gerard Bielderman, who produced the Chris Barber Discography together with the late Julian Purser, has no further details.

The 12 tracks of the Chris Barber Jazz Band represent the band's repertoire of that time. Some of the titles haven been released in other versions on LP's and CD's. Vocalion reports that these sessions were recorded for radio broadcast and, as such, not issued commercially and they present all titles on CD for the first time, remastered from the original tapes. The Chris Barber Band at that time features the "classical-lineup", but with Ian Wheeler on clarinet and alto instead of Monty Sunshine, who had left the band in 1960.
The CD information (see below) shows all titles and the personnel of the bands. To me, "Room Rent Blues", has - as far as I know - never been released before by the Chris Barber Jazz Band. Ian plays the alto sax and the tune is played in a very swinging mood. It's great to find songs that have never been issued before and I am pleased to add this title to my collection.
Ottilie Patterson is featured with 3 songs: "I'm crazy about my baby", "Basin Street Blues" and "It ain't what you do". Nothing new, but very good versions.
One of my personal favourite is "Stevedore Stomp". The Chris Barber Band recorded and played this title many times. It was featured on "my" first Chris Barber recording, the Decca EP "New Orleans Blues" from 1954. Chris played (and recorded) it regularely till the end of the "Jazz & Blues Band Period" (and the beginning of the "Big Chris Barber Band").
The next 7 titles are played by the Ken Colyer Jazzmen in 1961. My personal archive does not cover all the recordings of Ken (and of the Mike Cotton Band), so I assume that these titles are well-known to collectors, but have never been previousely issued commercially. I personally like "Postman's Lament" and "Too Busy" (2 takes), a title that is also on the first recording with the Ken Colyer Jazzmen in 1953. So, it's quite interesting to compare the 1953 recording with this one.

The remaining 4 titles are played by the Mike Cotton Jazzmen. I like their fresh and swinging sound and here I like especially "Savoy Blues" and "High Society".
This CD series is a very good documentation of the British Jazz Scene in the early sixties and I hope that there are more CD's to come. On the CD booklet is mentioned Vol. 2 with the bands of Humphrey Lyttelton, and the Al Fairweather and Sandy Brown All Stars.

Andreas Wandfluh / Dec. 2012
Music:
Chris Barber: Till we meet again || Room Rent Blues ||
Ken Colyer: Postman's Lament ||
Mike Cotton: Savoy Blues ||

Chris Barber & the Clarinet Kings
Lake Records LACD314 / double CD
OK, let's start by putting my biases up front: I've been a Chris Barber fan for over 50 years, more or less since Ian Wheeler joined the band in 1961 (I was 14, and a fan and boyhood player of skiffle for some years before that). I own just about every track the band ever commercially released, including copies I've made from LPs, as well as CDs. That said, among my favourite tracks ever are those recorded in 1962 with Edmond Hall as a guest on clarinet. I vividly remember buying the LP "The Best of Both Worlds" on the World Record Club label in a record store in Birmingham's Bull Ring in 1965. The LP featured three studio tracks with Edmond Hall recorded in London, some songs with Louis Jordan, as well as a few of the band playing without guests. In the ensuing close to 50 years, the LP has been virtually worn out, it's been played so many times (although I did recently manage to secure an excellent-condition copy on eBay). And while all the tracks on that LP are standouts from the era, the three Edmond Hall tracks are particularly memorable.
Over the years I've also managed to collect several European LP re-issues with additional Hall tracks, ending up with, I think, a complete collection of all the studio recordings - with which I made a CD for my own personal enjoyment using the ripped LP files.
Imagine my delight, then, on hearing the announcement that, at long last, all these eight tracks have been released on a new double-CD from Lake Records, Chris Barber and the Clarinet Kings. This is the second in a new series called "The Diamond Jubilee Collection", the first of which (Clearing The Air in Bern '92) has already been reviewed on this site. Not only that, but the Clarinet Kings CDs are accompanied by four more recorded with Hall in concert in Koln, as well as the entire 1960 LP, Chris Barber's American Jazz Band (which has been released on CD at least once before), plus four recordings with Louis Armstrong's clarinetist, Joe Darensbourg.
Perhaps I shouldn't admit this, but I also have a bootleg CD of the tunes played when Albert Nicholas guested with the 1968 band in Geneva. They, too, have taken their place among my favourites and most frequently played of the more than three thousand Barber tracks that I own. Other than that, the Ed Hall concert recordings and the Joe Darensbourg studio session are new to me.
CD-1 begins with Chris Barber's American Jazz Band, recorded in New York in November 1960, featuring Chris on trombone, Sidney De Paris (trumpet and vocal), Edmond Hall (clarinet), Hank Duncan (piano), Hayes Alvis (bass), and Joe Marshall (drums) - all sterling jazz players and session men whose names will be familiar to many jazz fans. These tracks run the gamut from driving swing (Down Home Rag) to a soft and beautiful blues, especially notable for Chris's solo (Tishomingo Blues.) The rest of CD-1 contains the eight aforementioned Hall studio recordings plus two of the concert recordings.
CD-2 begins with the two remaining Hall concert tracks, followed by seven with Albert Nicholas, while the Joe Darensbourg tracks make up the final four. Every one of the Nicholas tracks is outstanding, although my personal favourites are C-Jam Blues, Black And Blue, and Blue Turning Grey Over You: traditional jazz blues at its very best by anyone, anywhere. The Darensbourg tracks are different in that they include only Chris Barber and Pat Halcox from the Barber Band, together with several well-known English musicians. All are relaxed and enjoyable. I won't say any more, if only to avoid pre-empting Paul Adams's thorough and informative sleeve notes (not to forget the usual excellent Lake Recordings re-mastering). Buy this one: you won't regret it!
Ed Jackson, September 2012
Addendum by Andreas Wandfluh
The tracks with Albert Nicholas was the beginning of my work with Chris Barber in 1977. I was in a position to arrange that the rights of this 1968 Geneva recording had been transferred to Chris and I'm happy to present here the original recording sheet of the concert.


Music:
Tishomingo Blues || High Society || C-Jam Blues || Joe's Blues

Chris Barber Jazz & Blues Band


Clearing the Air in Bern '92


Lake Records LACD312 / double CD

This is a new double-CD from a concert recorded at the Kursaal Bern / Switzerland, on 14 February 1992. Niklaus Zust, the recording engineer, refers to the
quite amusing title as follows: "The concert from beginning to end was so overpowering that dusty spiders-webs fell from the roof and vanished: music which cleared the dust in every way!"



Chris Barber's Diamond Jubilee


This double CD, issued by Lake Records LACD312,
is the beginning of a series entitled "The Diamond Jubilee Collection" and will comprise several CD's from various points in the band's history with no particular chronology or theme and will supplement CD's already in the Lake records catalogue.

Congratulations to Paul Adams who has edited, re-equalised and mastered the original recording of 1992. It covers almost the whole concert of the Chris Barber Jazz & Blues Band, with its youngest member at that time: Russell Gilbrook on drums. He is featured on Royal Garden Blues and Second Line Saints.

The CD contains a surprise for every Chris Barber fan: At last a great and fresh version of King Olivers "Snake Rag". Although I'm a longtime follower of the band (since 1961), I heard only once the "Snake Rag" - a few days after this recording - live at the Kongresshaus in Zurich and since then I have been chasing after it!

Chris Barber has recorded the "Royal Garden Blues" several times. Until now, to me the 1968 Berlin version was the best one - but the more I listen to the 1992 version from Bern, I think this one is even better.

One of my favourite Chris Barber tunes is "Panama" - and this is the longest version (and probably also one of the best) ever listened to and lasts almost 17 minutes!. Fantastic solos by the frontline and a great banjo solo by Johnny McCallum.


Content of the CD's
CD 1
CD 2
Bourbon Street Parade
When you wore a tulip
Chasing Tails / Sister Kate
Mood Indigo
Careless Love
Snake Rag
Royal Garden Blues
Goin' up the river
On the Sunny Side of the Street
Aint Misbehavin'
Panama
Second Line Saints
Tiger Rag
Music: Royal Garden Blues || Snake Rag || Panama ||


Andreas Wandfluh, Sept. 2012

Chris Barber Jazzband and Grosses Rundfunkorchester Berlin,

Take Me Back To New Orleans

.
Bell Records BLR 89 310, released in October 2011.

Take Me Back To New Orleans is a double-CD re-issue of a previous LP and CDs of the Chris Barber Band in concert with the Grosses Rundfunkorchester Berlin, recorded in 1986, and issued under the title, New Orleans Symphony. It was the outcome of a collaboration between Chris Barber and composer Richard Hill, with the aim of combining a jazz band and a classical music orchestra in a single performance – a collaboration which was remarkably successful, as both the music and playing on this CD are of a very high standard.

The original LP was released on the Jazz Zounds label, which also issued the first CD of the concert. Another re-issue came from Timeless Records, so this Bell Records edition is the third to appear, although the title has been changed for the current release.

Unfortunately, the CD is not listed in the Bell Records on-line catalogue (www.bellmusik.de), but it is readily available from Amazon, and possibly on eBay, so Chris Barber fans should have little trouble acquiring this new release should they wish to do so.

Music: Blues (Largo) || Immigration Blues || Ragtime || South Rampart Street Parade || Stomp

Ed Jackson, November 2011

The Big Chris Barber Band,
European Tour 2011: New Faces
(CBJBCD 4005).
This new CD covers almost a complete concert of the present Big Chris Barber Band (What'cha Gonna Do and All Blues are missing). However, not all the recordings are from a single concert: all the recordings were made in January and February 2011 in England, Scotland and Germany. Rebecca Evans, the band's sound engineer, mixed and put together the best ones from several concerts for the CD, supported by the band's banjo player Joe Farler, known as a technical wizard. The sound quality of the live recordings is great.
The CD features the new faces among the band:
David Horniblow, clarinet & saxes, since March 2010.
Jackie Flavelle, bass/bass guitar, who joined the band in August 2010, but was formerly on tour with Chris Barber from 1967 to 1977.
Amy Roberts, saxophone and clarinet - the outstanding young talent joined the forces of the Big Chris Barber Band in January 2011.
Gregor Beck, drums, started in April 2010 with the band.
Regular listeners to the band will be happy to have a CD that covers the most recent line-up of the Big Chris Barber Band. Different from previous recordings is Chris's singing on Precious Lord, Lead Me On and the current version of Ice Cream, with the singing of Peter Rudeforth and Chris Barber. And of course, I personally miss one musician: blues guitarist John Slaughter, who died much too young in 2010. His blues parts have been taken over by others, for example by Chris Barber on trombone on Black & Tan Fantasy.
Andreas Wandfluh, November 2011
Music:
C Jam Blues (featuring Amy Roberts) || C Jam Blues (featuring David Horniblow) || Merry Go Round || Wabash Blues

Chris Barber's Jazz Band, There Were Some Changes Made, 1961-65
(Lake Records LACD 305, released in October 2011).

This new compact disc from Lake Records fills in some important gaps in the Chris Barber Band's recording history, notably between 1961 and 1965. While it is true that full LP recordings continued to be issued during this period, it appears that by the early 1960s the relationship with Denis Preston's Lansdowne Studios was over, and that recordings from this time were issued independently and more sporadically, on singles and EPs, and some not at all, at least until several years later.

Thus, the tracks on There Were Some Changes Made come from a variety of sources, including selections from an LP that was only available from the World Record Club (e.g., Weary Blues, Black & Tan Fantasy), and later re-issues on compilation LPs (for example, there are several tracks that appeared on a much later Black Lion LP, Chris Barber Special. Finally, others have never before been released (e.g., Georgia Swing, and a novel version of Shout 'Em Aunt Tillie, on the latter of which Chris plays a muted solo in a way which I have never heard in any earlier or later recordings).

One of the outstanding characteristics of this CD is the very high standard of studio recording, which lends a tight-knot sound to the band, yet leaves space for the listener to hear and concentrate on each of the specific musicians in what was then a six-piece outfit (the CD does not include any vocals by Ottilie Patterson, the seventh member of the band). The other outstanding characteristic of the band is its easy, relaxed manner of playing, due no doubt to the fact that, apart from Ian Wheeler (who seemed to "fit in" from his first day with the band in 1961), there had been no personnel changes since Graham Burbidge joined the band for the first Sister Rosetta Tharpe tour at the end of 1957.

In sum, There Were Some Changes Made is an excellent and welcome addition to the available catalogue and one which many Barber fans will greatly enjoy listening to.

For more information about this period in the Barber Band's development, go to Chris Barber's Jazz Band with Otttilie Patterson, 1961 to 1964.

Ed Jackson, October 28, 2011
Music:
Blue Blood Blues || Georgia Swing || Shout 'Em Aunt Tillie

Chris Barber Greatest Hits
(2-CD compilation released in 2011)
.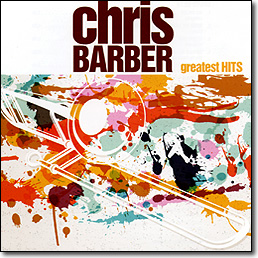 Like the two CD-sets shown immediately below, and particularly Hits From The Golden Era Of Traditional Jazz, this new double-CD, Chris Barber Greatest Hits, is a compilation of forty tracks spanning the Chris Barber Band's earliest recordings in 1954 to those of the mid- to late-1950s. The tracks are drawn from LP and EP records originally published on several labels, including Decca, Pye/Nixa, and Columbia. As such they provide a comprehensive -- if conventional for this sort of compilation -- selection of tracks from roughly the first five years of the band's existence, with a couple of additional "hidden gems" that do not always make it on to compilations of this kind -- for example, Hot House Rag, I'm Gonna Wash That Man Right Out Of My Hair, and Camp Meeting Blues. As in the case of Hits From The Golden Era Of Traditional Jazz, my assessment is that the current double-CD provides an excellent introductory compilation of the Barber Band's catalogue in the 1950s but that there is little here to appeal to serious collectors of Chris's older recorded output, who most likely have the majority, if not all, of the tracks already in their collections.
Ed Jackson, September 2011

Chris Barber' Jazz Band, High Society and Hits From The Golden Era Of Traditional Jazz (compilation CDs probably released in 2011: the CD data does not provide this information.)
I recently came across these two compilation compact discs for sale on eBay, and decided to purchase them – despite having all of the contents on numerous other CDs, LPs, and EPs – as a service to the website in case they contained anything unusual which might be of interest to avid Barber fans and music collectors, or to the more casual listener and record purchaser. My conclusion is that their appeal is likely to be much more to the latter group of people because, like me, fans who have been following the Barber Band for many years already own most if not all the tracks.
The two CDs are similar in that both draw upon the rich vein of Barber recordings from the band's first studio session for the Decca label (New Orleans Joys, recorded in 1954) to the latter part of the 1960s. High Society is a single disc comprising twenty tracks all drawn from the Pye/Nixa catalogue, encompassing the Chris Barber Plays series of four LPs, plus material from the three Chris Barber In Concert LPs. Hits From The Golden Era Of Traditional Jazz is rather more ambitious: this is a double-CD album with notes in both German and English, with a total of forty tracks. Many of them are the same as those which appear on High Society, but the scope is both narrower (the last track is from 1957) and broader: as well as tracks from the Pye/Nixa label we also have numerous tracks that were recorded for Decca, Storyville and Columbia.
In a sense these two CDs are just two more examples of the many such releases that have appeared during the last decade or more -- compilations designed to recycle early material over and over again. From that point of view they are as good as any of the others, such as for example, the Pye Jazz Anthology which came out in the early 2000s. It's unlikely that they will appeal to serious collectors but, on the other hand, they do provide an excellent introduction to the Chris Barber Band's early recordings. Incidentally, they would make great gifts if one wished to introduce a friend to the early music of Chris Barber.
Ed Jackson, August 2011

Chris Barber, the Chris Barber Band, and Guests,

Memories Of My Trip
(a double-CD released April 18, 2011 on Proper Records)
.

The usual thing with any new Chris Barber CD is that in most cases it is an unusual thing! So it is with the brand new double-CD Memories Of My Trip! It does not cover the present programme of the Big Chris Barber Band but, rather, much of the whole musical career of Chris Barber over the last sixty years. It is indeed a "memory of my trip", both for Chris himself and for his many fans who have followed him and loved his music for so long.
Chris dedicates this new CD to the late John Slaughter, the band's outstanding blues guitar player who died in 2010. Many of us deeply miss John's fantastic blues solos: he was an integral part of the Chris Barber Band's music for more than forty years.
The double-CD features Chris Barber and various line-ups of the Chris Barber Band with an impressive array of guests, such as Ottilie Patterson, Rory Gallagher, Jimmy Cotton, Muddy Waters, Dr. John, Eric Clapton, Van Morrison, Keith Emerson, Mark Knopfler, Albert Nicholas and many, many more.
Disc One is entitled "Blues, Jazz & Gospel". The opening tune is Brownie McGhee's solo rendition of Memories Of My Trip, which provides the title for the album. Brownie sings about his tours with Chris Barber's Jazz Band in the late 1950s.
The first CD is a complete firework of blues, jazz and gospel songs. We especially like the Muddy Waters Blues Band, playing Kansas City with Chris on trombone. Another great song is Diggin' My Potatoes, with Lonnie Donegan. But this is not the well-known 1954 version recorded at the Royal Festival Hall: it is a recording by the Chris Barber Jazz & Blues Band plus Lonnie Donegan in 1987.
Next, a very interesting Weeping Willow is a collaboration between Eric Clapton and Chris recorded in 2010, on which Eric sings and plays acoustic guitar along with members of his own band.
Chris and the band have recorded several times with Van Morrison. On this CD you will find How Long Blues and Goin' Home from 1998, but also a much earlier recording from 1976 entitled Oh Didn't He Ramble. Not only Van is featured here, but also Dr. John on piano. The interesting thing about this track is that Chris owned a copy of the backing track without the vocal. Van sent Chris the respective original vocal track, and here the two separate tracks are combined for the first time!
Many followers of the Barber band particularly like the blues song Goin' Up The River. However, the version here is not by the Barber Band. Chris guested in 2005 with the Canadian group, Jeff Healey's Jazz Wizards, and recorded a remarkable album with this Canadian group which included Goin' Up The River (see the page for the original CD from the Canadian sessions).
The first CD ends with a very touching song called Another Sad One, written and played by the late John Slaughter. A few days before his death he sent this sound file to us as co-webmasters of the Barber website, asking us to post this song on the site and to dedicate it to his wife Brigitta and his three daughters. In his covering email message he also added the words, "It's me playing in a way nobody ever heard me play."
Disc Two is entitled "Jazz & Blues". And the fireworks of the first CD continue here! The opening song is St. Louis Blues / Missouri Special / St. Louis Blues, featuring Ottilie Patterson singing and Edmond Hall playing clarinet. And a great surprise is the duet of Ed Hall and Ian Wheeler, both on clarinet on "High Society". At last this number is now available on CD.
The sound changes dramatically with Rock Candy, a rock-oriented recording from 1966 with Keith Emerson and Chris Barber.
In 1978 the band toured with John Lewis and Trummy Young. The version of Georgia On My Mind on the new CD was recorded in Germany without John Lewis, but Trummy's trombone playing and singing are fantastic. There is also a great alto sax solo played by Sammy Rimington on this track.
Chris Barber continued his work with New Orleans clarinet players over many years. In 1968 the Band filled the traditional Victoria Hall in Geneva, Switzerland with a terrific performance with Albert Nicholas. C-Jam Blues is featured here and I (Andreas) am very happy that at last this tune has been published on CD. I was lucky in 1977 to arrange that the original Geneva tapes were passed on to Chris by Swiss Radio. C-Jam Blues not only features an outstanding solo from Albert, but also a remarkable alto sax solo by John Crocker, who joined the Barber Band only a few weeks before this event.
The third New Orleans clarinettist on this CD is Joe Darensbourg with Rose Room, accompanied by Chris Barber and Pat Halcox, plus Richard Simmons on piano, Terry Knight on bass, and Dave Evans on drums. This recording dates from August 1974.
In 1983 Eddie Durham, the former Count Basie trombonist, played with the Chris Barber Jazz & Blues Band. Here you will find the great blues number Jack Teagarden Blues.
In 2010 members of the present Big Chris Barber band recorded two songs with Jools Holland, Winin' Boy Blues and On The Sunny Side Of The Street.
The CD ends with three tunes by the Chris Barber Jazz & Blues Band together with Mark Knopfler. These songs, originally recorded for the Chris's BBC Radio 2 programme Jazz Diaries, have been cherished as rarities among fans who were lucky enough to record the programme. It's a great pleasure to have the titles now on a commercial CD.
As we said at the beginning, Memories Of My Trip is an unusual double-CD from an unusual and outstanding Jazz, Gospel and Blues man. It is almost impossible to name and pay the respect to all musicians on this double-CD, so we suggest, sit back in a comfortable chair, sip a good drink (or two!), and listen to more than two hours of great music! The double-CD comes with a 24-page booklet, fully packed with information in Chris's own words and, to our knowledge, some very rare photographs.
All in all, this CD is a fitting tribute to Chris Barber and his more than sixty years as a bandleader and one of jazz's great musicians; it surely is indispensable as an item in every Barber fan's collection.
With only a slight variation in the words, the lyrics of Mark Knopfler's lovely song, 'Til The Next Time I'm In Town, which completes the album, could sum up every Chris Barber fan's gratitude to Chris for his music, both in concert and on record, for many decades:
It's been something seeing you again
In this time we've had to spend
Been so good to be around.
I thank you for that special thrill
Keep me going on until
The next time [you're] in town....
Andreas Wandfluh & Ed Jackson, April 2011
There are independent reviews of memories Of My Trip on the BBC music reviews website and the Daily Telegraph website.
Music: Dallas Rag (with Mark Knopfler) || Goin' Home (with Van Morrison) || Tea Party Blues (with The Boston Tea Party) || C Jam Blues (with Albert Nicholas) || Memories Of My Trip (solo recording by Brownie McGhee)

Ottilie Patterson with Chris Barber's Jazz Band,

Blues Book And Beyond
(2011 reissue of Chris Barber's Blues Book, Volume 1, with bonus tracks)
.

Lake Records LACD 296, released in March 2011.
A new CD with rare recordings as well as previously unissued material has reached the Chris Barber website and archive team at the beginning of March 2011. Paul Adams of Lake Records has compiled a very interesting compact disc, documenting the great musical diversity of Ottilie Patterson between the years 1958 and 1961.
The first twelve titles comprise a complete re-issue of the original Columbia recording Chris Barber's Blues Book, Volume 1, a 12-inch LP recorded and released in 1960. These twelve songs were re-issued by BGO Records in 1997 on a CD together with the 1964 album Good Mornin' Blues; however, they have remained comparatively rare items, so we are very happy to have the complete Columbia recordings once again on a widely available CD.

The original LP
Ottilie Swings the Irish
My personal favourites of the first twelve titles are Kidman Blues and Backwater Blues. Backwater Blues is an absolutely fantastic duet between Ottilie's vocal and Pat Halcox's muted trumpet. Blues Before Sunrise is another great duet, this time with Ottilie and Chris on trombone. Lord it Hurts So Bad and Only The Blues feature – besides Ottilie – Keith Scott on piano, Alexis Korner on guitar, and the Barber rhythm section of 1961 (Eddie Smith, Dick Smith, and Graham Burbidge). Squeeze Me has been recorded several times. This piano/vocal version, however, is slightly different from the previously-issued version (recorded on the same day) and which can be found on Lake CD LACD194, Chris Barber Bandbox, Volume 1.
A wonderful Ottilie EP has also been reproduced. Ottilie Swings The Irish – all four tracks are on this new CD. It is a fond memory for me personally as it was the first "Ottilie only" EP I bought in 1962 in Berne, Switzerland (and I still own it!). Tracks 20 to 23 are versions of songs that have not been issued before. Very interesting are Sobbin' Hearted Blues and Monty Sunshine's Burgundy Street Blues with Ottilie singing!
The sound quality of this CD is excellent: Paul Adams has, as usual, put a great deal of work into carefully restoring this historic material. Thanks Paul – and we look forward to many more reissues from the early Barber catalogue.
Andreas Wandfluh, March 2011
Music:
Back Water Blues || Blues Before Sunrise || Burgundy Street Blues || Kidman Blues || Sobbin' Hearted Blues

Chris Barber,

Elite Syncopations
(2011 reissue of Chris Barber's Bandbox, Volume 2, with bonus tracks)
.
Lake Records LACD 294, released in February 2011.
The original LP Elite Syncopations, (Chris Barber's Band Box, Volume Two), issued in 1960, featured the Barber Band with its classic lineup of Chris, Pat and Monty, Eddie and Dick Smith, and Graham Burbidge. It was recorded in January and February 1960. The LP was a great success and has been issued and reissued as an LP on various labels. (You may check the original LP cover and sleeve notes here.)
However, it was not until 1995 that Lake Records decided to release the complete LP on a CD, adding four more tunes such as Thriller Rag, Whistlin' Rufus, Tuxedo Rag and Bugle Call Rag (tracks recorded in 1955 and 1956). This CD was soon sold out and remains a rare item. (Please read our review here.)
Now, in February 2011, Paul Adams from Lake Records has again reissued the original LP tracks. What makes this CD so interesting is that the additional tracks are completely different from those on the first CD issue; however, I would not say that the original tunes are not interesting at all. But tracks 11 to 15 have not been previously issued, while the bonus tracks 16 and 17 feature the 1953 Ken Colyer's Jazzmen. Those two bonus tracks are taken from the Lake Records CD From New Orleans to London (LACD 209) (see our review here).
As mentioned above, we have already posted a review of the 1995 CD, so we do not repeat our comments on the first ten fantastic tunes. These tunes have again been carefully re-mastered by Paul Adams. Thanks Paul for this work!
The new CD is a full "ragtime" CD. Track 11 (Hiawatha – A Summer Idyll) features the 1954 line-up re-united in 1994 on the occasion of several 40 years jubilee concerts. Great sound – the 1954 band in full stereo with Monty Sunshine, Pat Halcox, Lonnie Donegan, Jim Bray, Ron Bowden and Chris.
Merrydown Rag (track 12) was recorded in 1967; the opening of the tune features Ian Wheeler in a beautiful solo on clarinet.
Whistlin' Rufus (track 13) has always been a very popular Chris Barber tune which has been issued on numerous EPs, LPs and CDs, but the most common is the 1955 version, which originally appeared on the 10-inch LP, Chris Barber Plays, Volume Two. The version on the new CD was recorded in June 1975, this time with John Crocker on clarinet. John and Pat are featured in a short but great duet.
Harlem Rag (track 14) was recorded in November 2001 with the traditional 8-piece band line-up. This was at the time when the Chris Barber Jazz & Blues Band started to play with the Bob Hunt Ellingtonians, thus finally ending later in the Big Chris Barber Band. Harlem Rag has often been played in concerts and is a typical ragtime number, freshly played by the Chris Barber Jazz & Blues Band.
Maple Leaf Rag (track 15) was recorded at the Playhouse at Whitley Bay in December 1998 and fits beautifully into this ragtime CD. The Chris Barber Band played this tune in the 60s and then again only in 1998.
As already stated, the bonus tracks come from the Ken Colyer CD From New Orleans to London and were recorded in 1953. Cataract Rag and Harlem Rag are the two bonus tracks. It is interesting to compare the versions of Harlem Rag from 1953 and 2001.
I personally like this CD very much as it covers rags played by the Chris Barber Band from 1953 to 2001.
Andreas Wandfluh, February 2011
Music: The Entertainer || Bohemia Rag || St. George's Rag || The Peach || Maple Leaf Rag || Merrydown Rag
You can read a review of this CD at www.musicweb-international.com/jazz/2011/Chris_Barber_LACD294.htm

Chris Barber's Jazz & Blues Band with Special Guest Ken Colyer, New Orleans Parade
Lake Records LACD 293, released in November 2010.
New Orleans Parade is an "unexpected" compact disc from Lake Records: as Paul Adams points out in his notes, Chris Barber sent the tapes of a 1984 concert to him "out of the blue", suggesting that they would make a worthwhile and historically important CD. This was largely because the eight-piece Chris Barber's Jazz & Blues Band of the time was joined on-stage by Ken Colyer, with whom of course Chris had played in Ken Colyer's Jazzmen in 1953 and 1954.
The concert, which took place on December 16, 1984, was recorded at the St. Ivo Centre, St. Ives, Cambridgeshire. It begins with two "Parade Band" tracks featuring the full band along with Colyer, and then continues in somewhat more formal pieces with Ken as lead trumpeter while Pat Halcox stepped aside. The last track on the CD is also a "Parade Band" feature, Dr. John's All On A Mardi Gras Day.
Although there is little that is new on the CD in terms of the tunes played, it is in fact a most enjoyable record and one well worth purchasing. An obvious sense of relaxation and camaraderie comes through clearly on every track, resulting not only in a new sound for old classics like The Sheik Of Araby and Goin' Home, but also many solos in which the band members seem to be casting off the normal confines of arrangements and solos on much-played tunes. This is particularly evident in Breeze, for which we have provided an edited combined clip featuring Ken's trumpet lead, his vocal, and part of a most enjoyable solo by John Crocker on tenor sax.
Ed Jackson, November 2010
Music: Breeze || Weary Blues

The Big Chris Barber Band,

In Concert On The Isle Of Wight

(DVD)
OK Entertainment Channel / Chris Barber Collection CBJBDVD5001, recorded in November 2008 and released in 2009.
A new video of a complete concert with the Big Chris Barber Band.
Chris Barber fans know that they should always check the CD corner at concerts. Beside "normal" CDs there are often CDs and DVDs for sale that are not available in shops or by mail-order services. This happened with the latest CD, "Chris Barber at Blenheim", as well as now with the new DVD, "In Concert On The Isle Of Wight" (recorded Nov 27th, 2008 at the Medina Theatre, Newport).
This DVD features the present members of the band and it is the first recording with the newest members: Zoltan Sagi (cl, saxes), Pete Rudeforth (tp), and John Service (tb). The complete show was filmed and has been carefully remastered. It is a great document of the current tour – perhaps with one exception: "Ice Cream" is NOT on this DVD! There are no gimmicks, no "bonus tracks" or material to fill the DVD. It's just as it should be, a concert by the Big Chris Barber Band. So sit on your couch, switch on the Television/DVD player, and enjoy 90 minutes of great music.
Andreas Wandfluh, 2009

Chris Barber's Jazz Band with Sonny Terry & Brownie McGhee, Sonny, Brownie & Chris.
Lake Records LACD 278, released in September 2009. Recordings made in 1958; several tracks appeared on the LP by the same title, plus the CD includes rare, and in some cases previously-unissued, bonus tracks.
When I first saw this new CD, I believed it to be a "normal reissue" of old material. But while listening to it, I noticed how carefully Paul Adams has selected the tracks. Collectors who missed Lake CD LACD 87 have a second chance to get the complete content of the original 10-inch LP, "Sonny, Brownie & Chris". But there are more titles with the two blues singers and quite a lot of jazz tunes that have been released here for the first time on CD, including most notably instrumental versions of Just A Closer Walk With Thee and Do Lord. Also previously unissued is the title Blue Bells Goodbye. When You And I Were Young, Maggie is presented here as a straight band version; it was normally played at that time as a solo number by Monty Sunshine.
There are a lot more tunes to name. In the repertoire of the current Big Chris Barber Band is the song Cornbread, Peas & Black Molasses. At concerts Chris always refers to the Sonny Terry and Brownie McGhee tour when announcing the title. Here you can listen to the original version by the two great blues singers. (By the way the Sonny Terry/Browne McGhee titles on this CD are not the same versions as are on the "Blues Legacy CDs Lost & Found, Volumes 1 and 2", issued in 2008.)
The CD comes with an eight-page booklet and a great deal of discographical information. Thanks to Linda & Paul Adams for this great CD album.
Andreas Wandfluh, September 2009

The Big Chris Barber Band, Barber At Blenheim (The Big Chris Barber Band At Blenheim Palace)

Chris Barber Collection CBJBCD 4004, Recorded at Blenheim Palace on 1st December 2007, and released in 2009.

Barber At Blenheim was recorded by band sound-man Barry Walker at a private function at Blenheim Palace on December 1, 2007, and later re-mastered for release on compact disc at Classic Media Group, the company responsible for such recent Barber issues as the Lost And Found CD-series and the DVD, As We Like It. Although there have been some personnel changes since the time of the recording, current Barber concert-goers will particularly enjoy this CD as a souvenir of their evening, as the programme of thirteen tracks is a snapshot of a typical Big Chris Barber Band appearance. It features long-time Barber standards such as Bourbon Street Parade, The Martinique, Petite Fleur, and The Saints, as well as several examples of the more recent move in the direction of re-interpreting early tunes by or associated with Duke Ellington (Rent Party Blues, Merry-Go-Round, Jubilee Stomp, and Hot And Bothered).

The regular eleven-man line-up is slightly reduced to ten on this CD as, according to the notes, "John Slaughter was at the time not yet recovered from his serious illness and regular replacement Andy Kuc couldn't make it." Consequently Joe Farler doubles on banjo and guitar. Also, it's worth noting that, to the best of my knowledge, this was the last concert recorded for public release before trombonist Bob Hunt and reedman Tony Carter left the band, and just seven months before veteran trumpeter Pat Halcox retired after 54 years with the band.

Ed Jackson, May 2009
Music: Basin Street Blues || Hot And Bothered || Watcha Gonna Do

The Chris Barber Jazz & Blues Band, Barbican Blues
Double-LP originally recorded and released in 1982 and reissued in April 2009 on Lake Records LACD273.
One of my personal favourite recordings has been reissued by Paul Adams on Lake Records: the "Barbican Blues" concert of April 20, 1982 from London. It was the first jazz concert at the newly opened Barbican Centre and featured the Chris Barber Jazz & Blues Band with a great mix of different sounds. This CD is a complete reissue of the stereo double-LP on the Black Lion label (BLM 61003/4, issued in 1982).
This is one of those CDs that best demonstrates the musical variety and versatility of the Chris Barber Jazz & Blues Band -- and it also looks ahead to the future development of the band into the present Big Chris Barber Band.
Andreas Wandfluh, April 2009
Music: Barbican Blues || Perdido Street Blues || Spanish Castles

Back to the main Recordings page.