Chris Barber's Jazz Band in Berlin - 1961 - more pictures added below
After the remarkable concert in May 1959 at the Deutschlandhalle the Chris Barber Jazz & Blues Band was again on stage in Berlin on May 30, 1961. It was the first appearance of Ian Wheeler in Berlin after Monty Sunshine had left to from his own band. These pictures - done by Peter Kazubski - must be among the first ones with Ian Wheeler.

It was for a long time the last concert that West and East Berlin people could enjoy together. Shortly after that event the East German Government separated - with the construction of the "Berlin Wall" (August 1961) - the two countries for more than 28 years. The Deutschlandhalle is in Berlin West.
Ian Wheeler, Pat Halcox, Dick Smith, Graham Burbidge, Chris Barber
Chris Barber, Dick Smith, Graham Burbidge and Eddie Smith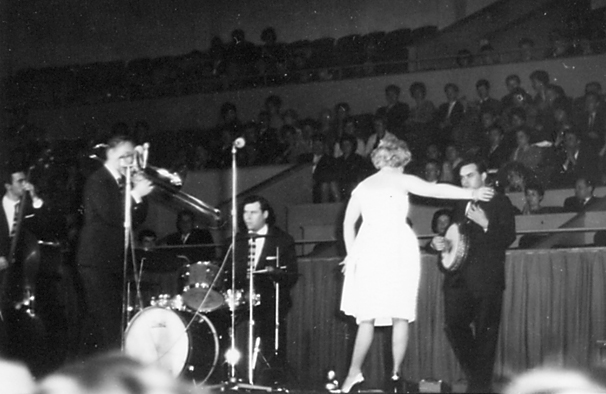 Dick Smith, Chris Barber, Graham Burbidge, Ottilie Patterson and Eddie Smith
Original Ticket: note that official stamp "OST" (=east). Here a short explanation: West Germany's official currency at that time was the German Mark, while East Germans used the DDR Mark (Ostmark) The rates were not equal - so the West German Government of Berlin (Senat) has had the possibility of selling to the GDR public tickets at the rate 1:1 against presentation of identification documents. This subsidy for East Berliners was only granted for high level cultural events - the Chris Barber Band at the Deutschlandhalle!

all photos: copyright by Peter Kazubski, Berlin - 2010
---
Another Chris Barber Fan in Berlin, Achim Koenig, trumpet player in Berlin's famous "Sir Gusche Band", sent us a set of pictures from the 1961 concert, and we are happy to present these fotos here. Thank you, Achim, for your support.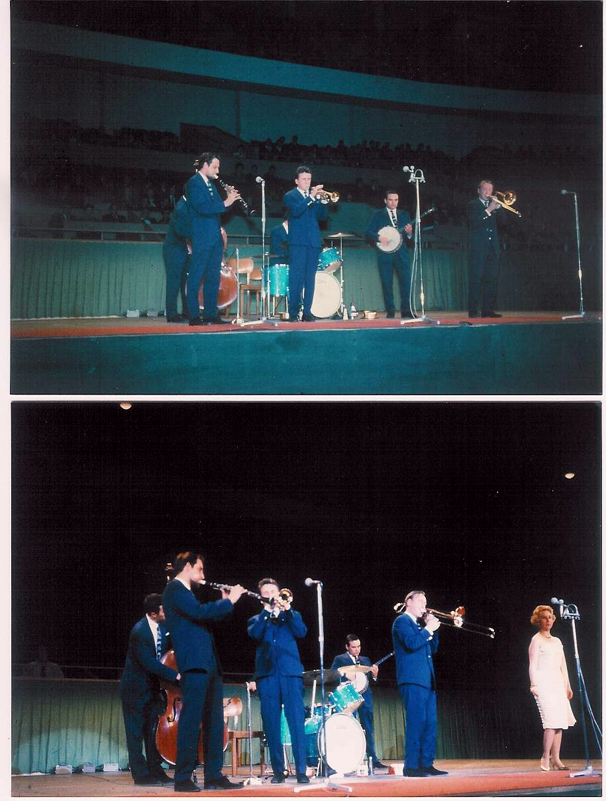 copyright: Achim Koenig

,

Berlin - 2010
---
Tours, Concerts and Special Events page || Menu page