It is with great sadness that we announce that Pat Halcox passed away peacefully on 4 February, 2013.
Pat, who was one of the leading figures in the British jazz scene, was universally loved, both as a musician and a friend among his fellow band members, his peers, and his many thousands of fans. He joined Chris Barber's Jazz Band, replacing Ken Colyer after the latter's split with the band, on 31 May 1954, thus beginning – with Chris – the longest partnership in jazz history, not just in Britain but the whole world, exceeding perhaps the most famous of all such partnerships, Duke Ellington and Harry Carney (1926-1974).
Pat first recorded with Chris, Monty Sunshine, Lonnie Donegan, Jim Bray and Ron Bowden on July 13, 1954, for the 10-inch LP, "New Orleans Joys". He was immediately a remarkable leader of the ensemble and soloist, as this recording of "Chimes Blues" attests.
Pat was born in London on 18 March, 1930. He served in the RAF in the late 1940s-1950, during which time he learned to play the trombone. He was also an accomplished pianist, although he rarely played piano on record.
Pat had played briefly with the fledgling unit organised by Chris Barber and Monty Sunshine in 1952-53, but was unwilling to become a full-time professional musician, feeling that his obligation to his parents, who had supported him in his studies in Chemistry, superceded his love of jazz. However, by May 1954, Pat was coaxed away from the Albermarle Jazz Band and made the leap to professionalism with the newly-reorganized Barber outfit.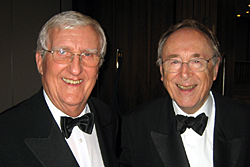 Pat made literally thousands of recordings with the Barber Band, as well as some with his "summer band", so choosing representative examples of his role as lead or solo trumpeter, or from his many lovely obbligatos playing behind Ottilie Patterson, poses a dilemma. Thus we have confined ourselves to selecting just two of the tunes for which Pat was best known, "Chimes Blues" from 1954, and "Precious Lord, Take My Hand, Lead Me On" fifty years later in the Barber six-piece unit that plays two or three of the early numbers at Big Chris Barber Band concerts.
Pat will be remembered for his kindness, friendliness, and approachability. He always took the time to meet and talk with fans, and he had that rare ability of making one feel a friend from the very first words of a conversation.
Pat's wife of more than fifty years, Shirley, reports that while Pat was unable to speak during his last few days, he was happy and always smiled if she played Chris Barber records for him.
Pat will be sorely missed, but at least we have the consolation of a wonderful collection of recordings to remind us of how much he meant to so many of us.
Rest in peace, Pat.
Ed Jackson & Andreas Wandfluh on behalf of the Chris Barber website, 5 February 2013.