John Sutton: Drums
John became interested in drums at about the age of fourteen (1959). His dad (who was a pianist) bought him a set of Gigster drums second-hand from a junk shop, and looking back John thought that "those drums were pretty awful but at the time but I thought they were great". His dad played piano at the local pub and John joined him on drums (under age of course) and he really enjoyed it: his Dad was great to play with, really solid. The one thing that still stands out in his mind is the pints of beer on top of the piano. Everyone buys the piano player a drink and there must have been seven or eight pints all in a line.
The next important stage in his career was when he left school and got a job. He didn't like work one little bit, so he practised every night after work and at weekends went to Eel Pie Island to listen and try to sit in with the jazz bands. He was awful! (in his own judgement). He didn't even know what the off-beat was! But it was all good fun. At the age of seventeen he joined a beat group, The Downliners Sect, who became quite popular and had some number-ones in Sweden -- he had a splendid time! He met his wife during his beat group days, and after his son was born (in 1969) he stopped playing for a time.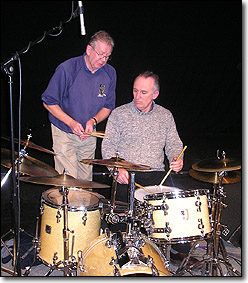 Colin Miller & John Sutton
John re-emerged in 1976/77 and joined the London Vintage Jazz Orchestra led by Dave Burman. He met a lot of musicians in the three years he was with the band and did a lot of gigs with them. One musician was Mike Holmes, whose regular gig was with the Pasadena Roof Orchestra.
They were doing pretty well so John let him know that if the drummer ever got fed up with it he'd be interested. The end result was that he got the job in 1980. John Arthy, the bass player, led the band for many happy years until he retired in 1998, when James Langton took over as leader and singer. James also ran a band called the Solid Senders in which John played. This band specialised in the Artie Shaw and Benny Goodman repertoire of the late 1930s. It was a great band with some great people in it.
For the past few years John has been the leader of the Pasadena Roof Orchestra, but also does lots of other things as well, such as local jazz bands, Rico Tomasso's small bands, the Louise Cookman Quartet, Blue Devils and a pianist called Colin Good, a fine player and a fine chap. This led to doing a CD and a tour with Bryan Ferry in 2000, a biggish band with strings: a great front line with Alan Barnes, Robert Fowler, Enrico Tomasso, and Malcolm Earle Smith -- all good chaps. A recent project has been a band with dear old Tony Jacobs called The Cream Crackers or The Jazz Crackers: they haven't made up their minds yet. It's a great band with a great line-up, some of the Bryan Ferry boys!
John joined Chris in April 2005, the first concerts being in Europe, commencing Saturday 9 April in Beringen, Switzerland. His first UK appearance was at Keswick on Tuesday 10 May.
The Archive Team met John at Salisbury in March 2005, where the photographs shown here were taken. We wish John all the best in his new role in the Big Chris Barber Band, and thank him for providing this biography.
Copyright © 2005 John Sutton & Julian Purser.