40 Years Jubilee Concert


The Chris Barber Jazz & Blues Band and the Original 1954 Chris Barber's Jazz Band
DVD: Storyville Films 90013
Released October 2003
By the time this concert DVD was recorded in Denmark in June 1995, the Original Chris Barber's Jazz Band of 1954-55 had played more than one hundred 40-year Jubilee Concerts. Several of these concerts are available on various compact discs, so the programme here is not so very different from what you will find in audio format elsewhere. What sets apart this DVD concert is the terrific enthusiasm and enjoyment visually evident in the great performances by Chris, Pat, Monty, Jim, Ron, and Lonnie: they and the music sound as fresh as ever, both in the ensemble pieces and the feature spots for Monty and Lonnie, both performed with outstanding talent and engaging humour. The original band plays the first half of the concert, while the Chris Barber Jazz and Blues Band takes over after the intermission. The whole second-half performance is similarly entertaining. This is a first-class concert film, a treat to watch from start to finish.

Personnel: Chris Barber (trombone, bass, vocals), Pat Halcox (trumpet, cornet, vocals), John Crocker (reeds), Ian Wheeler (reeds), John Slaughter (guitar), Paul Sealey (banjo, guitar), Vic Pitt (bass), Alan "Sticky" Wickett (drums), plus Monty Sunshine (clarinet), Lonnie Donegan (banjo, guitar, and vocals), Jim Bray (bass and tuba), and Ron Bowden (drums).
Recording date: Recorded in concert in Denmark, 27 June, 1995.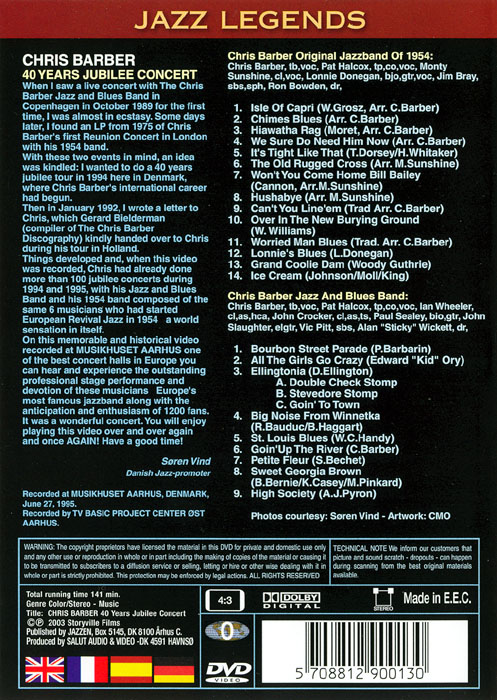 Previous cover || Next cover || Covers page