That's It Then


Chris Barber and Acker Bilk
CD: Timeless Records TTD 619

During the "trad boom" of the early 1960s, the undisputed "kings" were Ball, Barber and Bilk -- the "Three Bs"as they were often known -- Kenny Ball's Jazzmen, Chris Barber's Jazz Band, and Mr. Acker Bilk & His Paramount Jazz Band. Although they rarely if ever played and never recorded together (apart from occasional radio programmes), they were inseparable in the public's mind, partly because of the titles of reissue LPs such as The Best Of Barber & Bilk and The Best Of Ball, Barber & Bilk.

This excellent CD goes some way to filling that gap, with Acker Bilk as the guest of the Chris Barber Band in two concerts from the latter part of 1996. As Chris notes in the CD insert: "This is the record everyone thought they were buying 35 years ago. Millions of recordings by Barber and Bilk were sold in the 1960s and even reached the LP charts, but these recordings never had Mr. Barber and Mr. Bilk playing together. They only included other tapes of the two separate bands. Finally in truth Barber and Bilk are playing together at the same time and the same place. Playing with Acker was just as much fun as anybody could have imagined and we hope that you will enjoy this recording as much as the musicians you are hearing."

That's It Then is also notable because it was the last commercial recording featuring Ian Wheeler as a member of the band's front line (after a total of over thirty years!), and Alan "Sticky" Wickett's last recording as the drummer.

Personnel: Chris Barber (trombone), Pat Halcox (trumpet), Acker Bilk (clarinet), John Crocker (reeds & flute), Ian Wheeler (reeds), John Slaughter (guitar), Paul Sealey (banjo, guitar), Vic Pitt (bass), Alan "Sticky" Wickett" (drums).
Recording dates: Recorded in concert on December 13 and 17 1996.
Music: Here are two selections from the CD: the first is part of Acker Bilk's solo on Wabash Blues; the second is the opening clarinet trio on South.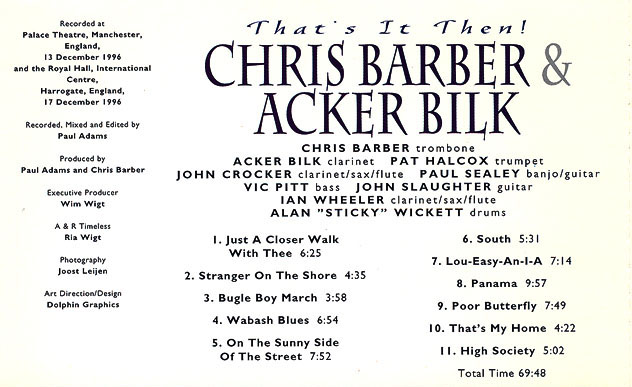 Previous cover || Next cover || Covers page