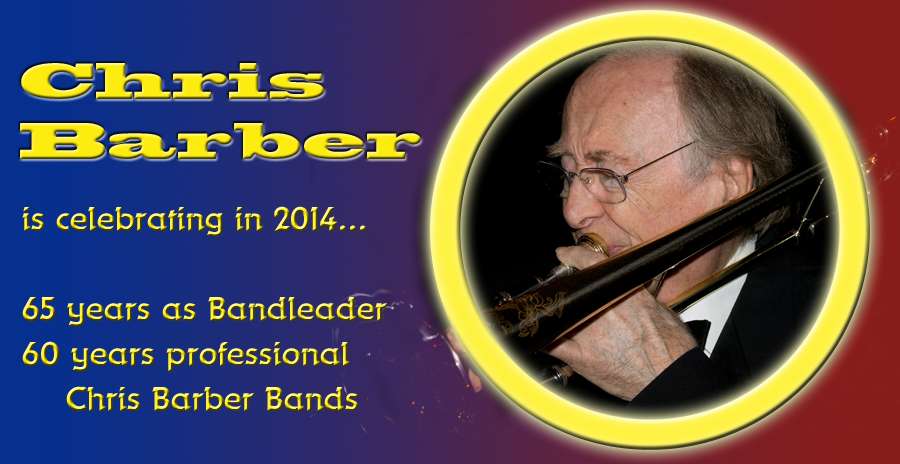 2014 is a special year for Chris Barber! Chris is celebrating 65 years as bandleader and 60 years professional career with the Chris Barber Bands. You will find the story of Chris Barber and his bands elswhere on this website. It's a fantastic success to be such a long time on top of European Jazz music and we are sure that many followers of the band have great memories of Chris' music. We encourage you all to share theses memories with Chris and the fans all over the world: please send us photos, leaflets etc. from your archives, or write a

short

piece about these memories. We then will publish your memories here on this page.

Congratulations to Chris and his music!
Ed Jackson & Andreas Wandfluh
Co-Webmasters
February 2014
---
March 11, 2014 - Lifetime Award for Chris Barber - Chris Barber will be awarded the German Jazz Trophy 2014

The German Jazz Trophy 2014 will be awarded to Chris Barber on July 21, 2014 in Stuttgart / Germany at the "jazzopen" festival.
Congratulations to Chris for this fantastic award. Former award winners are Lee Konitz, Monty Alexander, Dick Hayman and Jacques Loussier, Dave Holland and many other celebrities. More information and ticket reservations on the official website of the German Jazz Trophy.

As this is a German award, we have for the moment only press releases in the German language. If you find in any publication an English version, please inform us.

Official press release Press release by "Jazz-Zeitung"
---
Roger Dewey sent us on March 3, 2014 the following lines:
Hi, Back in the 60s, following on from " Children's Choice" on the radio growing up, like most teenagers I was into rock 'n' roll in a big way. However, my musical taste was about to be broadened, unknown to me, by my introduction to the beauties of improvisation and instrument solos that a traditional jazz band could bring to my ever open musical ears.





I can remember, as if it were yesterday, my older brother coming into my "Dansette record player room" with a copy of "Barber In Berlin" under his arm and saying to me, "have a listen to this and see what you think"
I was a keen drummer in those days, following on from playing side drum in the local Boys Brigade band, so the first track he played to me was "Ice Cream" which on that paricular album ended with a fantastic drum solo by Graham Burbidge.
As the track came to a close, with an outro of "When the Saints Go Marching In" ending the concert, my eyes must've lit up, as my brother then placed the stylus back to the beginning of the record and we listened together to the whole (concert) album, with him pointing out to me the solo passovers and the changes from the main tune being played by Pat on the trumpet at the beginning with the Chris and Monty improvising, then the individual solos in the middle, before the band all came together again at the end.
I won't bore you with any more of my reminiscences, but needless to say, from that day to this, I WAS WELL AND TRULY HOOKED!
Roger Dewey
, Hampshire UK
---
Allan Wallace wrote on Feb. 26. 2014
Great gig & full house Edinburgh festival theatre July 2013 Edinburgh Jazz Festival. Congrats & Best wishes from your Scottish clan.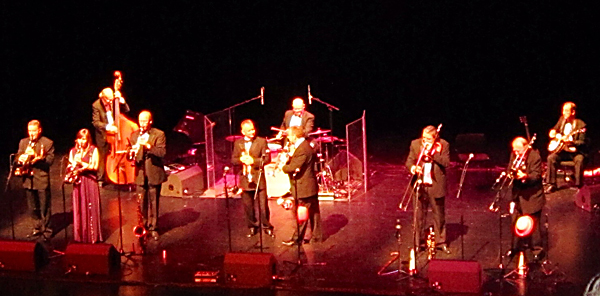 ---
Michael Gerhard, Berlin, wrote on Feb. 17, 2014:

Chapeau Mr. Barber, this is a major anniversary !!
I'm proud being a fan of your awesome Band and having relationship with you on "facebook"

Enclosed find a memory of the last gigs in the Philharmonie Berlin and "Jazz in Town" inBerlin -Köpenick.

I'm looking forward saying hello in person and sharing a drink with you soon.
<![if !supportLineBreakNewLine]><![endif]>
Christer Svenson, Rydebäck/Sweden sent us a picture from a concert in Helsingborg on 2nd October, 2012, featuring singer Sheila Collier with the 6-piece band. Here are Christer Svensons lines:
...a
nd then something about Sheila Collier , Chris and myself.
I have heard Chris Barber band live almost 20 times in Sweden, Denmark and Germany so I really am a great fan ! I was new in Helsingborg when I went to a totally sold out Concert Hall in Oct 2009. To my great surprise suddenly Sheila appeared to sing. I had never heard anything about her. At that concert she sang with the Six – piece – band Precious Lord lead me on and See See Rider Blues ! It was wonderful !
I don´t know so much about Chris earlier collaboration with Sheila. Perhaps you may ask himself. Later after that concert I got to know that she was married to a very good Swedish clarinet – player Lasse Karlsson and lived and played with him in Helsingborg. She still do so I hope.
To my great pleasure I saw that Chris would be back in Helsingborg Oct 2012. Mr Wim Wigt has an agent in Sweden, Bosse Stenhammar, who told me.
I said that it was a must once again to contact Sheila ! I called her and she said that Chris already had invited her to sing in the same way as last time. Stenhammar and I myself fixed that she was to be in the advertisement as a Special Guest.
But sorry to say… this time the ticket-sale went very badly and just about 150 persons were there. Wigt wanted to cancel but Chris insisted to play in Helsingborg. So I fear it was a great loss for Chris himself to handle. Before the concert Stenhammar introduced me to Chris and just we two had a very interesting talk for about 45 minutes or so. And Chris was so kind to me so it was a great memory for me !
Please tell him that ! Well, the Concert was as usual very good and Sheila entered and sang in her beautiful voice two numbers … Backwater Blues and Down by the riverside. In the last tune she also played the tambourine as you can see in the picture.




Photo with kind permission from Arne Fryksén, esq. LUND
...and by coincidence we found a video on youtube from that concert: http://www.youtube.com/watch?v=8Jj5CGf6Ya0
Backwater Blues and Down by the Riverside
---
Alvin Jordan wrote on Feb. 17, 2014
Unbelievable to think that as a young boy in a two-up two down, outside toilet in Hull in the fifties we would listen to 45rpms of Chris Barber, Otilie Patterson on a Sunday afternoon.
Saw him 'Live' at the City Hall late in the late fifties or early sixties.
Away in the RAF throughout the sixties and bringing up family in the seventies didn't have enough time or money to visit Jazz concerts.

Moved to Holland in1979, and in the early eighties resumed my acquaintance with the Chris Barber Jazz Band together with Acker Bilk at a concert in 'De Doelen' in Rotterdam.
Since then I have attended numerous concerts in The Netherlands, most recently in Oss where the present line-up presented an evening of unforgettable music.

Wonderful memories of all the excellent musicians he has played with over the years. The present line-up and repertoire is a tribute to how the intense enthousiasm of Chris can inspire other musicians, Bert Brandsma being an example of this. Having chatted to Bert recently it was wonderful to hear what being associated with Chris meant to him.

Looking forward to the next time in 'De Doelen' and Papendrecht.

Alvin Jordan
Netherlands

ps. Look forward to reading the book.
---
Lutz Eikelmann from Germany sent us these lines, that will probably be published to elswhere in Germany

60 Jahre Chris Barber Band: 1954 war ganz schön viel los

copryight: Lutz Eikelmann, 2014

1954 war ganz schön viel los: das bundesdeutsche Wirtschaftswunder war ins Rollen geraten. Am 4.Juli setzte die deutsche Fußballnationalmannschaft den Inhalt eines 1942 im Auftrag von Joseph Goebbels produzierten Propagandafilms, in welchem sie laut einer im Vorfeld der 2006er Fußballweltmeisterschaft im ZDF ausgestrahlten Dokumentation nach 0:2 Rückstand mit 3:2 gegen Ungarn eine "fiktive" WM gewannen, in die Tat um. Und 13 Tage später erblickte unsere heutige Bundeskanzlerin als Angela Dorothea Kasner in Hamburg das Licht der Welt. Zeitgleich zogen die Franzosen ihre Kolonialtruppen aus dem 8jährigen Indochina-Krieg zurück und die USA begannen sich in Indochina zunächst heimlich militärisch zu engagieren, bevor der Vietnamkrieg ein Jahrzehnt später offiziell wurde. Doch den Jazzer interessieren weder die scheinbar hellseherischen Fähigkeiten eines Reichspropagandaministers noch verborgene Kriege am anderen Ende der Welt, denn parallel zum deutschen Wirtschaftswunder kam noch etwas Weiteres ins Rollen: die britische Musikmodewelle des "Trad Boom", deren führende Band, die Chris Barber Jazzband, am Montag, den 31.Mai 1954, ihren ersten Auftritt bestritt.

Die Geschichte dieser Band ist den Jazzfreunden allgemein bekannt und soll in diesem Artikel nicht zum x-ten Male vollständig aufbereitet werden. Und dennoch: diese Band hat bis in die heutige Zeit nicht nur erfolgreich professionell gearbeitet und die Höhen und Tiefen des Musikgeschäfts überlebt, sondern war immer wieder auch musikalischer Vorreiter wichtiger musikalischer Modewellen wie des bereits erwähnten "Trad Boom", des "Skiffle Craze" der späten 1950er Jahre sowie der Blues- und Rhythm&Blues-Wellen der 50er und 60er Jahre. Manch oberflächliche Beobachter der Chris Barber Jazzband halten diese für einen schlechten Abklatsch der George Lewis Band der 1940er Jahre, doch auch wenn Chris Barber und seine musikalischen Partner der ersten Jahre, Monty Sunshine (1928-2010) und Lonnie Donegan (1931-2002), sich sehr wohl für die George Lewis Besetzungen zu begeistern wußten, setzte sich die Barber Band von Anfang an mit musikalischen Traditionen des Jazz erfolgreich auseinander, von denen viele Jazzbands wohlweislich die Finger lassen: Ragtime einerseits, die Musik Duke Ellingtons andererseits.

Wichtige Beschleuniger des kommerziellen Erfolges und der internationalen Bekanntheit der Barber Band waren 1954 sowohl die regen Aufnahmetätigkeiten in Dänemark für das dortige "Storyville Label" als auch die erfolgreiche Langspielplatte "New Orleans Joys" für die britische DECCA, eingespielt am 13.Juli 1954, später dann natürlich auch die Single "Petite Fleur", die (eingespielt am 10. Oktober 1956) 1959/1960 zum Millionenhit wurde.

Im Laufe der Jahrzehnte wechselte die Band wiederholt den Namen - so wurde aus "Chris Barber´s New Orleans Jazzband" zunächst "Chris Barber´s Jazzband", später dann "Chris Barber´s Jazz & Blues Band", 2001 erhielt sie dann mit der Erweiterung von 8 auf 11 Musiker den noch aktuellen Namen "The Big Chris Barber Band". Mit dieser vergrößerten Besetzung bietet Chris Barber nicht nur seine mit ihm verbundenen Evergreens wie "Bourbon Street Parade" (seit 1958 die Erkennungsmelodie der Band), "Goin´ Home", "Petite Fleur", "Wild Cat Blues", "When The Saints Go Marching In" und "Ice Cream" dar, sondern legt den besonderen Schwerpunkt auf die Musik Duke Ellingtons, die ihm seit eh und je am Herzen liegt. Besondere Unterstützung erhält er dabei von seiner rechten Hand, dem seit 2001 zur Band gehörenden Posaunisten und Arrangeur Bob Hunt.

Ich will mich an dieser Stelle kurz fassen, Chris Barber und seiner Band (aktuelle Besetzung: Chris Barber & Bob Hunt/Posaunen, Mike Henry & Pete Rudeforth/Trompeten, Bert Brandsma/Amy Roberts & Richard Exall/Klarinetten&Saxophone, Joe Farler/Banjo&Gitarre, Jackie Flavelle/Kontrabass und Gregor Beck/Schlagzeug) von Herzen zum Jubiläum gratulieren und ihnen weiterhin Glück, Gesundheit und Erfolg wünschen. Darüber hinaus lade ich Sie, liebe Musikfreunde, nicht nur ein, mich meinen Wünschen für diese Institution und Inspiration der europäischen Jazz-, Blues- und Rockszene anzuschließen, sondern auch die offizielle Website der Band zu besuchen: www.chrisbarber.net

Ihr Lutz Eikelmann, Januar 2014
---
back to top page
back to menu