Pat Halcox: Trumpet, Cornet, Flugelhorn, Piano, and Vocals
The story of some of Pat's exploits away from the Chris Barber Band: contributed by Julian Purser
Pat's stature as one of the best trumpeters this country has produced is undoubted, but because he has played with Chris for fifty years, he is almost unknown as a player in his own right. (This is not unusual: Trummy Young was never asked to record for anyone else during his long tenure in the Louis Armstrong All Stars.) The band plays over two hundred dates a year, and this leaves little time for doing much else. However, as I shall show, over the years Pat has had many other musical adventures. This brief survey is by no means complete, but aims to give a flavour of some of the guest appearances and other activities he has enjoyed.
It was only some two months after the Chris Barber Band started that Pat took part in his first non-Barber recording. Ian Wheeler had requested John R.T. Davies (he of the Temperance Seven, maestro of 78 rpm record restoration, and now co-producer of the Chris Barber Collection CDs on the Timeless label) to record a session with his colleagues in the Barber Band (minus Chris). This took place in the London Jazz Centre in Soho on 8 August 1954. It was possibly the only time Ian and Monty Sunshine played together, prior to the 1990s reunions of the old and new Chris Barber bands. There have been many requests for this session to be issued; so far no joy, a great pity. (Click here for session details.)
Pat has on occasion been asked to deputise for other band leaders. Two notable times occurred in 1964 and 1978. In 1964 Pat was asked to sit in for Alex Welsh when his band did a club session at the Georgian Jazz Club in Cowley. In the band were Roy Crimmins on trombone, John Barnes on saxes and clarinet (he later joined Humph's band), the excellent Fred Hunt on piano, Jim Douglas on banjo and guitar (more of Jim later), Ron Mathewson on bass, and the slightly eccentric Lennie Hastings on drums. A marvellous session.
Humphrey 'Humph' Lyttelton was asked to appear at the 1978 Prague Jazz Festival (7 April) but had to pull out two days before flying out to Prague, and asked Pat to take over. This meant that Pat had to rush around sorting out a visa (it was in the days of the Iron Curtain) and a flight, but he made it, and joined Bruce Turner (again we will meet Bruce later), Malcolm Everson (baritone sax), Mick Pyne (piano), Dave Green (bass), and Tony Mann (drums). What Pat had not expected was to have to make all the introductions! He thought Bruce Turner would do those, but Bruce quietly reminded Pat that as Humph normally made them, and he was Humph's dep it was Pat's job! Another excellent performance.
The first album to include Pat away from the Barber band was Don Ewell Quintet. (Click here for session details.) Don was an American pianist, much recorded by George Buck for both his Jazzology and GHB labels. The recording was by Dave Bennett (at the time a school teacher, but now a full time record producer and recording engineer), recorded in February 1971 at the White Hart, Willesden. Besides Pat, some other familiar jazzmen were in the group: on clarinet was 'Creole' John Defferray, now a member of the Big Chris Barber band; on bass was Jackie Flavelle, at the time a member of the Chris Barber band; and on drums was Barry Martyn, who later moved to New Orleans, where he still lives.
In 1974 Pat played the first gigs with his 'Summer Band', basically a busman's holiday. The idea was to play a few gigs during the Barber Band's summer break. The first year it was the normal personnel of the time without Chris. The band played a more mainstream-slanted repertoire, and this become more pronounced as the personnel changed over the next few years. In 1974, the band brought back such items as 'Worksong', and added titles such as the Hodges tune 'Squatty Roo', and an acoustic guitar piece, 'Plenty of Nothing'. Guests at the New River Club in Andover that year included local band leader Dave Morgan (trombone) and his banjo player Roger Dee.
The personnel in 1975 and 1976 remained as before except that Pete York replaced Graham Burbidge on drums. 1975 tracks included 'Shanty in Old Shanty Town', 'That Old Feeling', and 'Your Eyes Say Yes Butů' Guests at The Lord Raglan in Wolverhampton were vocalist and band leader Sheila Colyer, and pianist-vocalist Tommy Burton. 1976 gave us 'All My Eggs In One Basket', 'Looks Like Another Winter's Here' (Jackie vocal), 'Sam' (Jackie again) and 'Cowbell Blues'. There was a change in personnel in 1977: Campbell Burnap was added on trombone and vocals, and Jackie Flavelle was replaced by Roger Limb on bass (he worked for the BBC Radiophonic Workshop on projects such as Doctor Who). Numbers included 'Blues in the Closet' (a feature for Roger Limb), 'Hot Step And Jump', 'What's The Racket', 'Theme From Black Orpheus', and two Campbell vocals, 'I Want A Little Girl' and 'Lock My Heart'.
In 1978 an album, Pat Halcox All Stars, was recorded by Nigel Pegrum, who at the time was a member of Steeleye Span. That year the personnel had changed again, with Johnny Parker added on piano, and Vic Pitt replacing Roger Limb; also John Slaughter dropped out. In 1979 the band remained the same, and new tracks included 'High on An Open Mike', '5 O'clock Drag', 'Rag Time Dance', and 'Three Four The Blues'.
An added attraction during some of the 1980 shows was the inclusion of the vocal group Sweet Substitute (at this time they were Angie Masterson, Terri Leggett and Kate McNab, with their musical director and altoist Andy Leggett, Terri's husband). Sweet Substitute were a Bristol group who were quite well known. They had recorded for Decca and Black Lion. I have always thought that they never achieved the success they deserved. Sweet Substitute sang Ellington tracks, show tunes, and pieces from the Swing Era. Numbers included 'Uncle In Harlem', 'Sleepy Suzy', 'The Monkey Song', 'Heebie Jeebies', and 'I've Got Ford Engine Movements In My Hips', among many others. Pete York was unavailable, and Jimmy Garforth took the drum stool. New band numbers included 'Charlie The Chula', a Johnny Parker piece, 'Tribute To Big Bill (Broonzy)', and a clarinet feature, 'Dusk'. The mix was similar in 1981, but without Campbell Burnap. Mel Thorpe joined on reeds, and Roger Munns replaced Johnny Parker (Mel and Roger were members of Pete York's Band at the time). The band name became The Pat Halcox-Pete York All Stars. Sweet Substitute were as the previous year. Further new titles included 'Cherry' and 'Take It Upstairs'.
The final year that Pat took the band on tour was 1982, and the members of the band were Pat, John Crocker, Mel Thorpe, Roger Munns, Johnny McCallum, Bill Coleman (bass), and Pete on drums. Bill Coleman was Helen Shapiro's bass player at the time. Sweet Substitute again sang at some of the gigs. The programme was far removed from the music and style as played in 1974! Titles included 'The Hawk Talks', 'An Ordinary Thing', 'Apple Honey', and 'Segue In C'. This was the end of a long run of very different concerts, which I and many others enjoyed during our younger years! There were at least two specials, the first in 1978, at the Chris Barber Party Night on 30 December at the 100 Club, Oxford Street, London. Pat's band that night was Pat, John, Jim Shepperd (trombone), Johnny Parker, Johnny, Vic, and Pete. They signed off with their signature tune, 'The Theme From The Flintstones'. The other appearance was at the Repertory Theatre, Birmingham, on 13 December 1981. The reissued album is on Lake and should be available through them.
Returning to guest spots and other appearances, on 17 December 1977 the Chris Barber Band were at the Rep in Birmingham. The Strathallan Hotel ran a very successful weekly jazz club at the time, and issued a series of limited issue cassettes on the Neovox label. They hosted a session with well-known, mainly local, musicians, including Norman Field (reeds) and Ray Foxley (piano). Pat and Pete rushed over to the hotel and joined in on the last number, 'Bourbon Street Parade'.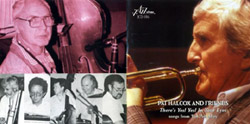 In 1989 George Buck asked Pat to put a band together to record an album, There's Yes! Yes! In Your Eyes, again for Jazzology. He was free to choose his own musicians. The album was recorded over two sessions, 16 June and 14 July. The second session was required as the piano at The Bull's Head, Barnes, was flat -- hence the final blues on the record, 'Joanna's Flat Blues'! The producer and engineer was our old friend Dave Bennett. This is a wonderful album, and we find Bruce Turner in fine form, but only playing clarinet. John Beacham on trombone had played with many bands, including a long stint in the 1970s as part of the horn section of the pop group 'The Kinks'. Dick Smith's brother Ray Smith was on piano (Dick was a member of the Chris Barber band for ten years from 1956). Jim Douglas (previously noted in the Alex Welsh Band), Vic Pitt on bass, and Geoff Downes on drums rounded out the personnel.
Pat has continued to guest with bands both in the UK and abroad (the Lake Records All Stars, and with John Service of the Piccadilly Six in Switzerland, among many others).
Pat has been a good friend for many years. Thanks Pat, for both the friendship and all the wonderful music you have provided over the last half-century!
Copyright © Julian Purser 2004. Copyright publishing license to chrisbarber.net.
Pat Halcox's "Autobiography", written in about 1961
We always had a piano at home, and, although neither of my parents were particularly musical, there's always been an interest. They tell me that when I was four years old I would sit at the piano and pick out phrases and actually copy out music, even before I could write. So they sent me to a series of lessons that resulted in my passing an exam when I was four and a half. This was too good to last, of course, and I soon slowed down to a more normal rate of progress. In fact, by the time I was six, I'd stopped playing altogether, and it wasn't until I was nearly fifteen that I found out what a social asset playing the piano could be.
When I did start again, I'd become involved loosely in jazz. I would try and rattle out 'Cow Cow Boogie'. Pete Johnson's 'Roll 'Em Pete' was the first disc in my collection. I've always been fascinated by Boogie and the Blues ever since. It's funny how the first influences stick hardest.
I first tried playing jazz in a band with Bob Dawbarn and a crowd of friends, including Mick Mulligan. It was one of those back-room-when-mother's-out sort of bands. We used to make some terrible rows.
A friend of mine worked at Boosey and Hawkes, and he'd bring home lots of battered old instruments. I finally chose trombone, because that was what we needed. When I got into the RAF I played trombone there as well. I told them that I could read trombone music, which I couldn't, so at first I had to sit at the back and fake. By the time that I came out as a fully competent trombone player I discovered that the band needed a trumpet player, so I had to switch again. As it happened it was a good job I did.
Leaving the musical side for a minute: I'd been training all this time to become a chemist, and I'd taken a job in a chemical laboratory, and was working away at nights, whenever my jazz would allow me. So, when I came out of the RAF in 1950, I went back to my chosen career of chemistry. Unfortunately for these studies a band called the Brent Valley Jazz Band was formed by my friend Colin Kingwell and myself, and it started to get odd jobs. We even went in for a talent competition organised by a detergent called Whisk, and got through a couple of semi-finals at various cinemas. We won enormous quantities of Whisk and five guineas, which we spent immediately in the nearest pub. After that I moved to the Albermarle Jazz Band - also playing in the West of London - and for about two years we played at Don Short's club at the White Hart, Southall.
| | |
| --- | --- |
| | |
| | Pat Halcox & Richard Burton |
I almost joined Chris during that time when he was forming the band that later was joined and led by Ken Colyer, but I still hoped to make a career out of chemistry, and so I turned down the opportunity (or gamble as it was then) to turn pro, and had to wait until 1954 before I got my second chance to join Chris. Now I'm sure about what I want to do: play trumpet with the Chris Barber Band.
Looking back on the seven years that I've been with Chris, I think that one of the highlights was making the soundtrack for Look Back In Anger. I was absolutely fascinated, possibly because my strongest interest outside of jazz is photography. I'm working on building a darkroom in the house that I've just moved into with my wife. But of course there have been endless series of wonderful things with the band: New Orleans, the Hollywood Bowl, Denmark, Berlin, Sister Rosetta.
I suppose that my early influences on cornet were Muggsy Spanier and Tommy Ladnier. Now I like lots of people. In the early jazz club days I was a violent anti-modern, but now I like some of it. Mainly the people with roots, I think - Parker, John Lewis, Gillespie and Ellington, especially Ellington. I wouldn't say that I'm content with the way things are at the moment - no musician ever really is content unless he's lost all ambition, but I'm very happy with the way things are going. The Band is a happy place to work, and I love playing trumpet. That's why you'll find me creeping off to places like Wood Green to sit in with the Alex Welsh Band or Kenny Ball my nights off.
An Interview with Pat Halcox in 1991
by Julian Purser
Pat Halcox joined (or rather rejoined) Chris on 31 May 1954 at what is now the 100 Club, London, and has been with him ever since. When I asked Pat if the last nearly forty years seemed a long time, he said "Not at all really, I have enjoyed playing and touring with Chris". He first got together with Chris in 1952 as an amateur, but because he had trained as a chemist, thought he should give chemistry a go; later, when he heard the band perform (at that time The Ken Colyer Jazzmen) he wished he had stayed with the life of a musician. However, he was lucky: a second opportunity came up, and he re-joined. Now he's absolutely certain that the choice was correct.
Pat enjoys being part of a group and getting the best from the whole rather than individuals. He has enjoyed all the guests he has played with, and as a bandleader Louis Jordan impressed him: Louis knew exactly what he wanted and how to organize the band to play it.
Pat is happiest with the Band's live recording output, but albums like Echoes of Harlem and Elite Syncopations still remain favourites, as is Take Me Back To New Orleans, the record with Doctor John. He has also played and recorded away from the Barber Band, recording with Don Ewell, Art Hodes, and Wally Fawkes, and two albums of his own as leader: the first with The Pat Halcox All Stars, a band that started life originally as "Pat's Summer Band" (touring during the Barber Band's holiday break), and more recently a band of other friends, including Bruce Turner and John Beacham, playing tunes from Tin Pan Alley. The Summer Band existed in the late 1970s and early 1980s, with personnel including, at one time or another, John Crocker, Vic Pitt, Johnny McCallum, Pete York, Johnny Parker, the vocal group Sweet Substitute, Campbell Burnap, Roger Limb (of the BBC Radiophonic Workshop), and others.
Pat's musical tastes are catholic: classical, light music (Nat King Cole, Billie Holiday) and of course jazz -- from Bunk Johnson to Clark Terry via Louis Armstrong. Pat's most memorable moment is first hearing Louis in Paris in 1956. Other music he enjoys is that of Duke Ellington, Count Basie, pre-war Swing, Bechet, and Jelly Roll Morton. He does not get enough time to follow his hobby, photography. However, many of his photographs can be seen in the various band brochures.
Besides the Louis Armstrong memory, the other episode that stands out is the band's sell-out concert in the Deutschlandhalle, Berlin in May 1959. The six members of the band came out on to the stage to be confronted with about twelve thousand people in the audience, including about three thousand over from East Germany. The atmosphere was overwhelming. Another live performance that Pat remembers was the Washington concert for President Kennedy in 1962: the Band played between Duke Ellington and Dave Brubeck.
Pat enjoys travelling, and tours have taken him to many countries all over Europe, North America, Africa, the Middle East, the Far East (Hong Kong, and last year Japan, which he found most interesting), and also Australia, where he would like to return some day. In the meantime he is happy continuing to play and record with Chris and the Band.