In this chapter I want to take a look at three bands which have been in the forefront of British jazz for many years. That they did not gain the first three places in the 1961 popularity poll to which reference has already been made is no reflection on either their prowess or their prestige. It is merely indicative of the transient fancy of people who vote in pop polls anyway. In fact, many jazz enthusiasts will definitely rate the first of these three, Chris Barber's Jazz Band, as not only the most popular, but by far the best in Britain. This poses an argument into which I have no wish to be drawn here, but as Chris has certainly made an enormous contribution to the widening of the jazz audience in this country, to the point where trad is an integral part of the pop scene, he earns his place in this story.

As a matter of fact, I know that Chris himself loathes the word trad, and never really likes to hear it applied to his own band, for he feels that its implication is so restricting that it gives a false impression of the range of music which he plays. If he is pressed for a definition he says that his is a creative jazz band in the traditional idiom. Coming from Chris, that is a definition I can accept: from anyone else it would sound like a quibble, but in his case it is typical of his precise way of thinking.
The Chris Barber band, in its present form, has been in existence for about eight years and, extraordinary for a jazz band, in that time there have been relatively few personnel changes. This has obviously been invaluable to the development of the well-knit sound and mutual understanding which are hallmarks of the group's playing. It was in March 1954 that the band secured its first engagements, at the Humphrey Lyttelton Club in Oxford Street and the N.J.F. London Jazz Centre in Soho. The original bass player, Jim Bray, left in July 1955, and then after short stints by Micky Ashman and Denny Coffee, the present bassist, Dick Smith, joined in April 1956. An original founder member of the band was drummer Ron Bowden, who is now with Kenny Ball, and when he left in 1957 his place was taken by Graham Burbidge. Lonnie Donegan was, of course, on banjo for quite a while, until he left to start his own meteoric rise to fame in the variety world in 1956, and his chair was taken over by Eddie Smith in November of the same year. The only other change occurred at the end of 1960 when Monty Sunshine was replaced by Ian Wheeler, although this was the most publicized move of all, for it followed close upon the big success of the record "Petite Fleur", which had been a clarinet feature for Monty. Singer Ottilie Patterson, now Mrs. Chris Barber, joined the band just six months after it had been launched. So you will see that, apart from the Monty Sunshine change, the personnel of the Barber Band has been constant for five years and believe me, in the trad world this is an unparalleled record.
It did not take Chris long to realize that if he was going to achieve widespread popularity for his band, he was not going to do it by sitting in London clubs, so in 1955 they embarked on a marathon tour of Britain, playing at every available club and hall. A little later on, Sunday concerts were introduced, and gradually the pattern of the band's work changed until, by 1957, they were concentrating on concert work generally. This meant that the greatest number of people were able to hear the music under the best available conditions, and this has been the policy followed ever since, so that the band's only regular appearances in London are at their home base, the N.J.F.'s Marquee Club.
Another facet of the band's activities which began in a modest way and has now reached tremendous proportions is touring abroad. This has in fact developed to such an extent that the band is now regarded in many European countries as the best jazz band in the world. You will perhaps appreciate even more just how much this foreign touring has been extended when I tell you that in 1954 the band played two weeks in Denmark, but in 1959 a total of twenty-nine weeks was spent abroad, taking in Germany, Holland, Denmark, and America. That a British jazz band should even visit America professionally is surprising, but the Barber outfit visited and conquered, playing at the Monterey Jazz Festival, at New Orleans, in Chicago, in the New York clubs and to a capacity crowd of tens of thousands at the Hollywood Bowl during the Dixieland Jubilee Concerts of 1960.
So impressive is the record of the Chris Barber Band that one is inevitably drawn to the conclusion that the leader must be a remarkable man indeed. Yet, setting aside for the moment his musical ability, I should say that superficially he is the least typical band leader I have ever met: Chris is at all times quiet and unassuming -- in fact I don't think I have ever heard him shout at a rehearsal -- and although one is always conscious of his control and authority, it is never due to obtrusive behaviour on his part. There can be few jazz leaders of successful bands with such a burning devotion to their work and music, for this is at all times the guiding factor with Chris whose sole concern seems to be with improving the standard of playing.
Born in April 1930, he was educated first at the King Alfred School, Golders Green, and later at St. Paul's, Hammersmith. Originally he was intended to become an actuary, and this early ambition still shows itself in his brilliance at mathematics. The speed with which he achieves mental calculations is little short of staggering, and they are always, so accurate that one suspects a built-in slide-rule. He has always been enthusiastic about music, but until reaching the age of fifteen his interest was in the classics. On leaving school he studied trombone and double bass at the Guildhall School of Music, but during this time he was bitten by the jazz bug and on leaving formed his own band. Then for a period he played with Ken Colyer (is there a prominent jazz musician in Britain who has not played with Colyer?) but again formed his own band and has not looked back since.
I have mentioned Chris's devotion to his music, and have also suggested that he has exceptional qualities of leadership. Both are exemplified in a wonderful story which Ottilie Patterson tells about him that is, well worth repeating here. It appears that the band had been playing at Bury St. Edmunds one night, and the next evening were due to play in Newcastle-on-Tyne. They arrived at the departure station with only minutes to spare, and then discovered to their horror that Monty Sunshine's clarinet had been mislaid. Frantic phone calls were made without success, so they decided that the only thing to do was to press on and hope for the best. Well, the train pulled out more or less on time, and was due in Newcastle at three-twenty in the afternoon, but the second blow of the day occurred when they arrived at seven in the evening! This was immediately followed by blow number three, when they discovered that Dick Smith, the bass player, had not arrived either. He had been travelling in a different train from London, which had been due in at about five o'clock. So, the Barber band arrived on stage, minus clarinet and bass, and what could have been a disastrous situation was saved by Chris. He took over on bass with the rhythm section, while the only remaining member of the front line, Pat Halcox, blew solo after solo on trumpet. Finally, Monty was able to borrow a clarinet and joined the band on stage, so Chris stepped down stage and, picking up his trombone, joined the front line for introductions and ensembles, dashed back to the bass for anyone else's solo, left the bass for his own trombone solos, and also played frequent solos on bass. After two hours, his fingers were blistered from the bass strings, and he stood there flushed and perspiring, but his band had fulfilled the engagement and he had saved the day. How many men would have sacrificed prestige and payment and cancelled the date if faced with similar difficulties?
It goes without saying that Chris Barber is a very busy man indeed, so that his leisure time is strictly limited, but if at any time he is not on the road, in his office, or at home, it is a pretty safe bet that he can be found poking about in the innards of Julia or Emma. But before you get the idea that there is a macabre streak in the Barber nature, I should add that these two beauties are both six-cylinder, four-and-a-half-litre vintage Lagondas, which are his pride and joy. So even when it comes to hobbies, it is typical of Chris that he would choose something which requires knowledge, skill and precision.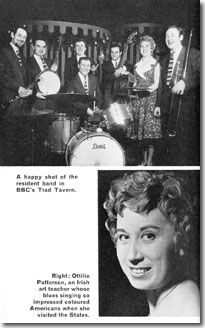 There can be no doubt that the person who knows Chris better than anyone else is his singer-wife, Ottilie Patterson, so let's conclude this picture of him by quoting her again: "Although not comparable with the 'Mona Lisa', Chris, like her, is something of an enigma. For one thing, he does not live up to the reputation musicians invariably find they have -- he is not a 'lushhead', drug-addict, nor a damsel-distresser, and is, like any normal person, only moderately neurotic." Alcohol attracts him in a very mild way, as most times he can be seen drinking orange juice, or frequently heard rashly ordering double grapefruit. But I must say that as far as eating goes, Chris takes the cake, and not only that, but as many other courses as any restaurant is capable of serving. At meal times he really comes into his own, and it is then that his alcoholic indulgence becomes apparent. The inevitable order is white wine, and Chris's smile grows in accordance with the amount of wine drunk, and sometimes he gets to the giggly stage, which can be very amusing for those of us watching him. If Chris's musical energy could be translated into terms of food, it would probably be in terms of a nine-course dinner, though since Eddie joined us he has had serious competition in this field. But don't think Chris lives to eat, for we must not pass over the innumerable times that our leader has gone without food all day, driven 150-odd miles to our job, and led the band and skiffle through a harrowing evening's work. Of course we all suffer the same way many times, too, but if, under these circumstances, any of us manages to give a fresh performance, ten to one it is our boss. He never stops trying, and I have seen him playing, green-complexioned and fighting to keep from being sick in his instrument, and the admirable thing is that he seldom complains, and always keeps going.
"Of course he frequently fusses, gets highly excited, and charges up and down railway platforms, organizing porters, or at other times, telling cabdrivers how to drive and confusing them with ingenious Barber short-cuts. He adds up bills in hotels and restaurants even before the receptionists have written them down, and muddles them completely by anticipating their mistakes and correcting them before they even found they made one. We used to think that Chris tired himself too much by driving one of our band vehicles by day, before playing at night, but we soon found out that, even in a coach where we had a hired driver, Chris got himself in an utterly wretched and frustrated frame of mind, by mentally driving all the time, so in the end we had to let him sit in the front seat so that he could feel more at ease."
And now, having viewed Mr. Barber through the eyes of Mrs. Barber, let's take a closer look at Ottilie herself, for her contribution to the popularity of this band is tremendous, and she is undoubtedly the finest blues singer in Britain today. Ottilie was born in Comber, in Northern Ireland, and, initially trained in Belfast to become an art teacher, but it was during her student days that she was introduced to another art form which has since become a way of life with her, and which altered the whole pattern of her career – the art of singing the blues. This happened when a fellow student played her a record by the immortal Bessie Smith, of "Reckless Blues", and so overwhelmed by this was Ottilie that she knew that this was what she wanted to do, too.
While at art school in Belfast she began singing with Jimmy Compton's band, for the princely sum of ten shillings a night, one night a week! And on one of those nights, Jimmy asked her to sing a pop song which, to a dedicated jazz singer, is rather like asking a vicar to swear in church. Ottilie flatly refused, and consequently left the band on the spot. The following night, however, another band was formed called the Muskrat Ramblers, and Ottilie worked with them, though only during the summer months, for that was the only time that they could get a hall usually, "when the Ulster Operatic Society or someone else didn't want it."
In 1953, when Ottilie hadn't been singing for a year, she came to England to teach, and hadn't been here very long, when she went to a party and heard a band that was new to her, the Ken Colyer band of which Chris and Monty were at that time members. Immediately she knew that this was the band with which she wanted to sing, but how to achieve that ambition was quite another matter. However, she wasn't finding work in her own field of teaching easy to come by, and was in fact living on meagre national assistance, so she decided to visit the Humphrey Lyttelton Agency to see whether there was any band that needed a blues singer. Humph introduced her to Beryl Bryden, who took her to the Lyttelton Club, where Chris's band was playing, minus Chris who was ill. She sang a few numbers with pianist Johnny Parker, and afterwards Lonnie Donegan came to her and asked if she would like to join the band. Ottilie, of course, could think of nothing that she would like better, and did in fact work with them on a few occasional dates. Unfortunately, at that time unemployment in jazz was as prevalent as it was in art, so she reluctantly decided to return to Ireland.
With one and ninepence in her pocket, Ottilie boarded the boat and slept on the deck, but arrived in Ireland to find that pay and working hours had been cut. This prompted her to write to Chris asking for a job with his band, which he immediately offered her. She handed in her notice at the school on the spot, then again wrote to Chris asking, "When do I start?" but this time received no reply. Finally, when she was on the verge of panic, with only two days to go before she was due to sail, a telegram arrived saying, "Can you start Friday first -- Chris Barber." And that was really the beginning of it all. If suffering and hardship are necessary qualifications for singing the blues, Ottilie has had her share, but just how much she has learned of her art can be judged from' an incident which occurred on one of the band's American tours. They were working in the Muddy Waters Club in Chicago, and after her performance, a coloured woman spoke to Ottilie, saying, "You sing real pretty, lady. How come you sing like us?" And that, says Ottilie, was the proudest moment of her career.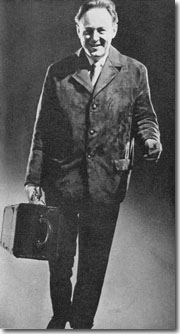 You will have gathered from an earlier paragraph that there is now only one musician still with the Chris Barber band who was a founder-member and that is trumpet star Pat Halcox. Pat is just a month older than Chris and was born in Chelsea. Initially he trained to become a chemist, and from the musical standpoint he learned the piano. Both of these facets, however, were neglected and ignored when he joined the R.A.F. and he took up first the trombone, and then the trumpet, or rather the trumpet-cornet, which is an instrument combining the virtues of both instruments and very much favoured in trad bands. Pat has played with the Brent Valley Jazz Band and the Albermarle Jazz Band, and formed the Barber band with Chris in 1954. He is married, and claims that this marriage is a full-time hobby.
When another founder-member, clarinettist Monty Sunshine, left the band in December 1960, there was quite a little storm in a tea-cup. This was more than anything due to the fact that it followed so closely on the heels of the tremendous hit record "Petite Fleur", which had been predominantly a clarinet solo. A lot of fans thought that it would be impossible to replace such a popular instrumentalist and that the writing was therefore on the wall for the Barber band as a top attraction. This was rather an odd attitude, to say the least, since the band contained so many other fine players. However, such morbid suspicions were immediately dispelled when the clarinet chair was occupied by Ian Wheeler. Another Londoner, Ian spent much of his early life in hospitals, and after failing his medical for National Service, he joined the Merchant Navy. He had been trained as a draughtsman, but in 1954 became a full-time professional musician when he joined Ken Colyer's band. His first instrument was the guitar, and he has led two bands of his own. He says that his hobbies are model aircraft and reading. On Good Friday, 1961, the Barber band gave a concert at the London Palladium, and for part of the show they were joined by Joe Harriot, and it was the impression of many people who attended that concert that one of the highlights was some superb duetting by Joe and Ian.
Drummer Graham Burbidge would not be a man to cross, for he has the rather unusual hobby of collecting antique and lethal guns, and has perfected the quick draw to such an extent that he would be a match for Wyatt Earp! He had played drums while serving in the R.A.F., but an offer from Sandy Brown in 1955 induced him to turn professional, although as an amateur he had been playing with modern groups. Graham joined the Barber band as a replacement for Ron Bowden in 1957.
On banjo is a man who once followed an interesting trade. Eddie Smith is the name, and before becoming a musician he was a bank-note printer (unfortunately for him, he was required to specialize in the production of Chinese money!). But after his National Service, Eddie became a speedway rider, and then that career went for a burton when he broke his leg as the result of an accident. The next move was to purchase a banjo for ten bob, which he still possesses (the banjo, not the ten bob, of course) and he reached a stage of proficiency which enabled him to play with the bands of Bob Dawbarn, Ian Bell and Mike Daniels, before joining Chris.
Completing the line-up is bass player Dick Smith. He too was not destined originally to become a musician, and while in the R.A.F. he trained to become a wireless mechanic. He became interested in jazz, however, and took up the bass, obtaining his first job two weeks after buying his first instrument. Ken Colyer was also responsible for persuading him to turn professional, and he joined Ken's band in 1954. In fact it is pretty clear to me that if it were not for Ken Colyer, there just would not be a Chris Barber band. Like Eddie, Dick was a racing man, although he preferred cycles to motor-cycles, and so retired unhurt, but he says that now he is married, he prefers the comfort of food, wine and home.
So that is the Chris Barber Band. They will undoubtedly have more hit records, and it is quite possible that they will again top the popularity polls, but over the years they have established an unassailable position as one of the best jazz bands in Europe, guaranteed to pack in audiences wherever they go. They don't resort to colourful gimmicks of dress or presentation, but they do at all times play wonderful music.