Excerpts from Jazz Journal, February 1960

The February 1960 edition of the British jazz magazine, Jazz Journal, contained several articles and other items about Chris Barber and his band. In addition to the cover of the magazine, shown to the left, the magazine included three extensive feature articles, plus a photograph of Chris with Stanley Dance in New York (although the column itself, "Lightly and Politely", did not otherwise mention the band), and a very brief, but favourable, record review.
Of the longer articles, the third was Chris's participation in a regular Jazz Journal feature,"In My Opinion", in which well-known members of the jazz world were invited to comment extensively on a selection of recordings. One wonders what selections he might be presented with today, and what his comments might have been on these recordings, more than forty years later.
The first article in the magazine was a laudatory commentary about Chris Barber's Jazz Band with Ottilie Patterson at the 11th New Orleans Jazz Club Concert. What more positive words could be written than, "It is a pleasant duty to inform you that Barber was truly a great ambassador for England. These were gentlemen you sent us. They behaved in a manner with which their most severe critics could have found no fault. They were polished in their stage demeanor, and off-stage their behaviour was exemplary. And their music was not only exactly what we hoped for, but even much, much finer. At the concert these boys really played their hearts out. What was communicated across the footlights, to the very large audience, was the excitement and happiness of the whole band. And this they were able to do, musically, from the very first few bars they blew. And so a rapport was built up between these young men of jazz and the blasé New Orleaneans listeners, and which became evident practically before their first tune was half finished . . ."
These words, from an American resident of New Orleans, the birthplace of jazz, are worth quoting as a context within which to read James Asman's mean-spirited and petty-minded piece. The reader might be surprised to find such a negative article reproduced here, on what is, after all the artist's official website. But it does summarize something of the flavour of how British jazz in general, and traditional jazz in particular, was regarded in the UK at the time, particularly among the so-called "critics", probably few of whom had picked up an instrument, and of those that did, failed miserably, while the Barbers, Lytteltons, Scotts, and their colleagues in traditional, mainstream, and modern jazz first of all struggled, then flourished, and finally virtually invented new forms of music.
I am writing these words on May 22, 2004, a mere ten days before the fiftieth anniversary of the formation of Chris Barber's Jazz Band at the 100 Club in 1954, and fifty-five years since Chris Barber's first recordings as an amateur jazzman. It's also close to the end of a fiftieth jubilee year tour of two hundred concerts by the Big Chris Barber Band in several European countries as well as the whole of Great Britain and Ireland. In this context, Asman's closing sentences -- "Shall we remember the Chris Barber Jazz Band when 1970 arrives, or will it have sank to the same obscurity that has covered the remains of so much local jazz endeavour -- of John Haims, Ken Smiley, Bob Barclay, Eric Lister, George Webb and the Original London Blue Blowers? Longevity is surely the true mark of artistic importance and remembrance the last and greatest critic of all" -- take on an entirely new meaning some forty-four years after they were published.
All of the items mentioned above are reproduced on this web page, together with the photographs that were featured alongside them.
Ed Jackson


No matter by what yardstick they are measured I believe that Americans, and particularly jazz-loving Americans, often seem a curious lot to their British cousins. But make no mistake about it, the same applies in reverse. Here in New Orleans, we are fortunate enough to receive regular supplies of several of the leading British jazz magazines, and although we also read the publications of several other nations, the British ones are the best. To stick my chin out even further, I would say that in all probability many articles appearing in the British jazz press are even superior to those published in our own leading jazz magazines.
Years ago, a bitter and endless controversy took place between the Frenchmen Hugues Pannassie and Charles Delaunay. It was a waste of the reader's time, and extended his patience. This stupid bickering was followed in this country by a similar clash between Bill Grauer and Orin Keepnews on one side, and anyone who had the effrontery to differ with them on the other. The British, French and American. press took up the cudgel, and reflected in their writings exactly what was going on between the followers of the different schools of jazz -- opinions became biased, bigoted, and violent if anyone dared to differ. After several years, these explosions have simmered down to a minimum -- have almost ceased to exist, in fact, except in the British jazz press! For in England there still exist certain individuals who continue to waste time and effort by castigating all those groups, bands, individuals or styles which do not exactly fit into what they themselves regard as the true jazz. It is a pity that the British jazz press continues to publish these annoying and petty attacks, for they accomplish nothing.
I can recall several long, controversial articles against Ken Colyer and his band. This was a shame, for in my opinion Ken had done a great job in assembling six or seven dedicated individuals who truly believed in the Bunk Johnson-George Lewis school of music. It was in fact hard at times to differentiate their playing from the actual George Lewis band. The band's popularity increased by leaps and bounds until an opposing faction started an organized attack upon them, and upon Colyer himself. It almost wrecked this man, and certainly did much to cause friction and discord among his musicians. If our memory serves us correctly, he had to reorganize his band any number of times in order to keep going. From what we hear, he has now made a great comeback, and we're glad to hear it!
Humphrey Lyttelton, too, had his adversaries, but was strong enough to surmount these difficulties -- for, besides his excellent music, he was lucky enough to wield another formidable weapon -- his pen! He persists along his own chosen path and is still on a high plane despite the attacks upon his band and his own adopted style of music. Now, along comes a young and sincere chap by the name of Chris Barber who, by forging a little bit ahead of the rest of the gentry, has become the target for all kinds of abuse. As long as he remained a nobody, just another traditional trombonist, no-one bothered with him-- but now!
Sometimes, this whole mess of jazz arguments recalls to my mind the story of old Bunk Johnson. When Bunk was down and out, everybody wanted to get on the band-wagon to help him make a comeback. (Our reference here is certainly not to Bill Russell or Charles Edward Smith, both of whom did so very much sincere work to assist him). Many of his old musician friends expressed their desire to go all out to see that he got a proper set of teeth, and also to buy him a cornet so he could start over again. But, as soon as Bunk hit the top, these same musicians did all they could to topple him off the very throne to which they had assisted him! Many would have gladly contributed to the purchase of a knife to stick into the old man's back! Such is the price of fame.
From where we sit, way overseas, we are astounded and enthusiastically pleased to see England producing some of the greatest jazzmen of the age. The records that are being sent our way are greatly appreciated by American jazz aficionados. And I am not limiting this expression of pleasure to the three English bands I have so far discussed.
Before inviting Barber to the New Orleans Jazz Club Concert (its 11th), many of his recordings were auditioned, and much reading matter regarding his band was perused, in order to try to evaluate our proposed guest from a distance. Decision was reached not by one, or two or three men, but a board of connoisseurs, eleven in all, who were unanimous in their decision to extend an invitation to the Chris Barber group. All of these Board Members are native Orleaneans, who have seen and heard the great parade of stars go by -- they have heard them all, and that goes from Joe Oliver to Manuel Perez, from Buddy Petit to Freddie Keppard, as well as each and every white counterpart of these Negro immortals. In reaching the decision to invite the Barber band to New Orleans it is good to look back and recall that not once did anyone adopt an attitude -- an attitude which seems to predominate strongly in England -- of, "Oh! He doesn't play like George Lewis" or, "His style is too Chicago" or, "He has nothing but a New York type outfit". Chris was invited because he played mighty good jazz music. Old timers, such as myself, do not ask that a style be a "purist this" or a "purist that", just so long as it's good. We've heard so many great ones down here that we regard any such an evaluation as nonsensical and not a true evaluation of the sound of a band. So Chris Barber came to New Orleans.
It is a pleasant duty to inform you that Barber was truly a great ambassador for England. These were gentlemen you sent us. They behaved in a manner with which their most severe critics could have found no fault. They were polished in their stage demeanor, and off-stage their behaviour was exemplary. And their music was not only exactly what we hoped for, but even much, much finer. At the concert these boys really played their hearts out. What was communicated across the footlights, to the very large audience, was the excitement and happiness of the whole band. And this they were able to do, musically, from the very first few bars they blew. And so a rapport was built up between these young men of jazz and the blasé New Orleaneans listeners, and which became evident practically before their first tune was half finished, and which persisted until almost a half-hour after midnight, with scarcely a person showing restlessness or heading for the exits.
You can't tell 3,500 people who have paid their money to hear a concert that they must sit until it is all over. They do exactly as they please, especially when time is running out. The opinion we offer, therefore, is not only ours but that of the critical Louisiana music lovers, who one and all placed their stamp of approval on young Chris Barber and his band. They didn't ask if it was "N.O.", "Dixieland", "Chicago", or "New York" -- they heard music that was good, and they said so loud and long with the palms of their hands.
Little Ottilie Patterson was an atom of surprise for which the audience was totally unprepared. Appearing late in the programme she had to follow Paul Barbarin's terrific discovery, Blanche Thomas. Miss Thomas, a newcomer on the jazz scene in New Orleans, is a husky, deep-throated blues singer of the old, old school, who had already knocked the listeners for the proverbial loop. Then, along came Ottilie! She rocked the Municipal Auditorium to its rafters!
If this old-timer were button-holed and forced to give his opinion as to which style Chris Barber's band played, he would be forced to repeat what he and his brother Harry wrote recently for the sleeve of one of Barber's record albums: "Although it was perfectly obvious that these men were students of New Orleans style jazz (through listening to records), they were not copyists nor imitators. They stressed ensemble work rather than solos . . . but when one instrument had an important musical statement to make, the others unobtrusively stepped out of the limelight and did nothing to detract from his great moment . . . in fact, they did all they could to make his performance letter perfect. No one musician can be singled out as a star, although each is quite proficient on his instrument. These are men all travelling in the same direction, each one knowing exactly where the other is destined. Basically, the New Orleans style predominates, but there is a pleasant sprinkling of Chicago, New York and New Orleans Dixieland which adds spice and flavour to the sound of the group."
Years ago, Buddy Bolden used to "Call his chillen back home". Chris and his band have definitely heard that call, and now all New Orleans is calling Chris back. Why cannot British jazz fans wake up to the wonderful jazzmen they have in their midst, and instead of calling them names, call them to their hearts. Chris Barber has won ours.


Among my journalist friends happens to be one lean-visaged character who spends too much of his time squatting at the touchline of International football matches, desperately hammering out on his old portable typewriter a continuous stream of excuses for the English teams. As he said to me the other day (the very picture of despondency): "Whenever I write about soccer I always come up against the bloodiness of English International football -- whatever I say about the game, I still have to hunt up yet another alibi for the fact that we are always being soundly trounced abroad."

And I know just what he means, for I have had to squat at the touchline of British Revivalist jazz and try, as best I can, to ignore the boring vacuum which is another name for our local band talent. A few weeks ago, as part of my job as a record reviewer, I listened to one example of this phenomenon under the imposing title of Lansdowne Jazz Series: Chris Barber International, Volume One, Barber In Berlin, by Chris Barber's Jazz Band with Ottilie Patterson. By the time I was three-quarters of the way through I had a splitting headache and a devout wish never to listen to such a cacophony again. This new long player, recorded I will admit under rather adverse circumstances by Joe Meek and Peter Willemoes at the Deutschlandhalle in Berlin on May 23, 1959, presents a fairly familiar pattern with "Climax Rag", "Maryland, My Maryland", "Chimes Blues" and "Ice Cream", plus a few new items presented in the old guise: "Easy Easy Baby", "Gotta Travel On" and "What's I'm Gotcha".

The ideas and the freshness of the early British pioneers seem now to have disintegrated into a commercially popular and pretty style which -- let us be quite honest about this -- the Barber band dare not discard and which is becoming a creative quagmire. I feel that the greatest immediate tragedy of the group, and particularly of the front line, is that their personal attitude to jazz music as a whole is completely sincere. Barber's own praiseworthy efforts to record a reincarnated Clarence Williams Washboard Band is only one example of a very genuine enthusiasm and love for the music. And yet the canker has set in.

Here is a band which has carried local jazz out of the backrooms of pubs and into the Royal Festival Hall and the Deutschlandhalle. Here is a band which has brought the mark of popular approval to "Trad" jazz -- "Petite Fleur" and "Lonesome" are no accidents. Here, too, is a band which has simplified and standardised New Orleans music and blues for general digestion.

There has never been a single artist who has been able to woo "pop" approval without sacrificing something integral from the original. It is, indeed, the difference between Barber's representation and the original New Orleans jazz that might give us the clue to the faults in this highly successful revivalist group. The "popular" pattern of the band sound, as it appears to the commercial record buying public, lies squarely (in more senses, than one) on the banjo playing of Eddie Smith. For Eddie is no faker -- his technique is excellent and he is always able to push the outfit along in an individual way. Within this individuality, however, lies little real jazz feeling, for the danceable lilt produced owes more to popular minstrel shows than to any of the great jazz banjoists.

This is the most obvious fault of all. The band at its best can create a "white" lively lilt but this seldom has much relationship to the elastic swinging beat of a true jazz group. To untutored ears this likeable syncopation produces the commercial sound which has made the Chris Barber Jazz Band a top selling proposition far outside the jazz clubs and the minor concerts of small provincial promoter-enthusiasts. Dick Smith's bass and the drums of Graham Burbidge support the banjo efficiently -- I almost wrote mechanically. On the occasions when the noise seems suddenly to lift along, when the front line comes to life, banjo, bass and drums are busy making a "white" two-beat foundation which lacks the loose elasticity and essential movement of a real jazz beat. There is no subtlety.

Chris Barber's trombone playing has always been too calculated for my particular taste, but his growing mastery of the instrument now allows him to participate in more fiery ensembles when he usually elects to play a single riff phrase in staccato fashion as a contrast to the sentimental clarinet and the vehement trumpet. Too often this tromboning remains jerky and sterile without the broader vision and imagination of a good New Orleans tailgate trombonist.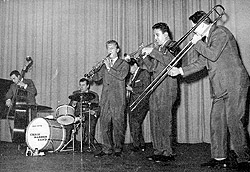 Monty Sunshine is famous, and justly so, for his thick, honey-sweet tone which grew out of a sincere desire, back in the days of the Crane River Jazz Band, to emulate the work of George Lewis. Monty, following the derivative period when all his solos and phrases were borrowed direct from Lewis's records, has retained the rich, smaltzy tone but has now proceeded experimentally along lines of his own. This, I feel, is an experimental period for him. Divorced by his own desire to end musical apprenticeship from a chosen background, he is now out in a wilderness of his own making. The public demand for lush, over-sentimental solo pieces like "Petite Fleur" has not helped him to find his way -- and it must be admitted that he has continually tried to escape this commercial stranglehold. At the moment he seems like an orator who is forced to make speeches but who has lost any real reason for saying anything at all. If you listen carefully to Monty's improvisations on this particular Berlin tape you will hear that many of the melodic ideas incorporated in his descant phrases are becoming barren and even ugly at times, and this may be part of his personal desire to find a more creative pattern for himself. I believe, however, that a far more important point lies behind this.
American Negro jazz musicians and the better white players have had the advantage of a natural background upon which they could always rest comfortably and without strain. Their inspirational periods, usually occurring while they are developing as artists, are based on the native folk music behind jazz proper. The blues, the existing examples of pioneer musicians that serve as paragons to the aspiring newcomer, the mass of French, African, European, hillbilly, Creole, Spanish, minstrel and early theatrical music and the language and background of the Southern Negro are but a few of the impulses encouraging good jazz invention. That is why a New Orleans street crier sounds like a deep Mississippi blues singer, why the coloured Harlem rock 'n' roller has direct links with urban blues-making from the same source and why, even in the Negro churches, one can hear a tailgate trombone, a ragtime piano or a rhythm-and-blues guitar. All this is the natural site upon which jazz, as a native music, builds and rebuilds itself from New Orleans marching bands to the avant garde of East Coast experimentation.
The older men of both white and coloured American jazz groups -- more obviously in the traditional school than in the modern or even mainstream idioms -- are often playing now like tired old men. Such pioneers as Kid Ory, for example, have been bandleaders for over 60 years. Others, like Louis Armstrong, George Lewis and Muggsy Spanier have been sick and now regard their health of paramount consideration. The British school is composed of youngsters, green both in age and in experience, and all of them lacking the natural background of folk activity and environment. Too many possess but a fleeting sympathy with jazz proper and more have completely neglected the essential study of Afro-American folk music which has always provided the instinctive accent to the language of jazz improvisation. If, as I suppose, Monty Sunshine has fallen a victim to this vacuum, he is only one of a very large company: Sandy Brown, Al Fairweather, Humphrey Lyttelton, Acker Bilk and many more.
It is debatable whether the other school, headed by Ken Colyer, is really any more fortunate in this sense for on the one hand we have a conscious imitation and on the other a rather fruitless "originality". Yet there are musicians in the British field who have managed to retain to a marked degree this rare sympathy for the jazz language. Bruce Turner is one outstanding figure, although he suffers continually from bad musical company. Lennie Felix is worthy of mention and one cannot forget Wally Fawkes -- and Pat Halcox. Pat is by far the most rewarding musician in the Barber entourage. Not only does he work as a musical leader but he is able to infuse into his work both logic and force -- an excellent combination in a jazz trumpeter.
So we have, in the Chris Barber Jazz Band, a remarkable contradiction, a patterned, simplified Dixieland music which possesses the elusive but deadly ingredient of popular appeal, played in the main by a bunch of devoted jazz lovers. The featured vocals of Ottilie Patterson might be said to stress this peculiarity for Ottilie combines such a personal appreciation with an equally popular appeal. Despite recent attempts to widen her repertoire she still manages to project a popularised copy of Bessie Smith upon audiences who, in their ignorance and witlessness, fail to appreciate the beauty of the original. This could be a temporary phase, however. Barber has not yet had a sixth of Ory's bandleading experience, and not even a fragment of his native environment to lean upon. Monty is a mere greenhorn beside the majestic figures of Lewis, Edmond Hall and Albert Nicholas. Pat, too, remains but a promising infant compared to the great jazz trumpeters.
In the mid-Forties we began reproducing jazz rather haltingly, rather noisily, and without even a lilt to bless the new-born babe. We have gone quite a way in a decade and a half, but the Sixties still present us with a question mark. Shall we remember the Chris Barber Jazz Band when 1970 arrives, or will it have sank to the same obscurity that has covered the remains of so much local jazz endeavour -- of John Haims, Ken Smiley, Bob Barclay, Eric Lister, George Webb and the Original London Blue Blowers? Longevity is surely the true mark of artistic importance and remembrance the last and greatest critic of all.

This is one of a series of taped interviews with musicians, who are asked to give a snap opinion on a set of records played to them. Although no previous information is given as to what they are going to hear, they are, during the actual playing, handed the appropriate record sleeve. Thus in no way is their judgment influenced by being unaware of what they are hearing. As far as possible the records played to them are currently available items procurable from any record shop. Chris Barber, leader of Britain's most popular traditional jazz band, is too well known to need any introduction. In addition to being a good trombonist and bass player, Chris is more than something of a conversationalist. He has very decided views on jazz and is not afraid to express them -- Sinclair Traill.
"Weary Blues". Paul Barbarin & His Jazz Band. Tempo EXA 98
I like that sort of music very much, though there are few groups who can make it sound quite as good as maybe you thought it was going to be before you heard it. The feeling was perfect and the ideas and style of the musicians very good. I have never really liked the playing of Alvin Alcorn very much -- he is a good trumpet player, but has an annoying habit of playing constantly repeated, long unbroken phrases with a dotted crochet and quaver pattern. His playing is also all on the same level and lacks dynamics. Willie Humphreys and Jim Robinson both play well, Robinson being more firm and sure than on many George Lewis records -- maybe because here he has a background of more musicianly people, so he had to be a bit brighter. Incidentally, they play the wrong chords there for "Weary Blues" -- at least they are not the same as played by Louis Armstrong and Johnny Dodds on the original Hot Seven record. Here they play a different sequence in the middle, but since they all play the same chords at the same time, I don't see anything particularly wrong in what they do. Personally I prefer to hear the Armstrong version, for I think the chords are nicer and suit the melody better, but all the New Orleans musicians of this school use this variation. Barbarin's drumming is very, very good! I heard him in the flesh in New Orleans and was terribly impressed by his band. I somehow get an impression that often this kind of jazz is better heard slightly in the distance. When you get too near it is sometimes not really inspired enough musically or melodically to be as good as you hoped for; but I do like it.
"Bones For The King". Dicky Wells. Felsted FAJ 7007
Well, they call that mainstream music, a term I find rather annoying -- I just call it jazz! The funny thing is that if you took some of the solos out of that and put ensemble choruses before and after them, you could call it traditional jazz. This labelling everything is very unnecessary, although I suppose inventing the term mainstream may have helped certain musicians who might have been forgotten otherwise. Dicky Wells has always been a great favourite of mine. In fact I quite often quote little bits and pieces of his, particularly when I play "Sweet Sue" as a trombone solo -- paying him a compliment, you might say. Dicky said the last word on "Sweet Sue" when he recorded it with Django Reinhardt and company in Paris in the late 'thirties -- a wonderful record of which I am very fond. The other trombonists on this record, with the exception of the very personal Vic Dickenson, seem to me to play like lesser Dicky Wells-es. Dicky is such a broad player with an individual style which he uses to the full -- humour, sadness, he brings out all the emotions. The others here merely play the more ordinary parts of Dickie's playing, but contribute nothing original. One thing interested me there. During the second trombone choruses by Benny Morton, Skip Hall, the organist, started playing a basic rock 'n' roll beat: a sure sign of the pressure on American musicians to play popular or die! The blues players from Chicago who invented that rhythm never play that steady beat -- they play phrases in triplet time. Although I enjoy that kind of jazz I don't think it gets you anywhere. I miss the exhilaration of an ensemble at the end. I like an improvised ensemble; which is why we use one, I suppose. Finally, I don't think Major Holly was quite up with Skip Hall and Jo Jones. During the organ solo he was playing ahead of the beat. . . down below it's hard to get a good bass tone without pulling rather hard, and one is inclined to play ahead of the beat when doing so. The great bass players manage to avoid this fault.
"Sad Blues". Snub Mosley. (Cascade of Quartets). Columbia 33SX 1191
After the last record, that was more like it, in the sense that the previous record was a blues but wasn't a blues, and this was also a blues and really was blues! The rhythm section, again with an organ, played the blues, with the organist using this modern idiom of triplets -- I call it 12/12 time myself, which is strictly illogical, except that there are twelve to a bar and they play them all the time. Snub Mosley of course isn't the world's greatest instrumentalist, but he plays with plenty of feeling. In fact in places he sounds not unlike Dickie Wells. His playing suffers to some extent from the fact that he is trying to build up excitement in a studio, a terribly difficult thing to do. At the end there in his endeavour to build the tension he tries to do too much. But one always does that in a studio. You try and warm up an audience which isn't there, and so you just keep trying harder and harder. At a concert it is quite different, which is why we like recording at concerts. You play to people and if you're playing well you get them warmed up and feel they're on your side and that you can relax amongst friends. It may seem strange, but I can always relax more in front of an audience. Of course one great advantage is that if you get together a group of American musicians, as Stanley Dance has here, playing a sort of jam session, they will all listen intently to each other. A group of English musicians will seldom trouble to listen to each other and so you get quite a different atmosphere. American musicians are so much more open-minded about jazz. Snub Mosley's music is an example for it's timeless and has been going on for at least twenty years now, if not longer.
"Très Moutarde". Wilbur de Paris. Felsted EDL 87010
Wilbur's is a band we all admire very much. In America it's very difficult to keep playing good, authentic jazz and play it intelligently and do something with it, without playing every number as a rabble-rouser. In most of the clubs you visit over there the bands are grinding out the same old formula -- two ensembles, solos all round, two ensembles to finish. Some of the bands are horrible, uninteresting and too loud! And so Wilbur's band stands out. Sometimes what they play isn't very good jazz. It is too clever and the material isn't really suitable. They use this funny sort of circus rhythm on the fast numbers -- two beats of on-beat but no off-beat rhythm. Funnily enough, Wilbur himself has often really led circus bands. But his brother Sidney, now, he has always played in jazz bands, and he is to my mind the greatest trumpeter I've ever heard. We heard him at Ryan's many times, and no instrumentalist has impressed me quite so much. He uses mutes marvellously, he can switch from cornet to trumpet to tuba and back, just like that, and play them all equally well. He always plays quite naturally in the jazz idiom, and what he does never sounds contrived. Really, if King Oliver was a better man with a mute, then God alone knows how good he was, because Sidney de Paris is nothing short of marvellous! This particular number is one of their much too fast ones, though they play it well enough. I enjoy this band for the men I like in it, and you must realise that they play in a style that is very near to what we are trying to do. They don't play this way just because it's the style they've known from childhood. Wilbur really organises this band. He tells them how he wants it played and that is the way it gets played. Most of the musicians aren't really natural Dixieland players at all. Wilbert Kirk, Sonny White and even Omer Simeon had been playing in big swing bands before they joined Wilbur. They are not really New Orleans jazzmen, yet what they're trying to do is so near what we are also trying to do that we as a band tend to associate ourselves with their material, in order to see if it suits us when we play it. So I can't view the band entirely dispassionately. Personally, I can't fault Wilbur's trombone playing, except to say that it's not the way I want to play.
"Basin Street Blues". Ted Heath & His Music. Decca LK 4324
Big band blues -- no, it wasn't blues, but it was a big band alright. Some very good trombone playing by Keith Christie, some of it in good taste, some of it even having something to do with the number, and some of it merely for effect. That coda business for instance, what in heaven's name has that got to do with "Basin Street Blues"? If one ignores the title of the thing and merely treats it as a slow piece of music, then it's very well played. The trombone is good, very good -- I certainly couldn't play it -- it's rhythmic, in tune and well arranged, but I get the feeling, what does it all mean? Where does it get you? I mean the best bits there are the bits that have been said before by Louis Armstrong and others. But I'm not very fond of big bands anyway, and particularly not when they are doing that kind of thing. I wouldn't attempt to play "Rhapsody In Blue" with my band. But parts of the record I enjoyed, and I didn't expect to; and parts were, as I expected, horrible. Horrible as a blues record that is.
"Bye And Bye". Johnny St. Cyr's Hot Five. Tempo EXA 99
The sleeve notes make no mention of the two most important musicians on the record, Thomas Jefferson and Paul Barbarin, nor do they mention Jeanette Kimball, who plays piano here and sounds very good. I don't like Joe Avery's trombone playing very much. I find him smeary but unrhythmic, and he doesn't lift the ensembles at all. I don't really belong to the sliding-for-the-sake-of-sliding school; the glissando style of playing, when done badly, can mess the whole thing up. Willie Humphrey's clarinet sounds a trifle bitty, and the record as a whole isn't nearly as good as the Barbarin ("Weary Blues") you played me earlier. Of course it was made a couple of years earlier, and many of these old musicians have only quite recently had a chance to play regularly and, with playing, have improved greatly. Jefferson the trumpeter was, I noticed, in a recent record review dismissed as a mere Armstrong copyist. Yet I have heard Jefferson in person and he is a first-class trumpet player. It is always so much more satisfactory hearing people in the flesh than on record. A critic who at any time has a chance of hearing a musician in person, must always take the opportunity. I heard Jefferson in an unsympathetic band led by Santo Pecora, but he showed as a really fine player and a wonderful singer with a beautiful voice. Of course he was young when this was made and he has certainly improved a lot since then, but to me he is the standout on this record. Compare his playing with that of Alvin Alcorn on the Barbarin and you'll see what I mean. Alcorn is out of the style, Jefferson is in it. Nevertheless there is not nearly as much unity of purpose here as there was on the Barbarin record.
"Going Down Slow". Champion Jack Dupree. London LTZ-K 15171
We have had the privilege and pleasure of playing with Jack on tour and he is a most interesting man. Of all the bluesmen who have visited us (Broonzy, Muddy, Brother Sellers, Brownie and Terry, etc.), Jack is the first one who is an all-round entertainer-- he has a stage act which he uses. The others were just performers, but Jack sings, dances, jokes and does everything. When Jack sings a good straight blues like this, he's the best thing I've heard since Big Bill -- the best singer, I mean. His piano playing is really rather approximate, but it all goes with the entertainment and the style of the thing; there's nothing wrong with it in that sense. He goes rather far out and then suddenly he is back on the beat. . . and those fanciful things he gets away with! As a matter of fact that number was written by a friend of mine, St. Louis Jimmy, a very fine blues singer in his own right. There is a great propensity amongst blues singers for claiming everything they sing as their own compositions. Jack claims "Going Down Slow" as his own, but I know damn well that St. Louis Jimmy wrote the number, and in fact Jack even admits it! Ottilie produced a new song the other day that Jimmy had written and given to her. It's called "Ninety-nine Out Of A Hundred They Have Some Love Disease" -- which doesn't mean quite what you think. When Champion Jack heard it he at once said, "Ah, that's by St. Louis Jimmy, he is always talking about disease and death." Well, Jimmy is a bit morbid, but he's a very, very nice fellow and writes some good songs. He's employed by Chess Records as a song writer, and has a lovely deep bass voice. He does this number even better than Champion Jack. There is something I have noticed about these blues artists: they are always so very easy to get along with. Jack is no exception, and I admire him greatly both as an artist and as a person.
"Candy Lips". Clarence Williams' Washboard Band. Parlophone GEP 8733
That record speaks for itself -- it is so very good! Relaxed, unpretentious, well played, nicely thought out. There are touches of arrangement, just enough to make it interesting without overdoing it. I had the chance of getting some recordings made with some of these men in New York, and it is interesting to note how instinctive and natural was the playing of jazz to them. Eddie Allen said he used to room with Clarence Williams at the time this was made and Clarence would say one morning, "Come on Eddie, we're going to record." "What are we going to do?" asked Eddie. "Oh, I don't know," answered Clarence, "we'll write something on the way to the studio." By the next day even the names of the tunes they recorded would have been forgotten. Ed Allen doesn't know a single one of the tunes he recorded in those days! On the session I supervised, we had the amusing spectacle of Cecil Scott teaching Eddie Allen "Royal Garden Blues". Clarence Williams has been blind for the past two years; it's a great shame, but he hopes to get his sight back. He's a nice man, retiring and pleasant, and he and Eva Taylor have a nice home on Long Island. His son is in the police department, in the place which issues cabaret cards. He told me that there were many artists who had trouble in getting cabaret cards because they had, as youngsters, been in gaol for pinching sweets or something like that. But they never appeal, though there's a perfect normal form for them to use. None of them bother, for having been refused once they think things are loaded against them, and that they just can't get that card. Of course, they could if they pleaded their cases, but there's a terrible sort of apathy -- a sort of death-wish, as if they subconsciously wanted to be refused a card. It's a strange thing. Ed Allen still plays fine trumpet. He's been working for the past fifteen years in a taxi-dance hall on 14th Street in Harlem. Six hours a night, ten minutes off each hour. Each dance lasts 45 seconds and costs the customers a quarter. No women allowed in the hall, except the hostesses. Ed is another great person. I'm sorry to keep reiterating about how nice these people are, but it happened to us all over the States. I remember getting into a cab at Monterey to go out to the Fair Ground where the festival was held. Just as we moved off, one of the musicians from Woody Herman's big band climbed in and said, "Aren't you Chris Barber? I'm Ray Linn, play trumpet. My kids play your record of 'Petite Fleur' all the time. I think it's fine." You wouldn't get that from many top session men in this country -- they wouldn't bother. They think we are a Dixieland band and that's that: amateurs! They don't realise that we're as keen on our music as they are on theirs -- possibly more so in fact, because in most cases they don't give a damn about what they play. The music doesn't mean a thing to them, which is a great pity. If it did mean more, some of them might play better.

Record Review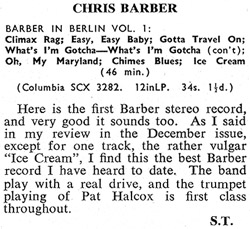 Chris Barber and Stanley Dance in New York

Back to the From the Archives... page